Dallas Cowboys: Stop Letting the Arlington Overrateds Dominate NFL Coverage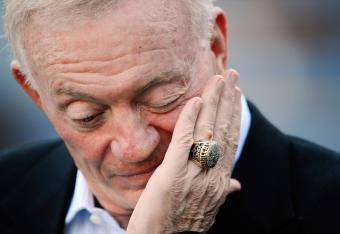 Kevork Djansezian/Getty Images
With only one playoff win in 16 years, can we please stop talking about the Dallas Cowboys?
There is absolutely no reason why it is a bigger deal that the Cowboys miss the playoffs than, say the Tampa Bay Buccaneers or Miami Dolphins.
Can we put an end to it already?
Just because your owner is a billionaire, does it automatically follow that your team will be successful? Just because you have the most immaculate stadium and the largest HD television screen in the world—does that mean you will run the NFC East?
The New York Yankees are a large-market team that generate a lot of press and media coverage. They also have five titles in the last 16 years and are in the playoff race every year.
The Oklahoma City Thunder and San Antonio Spurs are small-market teams and are deep in the playoffs, both with a chance to win it all. A week ago, none of the top five payrolls in baseball had a winning record.
The Super Bowl XLV Champion Green Bay Packers play in a town of only 100,000. Other small market winners in the 2000s include the Indianapolis Colts, Tampa Bay Buccaneers, St. Louis Rams, Pittsburgh Steelers and New Orleans Saints.
Money does not equal rings.
Following an 11-5 campaign and playing just their second season at the Cowboys Stadium in 2010, Dallas fans laughably had hopes of their 'Boys ending the season on familiar turf. They were going to continue their resurgence, become the first NFL team to play the Super Bowl at home and cap off the spectacular splash that the venue had made in the sports world.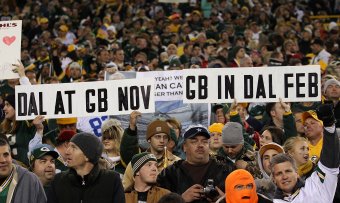 Jonathan Daniel/Getty Images
Right.
Instead, the smallest market team in major professional sports brought the Lombardi Trophy home where it got its name, while they watched from down the street under .500. The irony is refreshing.
What comes to mind is a small town public high school toppling the mighty local parochial team who has money, better facilities, more coaches and athletes they lured and recruited away from the first school.
America's Team? What does that even mean? And who the heck decided that?
The "Ws" or lack of, simply do not measure up to the hype. In 2010, the Dallas Cowboys posted a woeful 6-10 record and still managed to land a league-high five primetime spots the following season. How many games do they have to lose before they are not treated like a title-winning team?
In the past ten seasons, they have only reached the postseason four times. In the 2000s they have only won the NFC East a whopping two times. With a resurgence in Detroit, at least one Turkey Day regular is worth watching.
Cowboy hoopla perfectly illustrates the arrogant attitude that runs deep throughout the whole state: everything is bigger and better in Texas.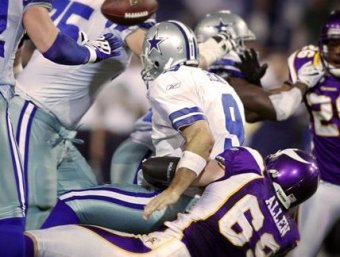 Obviously not professional football.
There is no question that high school football is king in the Lone Star State.
More college recruits. More high school players. More tradition. The hometown rivalries and Friday night lights are probably more entertaining than their "star" quarterback's meltdowns and lack of poise in clutch situations.
How about the 34-3 beat down at the hands of the Minnesota Vikings in 2010 during their most recent visit to the playoffs with Lombardi or bust aspirations? Or Tony Romo's botched snap to the Seattle Seahawks in the 2006 postseason? Or the most amazing yet: in 2011 the Cowboys had the lead in the fourth quarter and lost five different times.
In December 2011, DeMarcus Ware stated that "everyone wants to play for the Cowboys" and that Justin Tuck is just jealous. Of what? Getting hyped up every year sky high only to finish 8-8? The New York Giants slipped into the playoffs and quietly put a second ring on Tuck's finger.
Maybe Tuck would prefer North Texas and an area that is clearly becoming better known for baseball and basketball. Maybe he would rather put that star on and subsequently sit at home in January. Maybe its better to shake Jerry Jones hand instead of Goodell's, while receiving another Lombardi trophy.
I doubt it.
Year after year we get a large dose of "this is their year" and "the title will finally come back to Dallas."
They don't even play in Dallas.
Yes, for some unknown reason, the Cowboys are popular and sports media outlets would like to cater to that. But for the other 95 percent of us, we want to watch coverage of relevant teams.
Sorry Jerry, but out of the 365 days a year, you will once again only need your American Taj Mahal for a mere eight of them.
This article is
What is the duplicate article?
Why is this article offensive?
Where is this article plagiarized from?
Why is this article poorly edited?