Dario Franchitti's Indy 500 Victory Comes Just in Time to U-Turn Season
May 28, 2012

Chris Trotman/Getty Images
Dario Franchitti changed more than history.
The focus of Franchitti's Indianapolis 500 triumph on Sunday has been the driver's place amongst the greatest IndyCar competitors of all-time, and deservedly so, after winning his third Indy 500. The man won four out of the last five IndyCar Series titles—with that type of resume, a major victory is naturally going to trigger attention towards history. But shifting the focus away from the big picture and back to present time, Franchitti just saved his 2012 season.
Dave Kallmann of the Boston Herald reported that Franchitti talked about his career accomplishments following his win. He said:
I don't know. I'm very proud of the achievements, whether it's Indy wins, championships, every one of the race wins. Sometimes I look back, but generally I'm trying to look forward. When I retire, that's the time to look back.
Good call.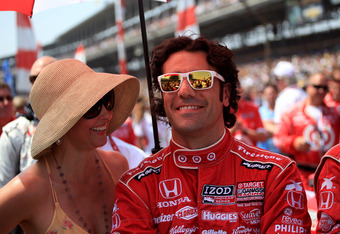 Chris Trotman/Getty Images
Right now, it isn't wise to look back because he's in the middle of a season. Up until Sunday's win, Franchitti's current campaign has been nothing to write home about. In his first four races, he displayed nothing but mediocrity—placing 13th, 10th, 15th and fifth.
John Oreovicz of ESPN even wrote a column just a little over a month ago attempting to figure out what was wrong with him.
Before the 96th running of The 500, Franchitti was 10th in the standings. If he wanted to win his fourth straight championship title, Franchitti had to accelerate sooner rather than later. Will Power already had three wins and was beginning to create separation between him and the reigning champ.
Power's stranglehold on the series got a little less tight on Sunday, though. Franchitti added 54 points to his 2012 total, skyrocketing him up the standings to sixth place. With 11 races remaining in the year, he has plenty of time to catch his competition.
David Daniels is a featured columnist at Bleacher Report and a syndicated writer.