Indy 500 Results: Tony Kanaan Stays Classy Amid Another Indy Heartbreak
May 28, 2012

Andy Lyons/Getty Images
Surely, it couldn't happen again.
After 10 years of trying and failing to win the Indianapolis 500, after so many years of coming oh-so-close, after so many years of heartbreak, surely victory in the "Greatest Spectacle in Racing" couldn't elude Tony Kanaan again.
Yet somehow, after leading the race just six laps from the checkered flag, it did.
It was a typical Indy 500 day for Kanaan. After starting eighth, the Brazilian driver put his foot to the floor and quickly moved into the top five, where he stayed for the early portion of the race.
After getting off sequence with some of the lead drivers on pit stops, including eventual winner Dario Franchitti, Kanaan found himself buried back in 13th midway through the race.
Then the 2004 IndyCar champion began making his move.
Kanaan worked back up into the top five and found himself in position to snag some positions on a late restart after a caution brought out by an Ed Carpenter spin.
With 17 laps to go, Kanaan ambushed the leaders on the restart, jumping from fourth all the way up to the lead by the time the cars reached Turn 1.
Kanaan and Franchitti traded the lead back and forth a few times before the caution flew again, this time for Kanaan's former teammate, Marco Andretti.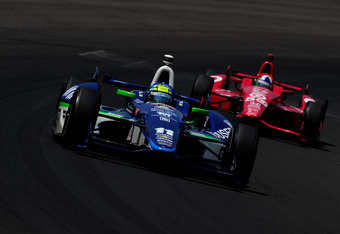 Robert Laberge/Getty Images
Kanaan held the lead for the ensuing restart with six laps remaining. But as it happened all afternoon, the leader was a sitting duck, and Kanaan quickly dropped to fourth.
The free fall happened too late in the going for Kanaan to regain his momentum, and he was unable to challenge for the win again as he finished third.
After the race, Kanaan simply fell on the front of his KV Racing machine, partly in distraught over losing the 500 after coming so close again, partly in gratification as his lost buddy Dan Wheldon's best friends finished first, second and third in the race Wheldon won just a year ago.
Even through his heartbreak, Kanaan managed to smile and bring a positive attitude to his post-race interview.
"It was good, if felt good," Kanaan told ABC's Dr. Jerry Punch after the race. "[It was Wheldon's] three best friends fighting for the win, and the odds were going to say one of us will do it. One of us will do it for him."
"Obviously, I tried everything I could to do it. Haven't done it yet. But to lose this one like this, it's an honor, I think."
Kanaan never focused for a moment on himself, always reflecting on Wheldon as his interview went on.
 "Danny, wherever he is right now, I'm sure he's extremely happy. His three best friends in the top three, there wouldn't be a better way [to honor Wheldon]."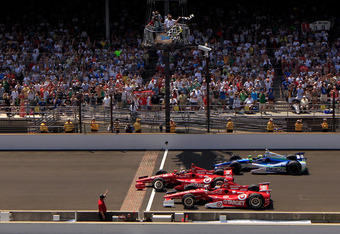 Chris Trotman/Getty Images
In his 11th Indy 500 start, driving the No. 11 car, Kanaan thought 2012 might be his lucky year. And five minutes before the checkered flag waved, it looked as though it would be.
But as fate would have it, Kanaan was forced to swallow yet another heartbreaking Indy upset.
Even still, Kanaan took the high road and found the silver lining of what has been a very dark cloud.
Tony Kanaan stayed classy amid yet another heartbreak, much to the surprise of nobody.
Hopefully, Kanaan won't have to wait too much longer to get what's coming to him: an Indianapolis 500 victory.