Philadelphia Phillies: Chase Utley Should Be Traded
May 28, 2012

Christian Petersen/Getty Images
Philadelphia Phillies fans love Chase Utley. He is the exact type of player that Philadelphia sports fans want to represent their teams. Utley is obviously very talented, always gives it his all and he's a flat-out winner.
Unfortunately, it is in the best interest of the Phillies organization to move their Hall of Fame bound second baseman. 
Before I hear "Rabble! Rabble! Rabble!" Hear me out.
Believe me, Utley is and has always been one of my favorite players. Beyond the reasons mentioned above, Philadelphians, myself included, love No. 26 because he's old school, tough as nails and loves getting dirty.
But despite all of the bad problems Philadelphia has been dealing with recently, there seems to be at least one good problem that the Phillies have: Freddy Galvis is playing exceptional baseball.
As I mentioned in my previous Phillies article, the team will have some big decisions to make when Utley is healthy and ready to play on a regular basis.
I have received a number of comments on that article with some ideas on how to keep Freddy Galvis with the Phillies, as opposed to sending him to play in the minors.
The general consensus seems to be that Phillies fans don't want to see Galvis get demoted. My poll results confirm this as well. As of this morning, the poll indicated that 89.5 percent of voters don't think the rookie should be sent to Triple-A upon Utley's return.
A lot could be inferred from this data. What is undeniable in looking at the results is that Freddy Galvis is a very popular man in Philadelphia.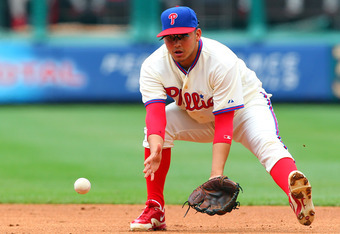 Rich Schultz/Getty Images
But so too is Chase Utley. You know the rugged workhorse is going to receive a loud and heartfelt ovation when he digs into the box for the first time at Citizens Bank Park this season.
But the question is, what lineup should the Phillies trot out every game to be the best team? We have to look at both the present (this season) and the future.
The future is clearly Freddy Galvis, whether that is at shortstop or second base. He's already shown he can be an amazing fielder at both middle infield positions. Philadelphia has the flexibility to play him regularly at either. If Utley, Jimmy Rollins and Placido Polanco are all healthy, Galvis will likely head to Lehigh Valley.
To address the above question, I believe that the Phillies are best suited in both the short and long term to find a way to play the Venezuelan every day.
Unfortunately, that means that one of the three veterans would have to be moved.
Let me break down each of them and their situations. 
Jimmy Rollins is the face of the franchise. Oft compared to Derek Jeter and his situation in New York, J-Roll is a Phillie through and through. My colleague, Ben Larivee, argues that they are not the same in this article, but the fact of the matter is that the odds that the Phillies trade Rollins are next to nothing. 
Rollins is owed $11 million per year (a popular number for Jimmy) through the 2015 season, when he will be 36 years-old. Even if the Phillies did want to move him, I'm not sure any team would be willing to take on that contract for a guy of his age.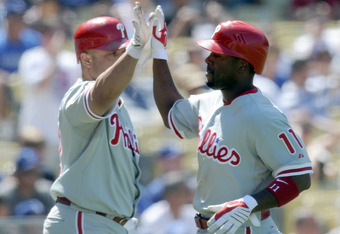 Harry How/Getty Images
I've heard a number of Phillies fans call for Placido Polanco to be the one who is moved. Polly is making $6.25 million this season and has a mutual option for $5.5 million for 2013. His contract is definitely favorable, and there's no doubt that he would be a valuable piece to any club. But he turns 37 in October.
Philadelphia wouldn't get too much in return for Polanco. Moving him would be done simply to open up a spot for Galvis. But then the question is, who plays third?
I don't think Charlie Manuel or Philadelphia's front office want to move Galvis to third, and they certainly wouldn't want him to learn the position on the fly in the middle of the season. On a sidenote, I think the Phillies would be even less inclined to move him to left field, another notion I've heard thrown around.
I've also received suggestions that Utley play third or left field. However, he would be a defensive liability, especially at the hot corner. Though he's a team player, I'm not even sure he would agree to make such a move. 
Utley has played 1,038 games at second base and a microscopic 26 at first base. We all know who is holding down the fort at first for the next century. He's never played any other position in his nine year career.
Now to the idea of moving Mr. Utley.
Chase Utley is under contract through the 2013 season, making $15 million a year. Not on the cheap. He's also 33 years-old. In a trade involving Utley, the Phillies would likely need to eat some of his salary. But the fact that he is secured through this season and the next improves his trade value. 
The key to his total value, though, is unquestionably his health. Utley would have to prove that he is healthy and still effective offensively. There's no doubt that he is one of the best hitting second basemen in the game when 100 percent, but that is a big question mark.
If he comes back and puts up solid numbers to start, teams would definitely be interested if they knew Utley was available.
Given his knee issues, Utley would have the most trade value to a team in the American League, where he would prolong his career by getting time as—or becoming—a Designated Hitter.
A plethora of American League clubs could be suitors for Utley at the trade deadline.
If Philadelphia were able to get prospects, a left fielder and/or relief help in return for Utley, they would solve their cluster in the infield and keep Freddy Galvis in the majors, get younger and free up salary to potentially improve in other areas of need.
I know it's controversial. I know it would be a huge change, but as hard as it would be to stomach, this is what this Phillies team needs.
Utley is one heck of a baseball player, and every organization would want him to sport their uniform. But he would bring back the most in return and allow that young stud with the baby face to continue to contribute and really develop.
It hurts me to say it, but the Phillies should trade Chase Utley.