Philadelphia Phillies: Why It Was a Mistake to Treat Jimmy Rollins Like Jeter
June 14, 2016
Hunter Martin/Getty Images
Following the 2010 season, Derek Jeter made headlines when he and his agent, Casey Close, gave little ground in contract negotiations, in a move perceived to be as much about his career achievements as his future contributions. Close thought Jeter should be treated "like Babe Ruth," while the Yankees thought his best years were behind him, and he should be paid accordingly.
In the end, the Yankees came to the realization that their captain meant enough to them to pay him like a player he might not be, as his contributions extend beyond the box score.  He was signed in December of that year for 51 million dollars over three years.
Jimmy Rollins hit free agency in the next offseason, following last year.  Similarly, the Phillies found themselves dealing with a player, few would argue, was past his prime, but there still seemed plenty of reason to give him the big money he craved. 
Thus, he was signed, after pretty calm negotiations, for three years and 33 million dollars It was the biggest contract, in terms of payout, of his career.
Both contracts appeared to be as much of a lifetime achievement award as anything else, but they were also expect to contribute.  A quarter of the way through the 2012 season, the Jeter contract looks exponentially better than the Rollins contract. 
Jeter is having one of the best seasons of his career, hitting .366 and slugging .523, while leading the American League in hits, with 56.  All of this came after notching his 3,000th hit last season, something the Yankees couldn't let happen in another uniform, and certainly benefited from financially.
Rollins, on the other hand, is having a historically bad season.  His slugging percentage of .293 and OBP of .278 are both atrocious, and his WAR is negative for the first time of his career.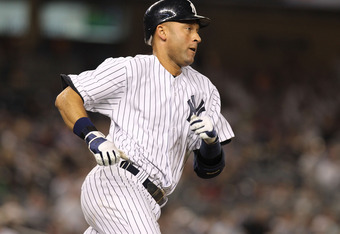 Nick Laham/Getty Images
He isn't a good leadoff hitter, as he doesn't take pitches or get on base.  He isn't a good fielder anymore,  as his fielding percentage is the lowest of his career, and his range factor per nine is well below the league average for shortstops (3.78 to 4.27)
The worst part of this, though, is that we should have seen it coming. 
Rollins has never been the player that Jeter is on the stat sheet.  His MVP season in 2007 was great, but it appears to be an outlier in the course of his career.  He has made only three All-Star games and finished in the top 10 of MVP voting just twice. 
While Rollins has never hit .300 in a season, Jeter is a career .314 hitter. 
The Yankee captain has appeared in 12 All-Star games and finished in the top 10 of MVP voting seven times.  Of all active players, only Alex Rodriiguez, Albert Pujols, and Chipper Jones have higher career WARs than Jeter. 
Clearly, any attempt at a favorable comparison of Rollins to Jeter will be one made in vain.  But this wasn't just about numbers. They were treated so similarly when it came to contract negotiations and, eventually, terms, for different reasons than their direct contributions on the field.
Beyond the box score, Jeter and Rollins are both seen as leaders, as well as big-time performers who crave the spotlight and show up most when the lights come on. 
While the reasons for this perception of Jeter are obvious - because they're true - Rollins has gained these attributes by talking a lot and being on some pretty good teams.
In 2007, Rollins declared the Phillies the "team to beat" in an ongoing war of words with then-Mets' outfielder Carlos Beltran.  As his predictions turned to prophecy, with Rollins as the catalyst, he began to be recognized as the unofficial team spokesman, because the national media craves things like rivalries and guarantees.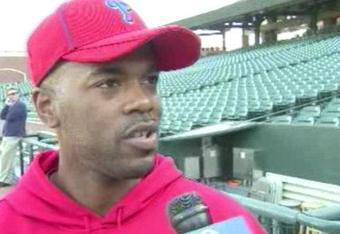 Over time, Rollins became viewed as the leader of the Phillies.  While the microphones and cameras seemed to gravitate towards him - and for good reason, because he always had something to say - the other members of the team just went bout their business, following the lead of guys like Chase Utley.
Some things a leader would never do, though, are things like taking plays off, like Rollins did in 2008, or showing up forty minutes late to a game, like he did a month later.  Both instances resulted in benchings, and really didn't scream leader. 
J-Roll also doesn't really show up any bigger in the big moments, as evidenced by his postseason batting average of .250 and his World Series slugging percentage of .267. 
Jeter, on the other hand, has hit .307 in the playoffs and slugged .449 in the World Series.  Again, he has earned the "big game" persona.
My final thought on the subject is about the legacy of these two players.
Derek Jeter is a needed piece of Yankees lore, which is impressive considering the team's proud and accomplished tradition.  He is one of the six greatest Yankees of all-time, with Babe Ruth, Lou Gehrig, Mickey Mantle, Joe Dimaggio and Mariano Rivera.  To let him walk in free agency and watch him finish his career in another uniform would have been unacceptable, and was set from the start to be avoided, no matter the cost. 
Jimmy Rollins might not be on the Mount Rushmore of the Phillies from the 2000s, let alone the history of the club.  Seeing him in a different uniform would not be any more strange than seeing Pat Burrell in a Giants uniform, or Cole Hamels in Dodger blue.  Resigning the declining shortstop for so much money not only could have been avoided, but should've been viewed as hysterical. 
Over the next two-plus seasons, the Phillies will be forced to pay eight figures to a poor player with a big ego.  Rollins has joined Howard in the "Contracts that make me wish I had a time machine" club.  You could never say that about Jeter.