Indy 500 Results: 3rd Win at Brickyard Puts Dario Franchitti in Elite Group
May 27, 2012

Jonathan Ferrey/Getty Images
Dario Franchitti's third career victory at the Indianapolis 500 on Sunday put him in a group of 10 drivers who have won the prestigious race three or more times.
Next year, Franchitti will have an opportunity to tie A.J. Foyt, Al Unser and Rick Mears as the only drivers in the history of IndyCar to win the Indianapolis 500 four times.
Franchitti's performance at the Brickyard on Sunday was nothing new to his fans who have watched him race throughout his career.
He has historically performed quite well at the Indianapolis Motor Speedway, and his consistency there is evidenced by six top-10 finishes and three victories in the race.
Since 2006, Franchitti has just one finish outside the top 10, which was last year, when he came in 12th place.
Now that Franchitti has won his third Indy 500 crown, he has become one of the best drivers in the history of the sport and may finish as the greatest when his career comes to a close.
In addition to three victories at the Brickyard, Franchitti has four career IndyCar series championships. All four were won from 2007 to 2011.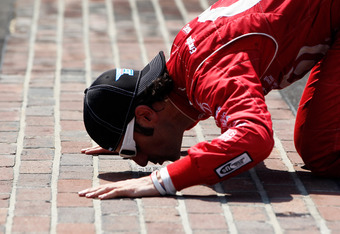 Jonathan Ferrey/Getty Images
The Scottish driver is building one of the more impressive resumes that the sport has ever seen, but even at 39 years old, he isn't going to be done for a while.
His consistency and love for the sport will help him keep the fierce determination and competitiveness that makes him so successful.
Now that Franchitti has won his third Indy 500, he has joined an elite group of IndyCar drivers, and it's very possible he could sit atop the record books with five Indy 500 wins before his career is over.