Indy 500 Winner: Everything You Need to Know About Dario Franchitti
May 27, 2012

Jonathan Ferrey/Getty Images
When Dario Franchitti joined Andretti Green Racing for the 2003 IndyCar season, the Scottish driver's potential was already held in high esteem by the racing community. Franchitti had previously established himself as one of the leading stars in the CART championship, finishing second in 1999 to Juan Pablo Montoya and third in the preceding year.  
Born in Scotland on May 19, 1973, Franchitti earned his first title at age 11 in the 1984 Scottish Junior Kart Championship. By 1986 he was a two-time British junior champion, and he went on to win the senior title in 1988.  
Following his early success, the Scot progressed to Formula Vauxhall where he won his maiden championship in 1991. Following the success, a partnership with Paul Stewart, son of three-time Formula 1 world champion Sir Jackie Stewart, ensued.
Racing in the Formula Vauxhall Lotus championship, he finished second in his rookie season, earning him the honour of being the 1992 McLaren Autosport young driver of the year—a prestigious award won by the likes of David Coulthard and Jenson Button. He won the same championship the following season.
Following this he continued with single seater racing but was unimpressive in his maiden British Formula Three season. Despite winning a single race, he was dropped by his team ahead of the 1996 season.
As a consequence Franchitti cast his eye upon the German Touring Car Championship, racing for AMG racing. He finished fifth in the 1996 championship and third in '97. The following season he diverted his attention to Champ Car.
Franchitti established himself as a leading driver in the CART series but could only manage a best finish of second in the 1999 championship standings. He finished third in 1998, his second season, some 125 points behind winner Alex Zanardi. Following his runner-up finish to Juan Pablo Montoya, his car's form dropped and in the following three seasons, he only achieved four wins; he earned five in his first three.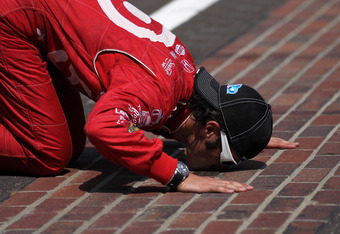 Nick Laham/Getty Images
Franchitti made his IndyCar debut in 2003, but his first full season was ended after two races, with a back injury sustained in a motorcycle accident in his native Scotland. After Dan Wheldon and Robby Gordon deputised for him, his place was finally occupied by Bryan Herta for the remainder of the season.
His first win came in 2004 at the Milwaukee 225, but it was not until 2007 that he was able to piece together a flurry of consistent results.
Franchitti achieved his maiden Indy 500 victory in 2007 and went on to secure the series championship, beating Scott Dixon by thirteen points.
He then left IndyCar for a failed attempt at NASCAR. Racing for Chip Ganassi Racing in 2008, his best finish was 22nd at the Martinsville Speedway in Virginia.
He returned to IndyCar racing in 2009 and has subsequently won three consecutive series championships.
His second victory at Indianapolis occurred in 2010, holding off Dan Wheldon in second position and Marco Andretti in third. Franchitti led 155 of the 200 laps making him a fitting winner.
He won his second Indy 500 title in 2012 in dramatic fashion. At the entry to turn 1 in the final lap of the race, Takuma Sato tried to make a move on the inside of Franchitti's No. 50 car. The two cars touched, which sent Sato to wall. Franchitti miraculously managed to maintain control of the car.
Outside of the racing arena, Dario Franchitti is married to American actress Ashley Judd. The couple have been wed since 2001, but at present, have no children. The marriage ceremony took place at Skibo Castle, Scotland. They currently live near Franklin, Tennessee.
Franchitti is a supporter of Celtic football club.