Monaco Grand Prix 2012 Winner: Mark Webber Captures Great Win from the Pole
May 27, 2012

Paul Gilham/Getty Images
Mark Webber has won the 2012 Monaco Grand Prix in what will go down as a great win for the Red Bull Racing Team.
Webber was closely followed by Nico Rosberg of Mercedes and Fernando Alonso of Ferrari, who finished the race second and third, respectively.
Webber started from the pole, and he finished in first. A win like this just goes to show you how important pole position can be, especially at a track like Monaco.
AP sports writer Jerome Pugmire chronicles both Webber and Red Bull Racings' recent success from the pole at Monaco via newsday.com:
The 35-year-old Australian did just that to stay ahead of Nico Rosberg and Alonso for his eighth career win. It was his second victory in three years at Monaco for Red Bull, which has won the last three at this track from the pole position.

"I'm feeling incredible," Webber said. "It was reasonably straightforward at the start. It's just a matter of then getting back into a reasonable gap (with) the weather threatening."
This was a huge win for Webber, and he's got to be feeling pretty good about the track at Monaco. The same could be said for Red Bull Racing, who had a great race highlighted by Webber, but a race that also included teammate Sebastian Vettel finishing fourth.
Those two finishes garnered Red Bull Racing 37 total points, and they find themselves on top of the team standings.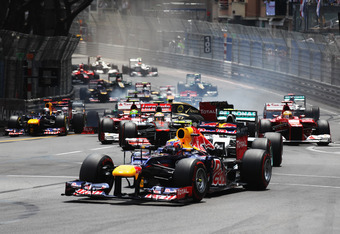 Mark Thompson/Getty Images
As far as the overall Formula One driver standings, the third-place finish pushed Alonso to the top with 76 points, with both Red Bull drivers, Vettel and Webber, tied at 73 points right behind him.
This was Webber's sixth race of the year and his first win on the year.
All-in-all, this was a huge race for both Webber and Red Bull. Not only did they get the great win at Monaco, but they are putting themselves in extremely good position for success from here on out in 2012.