Fantasy WWE: Monday Night Raw (5/21)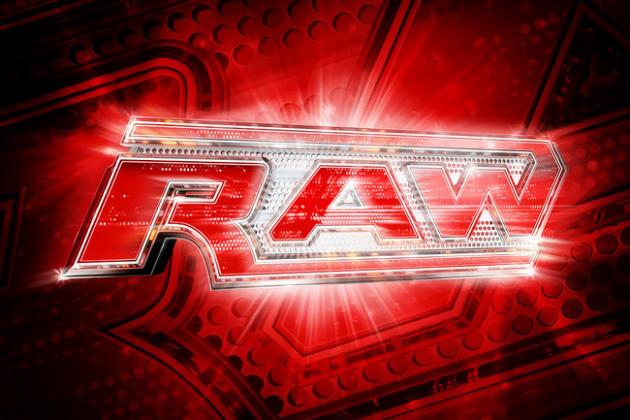 Hey, Bleacher Report! This is the posting of this past Monday's episode of Monday Night Raw. As the name implies, this is "Fantasy Raw." By no means will any of this ever happen—it's just a continuation of the Fantasy WWE Series.
The ratings war started a few weeks back, so please leave a comment with a rating from 1 (hated it) to 10 (loved it). Please give us some feedback. It will only help us.
A Brief Background: In October 2011, Nate Scaccia and I represented Raw while Kevin Berge and Nate Giese represented Smackdown in the second-ever WWE Fantasy Draft. After a lot of demanding schedules, the shows are now run by Michael Broughton and Will Owen on Raw while Charl G, Jack McKenzie and George Cushnie control Smackdown. Both shows are putting on great episodes week in, week out and are very interesting.
Writer's note: Just to show you guys that I read and value your comments, I've recently begun implementing match times into my matches, and now I am going to post my Raw roster every week.
Raw Roster
1. Randy Orton
2. Seth Rollins
3. Mark Henry
4. Sheamus
5. Wade Barrett
6. Rey Mysterio
7. Undertaker
8. Alex Riley
9. Drew McIntyre
10. R-Truth
11. John Morrison
12. Justin Gabriel
13. Vladimir Kozlov
14. Rob Van Dam
15. Shelton Benjamin
16. Kane
17. Chris Masters
18. Joe Hennig
19. David Otunga
20. Mason Ryan
21. Great Khali
22. Kassius Ohno
23. Abraham Washington
24. William Regal
25. Booker T
26. Layla
27. Beth Phoenix
28. Alicia Fox
29. Kelly Kelly
30. Rosa Mendes
31. Tamina Snuka
32. Tiffany
33. Hart Dynasty (Tyson Kidd and DH Smith w/Natalya)
34. Dudley Boyz (D-Von and Bubba Ray Dudley)
35. Harris and Rotundo (Husky Harris and Bo Rotundo)
36. The Cólons (Primo and Epico w/Rosa)
37. The Usos (Jimmy and Jey Uso w/Tamina)
This is just three weeks after Backlash, which you can view here. What's going to happen with corrupted Vince McMahon running the show in Week 3 of his four-week plan? Only one way to find out: Let's get to Raw!
Begin Slideshow

»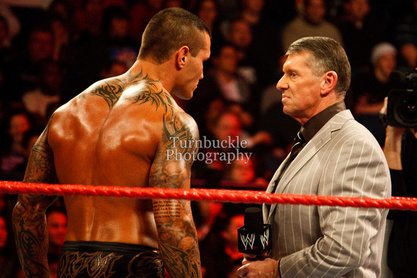 JR: "Hey WWE Universe! This is Monday Night Raw Live from Richmond, Virginia! and we have an excellent show in store for tonight."
Jerry Lawler: "That's right, King. We are now in week three of Vince McMahon's four-week Stand, where he has less than one month to show us what he can do as general manager, or he'll be sent packing."
JR: "And what do you think so far?"
Jerry Lawler: "Honestly JR, he has been wasting his time trying to fix the problems in the locker room and is now being manipulated week after week by the likes of Wade Barrett, Seth Rollins and others. Now he needs some major uproar on Raw, or he can kiss his job goodbye. And how bittersweet it'd be for Triple H to fire his own father-in-law, the man who made him a multi-millionaire and COO."
JR: "Bittersweet is not the way that I'd put it. I know that business is business, but the COO must have some say whether somebody is fired. Triple H, do the WWE Universe a favor and save Vince McMahon, the man who made you a legend."
Time to play the game.
Triple H walks down to the ring with a suit on and microphone in hand.
HHH: "It was two weeks from today that I told Vince McMahon that he had to turn Raw around. So far, he has not played up to par."
This gets a pretty good cheer from the crowd, who hate Vince and love Hunter.
HHH: "There's not much time left Vince. You want to keep your job, you give me something, something that the WWE Universe will see and make them want to see what happens. I want money falling from the ceiling crazy, not a new member joining your Kiss My Ass Club. You know what I want. I'm your boss; get to it, or you'll be fired. Simple as that."
Vince McMahon comes out with a pretty sad look on his face, sad in the sense that he knows he could lose his job in a week. Triple H exits the ring and walks back to the locker room. He slowly passes HHH and points to his gold watch. McMahon nods and walks by.
Vince: "Let's give Triple H a warm welcome for that wonderful speech! Hunter, you really do a great job in getting the crowd excited. But in all fairness, let's not lie to them. You and I both know that I'm not losing my job."
What?
Vince: "Hunter, you and I both know that I'll be running this brand until it reaches superstardom and there's nothing stopping me."
What?
Vince: "And you know that Vince McMahon always pulls out all the stops. I've put together some of the greatest nights in sports entertainment. WrestleMania 27 wouldn't have happened. You never would've been 0-2 versus the Undertaker. You would have never been taken to hell and back. How about your unsanctioned match at SummerSlam 2002? That was all me."
What?
Vince: "These four weeks will be no different. In fact, tonight, I have a great match up my sleeve. But before I do that, Randy Orton, get out here!"
Nobody comes out for about 20 seconds, when finally, Orton comes out with a microphone in hand and street clothes on.
Orton: "What do you want, Vince? Want to show off your unjust rule? Believe me, Triple H and the WWE Universe know what an asshole you've been to me."
Vince: "Believe it or not, I had no intention of that. To be honest, I feel bad. I feel bad that you're not a good enough wrestler to hold onto your belt like a real wrestler, such as Triple H. You held onto the belt for a measly four months. In that span, you retained the belt twice. My reign as ECW Champion was more memorable than yours with the Heavyweight Championship."
Randy Orton starts running toward the ring. When he enters, he moves towards Vince with fists out, ready to get into a fight. Just before he goes for a punch, McMahon interjects.
Vince: "Wait, wait, wait. I have no plan to hurt you, and if you touch me, I'll call off the decision I'm about to make. Tonight, I'm giving you the opportunity of a lifetime. In tonight's main event, Triple H will take on Kassius Ohno. Whoever wins the match will have a title shot at Raw's next PPV, Vengeance!"
Wade Barrett comes out without introduction and also has a microphone in hand.
Barrett: "Vince, do you currently suffer from amnesia? I knew you were old, but this is RIDICULOUS. Last week, you promised me tonight's main event. Didn't you?"
Vince: "Well, I, uh..."
Barrett: "And you told Randy Orton that his time as a World Champion contender was over correct?"
Vince: "Well, yes, but I-"
Barrett: "So why would you suddenly change your mind and give Randy Orton another shot at the title, not to mention that you unreasonably stripped me of my main event match tonight. Must I call Triple H down here to see what he has to say? I know he wouldn't want that now, would he?"
Vince: "Well, Randy, a promise is a promise. Barrett, I have a match for you tonight, but it's not the one that you've been preparing for. Tonight, you will fight Randy Orton. If you win, you will be given a main event match against Rey Mysterio on next week's three-hour edition of Raw."
Orton: "What about my No. 1 contender's match? Are you just going to get rid of it because this idiot told you to?"
Vince: "Randy, if you win, you will still have your No. 1 Contender's match on next week's three-hour edition of Raw. So if you ever want to have another title reign, you're going to have to win tonight. Now isn't that fair and just?"
Orton looks at McMahon with disgust and almost punches him, but then remembers that he can still have another title shot. He walks away. Barrett also looks pissed off, but heads backstage. Vince McMahon leaves the ring as well as we cut to commercial break.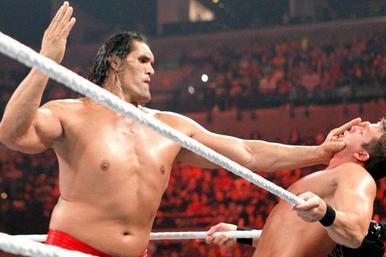 Ted DiBiase's theme goes off and he gets a relatively loud pop, especially after his great showing two weeks ago.
JR: "One of the most potential filled stars on Raw, it'll only be weeks until DiBiase Jr. makes it to the main event."
Jerry Lawler: "He definitely has the charisma, but as of now, he has not beaten a single superstar on his path."
Great Khali comes in for massive boos followed by in-sync cheers of You Can't Wrestle!
Khali tries pouncing on DiBiase to start the match, but DiBiase Jr. ducks out of the way and responds with a missile dropkick. DiBiase starts punching Khali's torso and then falls on his right leg. Khali groans in agony and is slow to get up.
JR: "I think Khali might be really hurt."
Jerry Lawler: "And speaking of injury, Ted DiBiase's nose looks pretty bent after being knocked open by Kane just two weeks ago."
DiBiase goes for a running knee to the torso and hits it. Instead of covering Khali, he bounces off the rope and hits a running leg drop. Now he covers: 1…2..kick out!
Khali gets up and is hit by a couple rights from DiBiase. He winds up in the turnbuckle and is speared by DiBiase. Khali's gigantic body tumbles to the ground. DiBiase goes for the cover: 1…2..kick out!
JR: "This is choppy wrestling. DiBiase can't lift Khali and can only use his arsenal of quick, on-the-ground moves."
DiBiase goes to the top turnbuckle before Khali gets up, and as he makes it to his feet, DiBiase jumps with a Polish hammer clenched. Khali uses might to prevent a takedown. DiBiase turns around and recuperates. He turns back around to tend to Khali but is instead abused by a big boot.
Khali steps on DiBiase's chest and goes for the cover: 1…2..kick out!
DiBiase gets up and almost falls victim to an atomic drop, but he gets two rights to the face of Khali. DiBiase responds with an enzuigiri. The cover: 1…2…kick out!
JR: "And that was a very close near fall. Khali doesn't have much left in him."
Khali gets up and catches one of DiBiase's attempted rights. He turns it into a scoopslam. When DiBiase gets back to his feet, Khali tries to twist the fate of the match by Irish-whipping DiBiase into the turnbuckle.
JR: "Wow, what a shot!"
DiBiase's chest is noticeably bruised. Khali goes in with a running clothesline, but DiBiase ducks and Khali falls into the turnbuckle. DiBiase then hits a running dropkick on Khali, but the Indian behemoth doesn't fall over.
Khali takes DiBiase and lifts him over his head. He then throws him (very awkwardly) onto the ground and puts his knee down.
All of a sudden, new chants come out against Khali: You Can't Wrestle! You Can't Wrestle!
Khali goes on an almost psychotic tear. He picks DiBiase and scoopslams his body out of the ring. The cheers get louder, so he gets out of the ring. He tries to Irish-whip DiBiase, but DiBiase Jr. hangs on. DiBiase goes for his own Irish whip, but Khali holds on and replies with a vicious clothesline. He rolls DiBiase back into the ring.
The cover: 1…2…kick out!
Chants of You Can't Wrestle surrounded the entire arena. Khali starts yelling. He goes to the rope and shakes it almost like Batista used to. This gets a terrible reaction. He then goes over to do it against the opposite rope. After doing that, he turns around and is taken for a very low Dream Street.
The cover: 1…2…3!
JR: "He did it! Khali couldn't hold on even though he started showing great resiliency towards the end of the contest."
"Here is your winner: Ted DiBiase, Jr!" (Time of Match: 7:13)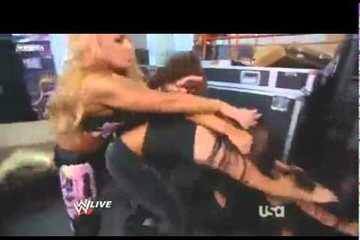 The Diva altercation
Vince McMahon is sitting in his office on the phone.
Vince (to the phone): "So how would you like to come on board?"
A response of muffled voices completely deletes McMahon's grin. A security guard walks in.
Security: "Mr. McMahon, there's a problem going on near the men's locker room. We need you to see this immediately."
Vince: "Dammit. Listen, I'll call you back. I implore you to re-think your decision."
He leaves his office and walks with the security guard.
Vince: "I don't have time for this crap. I'm so sick of this."
He finally makes it to the men's locker room where The Hart Dynasty and The Usos are fighting, while Natalya Neidhart (Raw's newest superstar) and Tamina Snuka are about to get involved in an altercation.
Vince: "Stop this right now! Stop it or you're all fired! Don't think I won't do it."
They stop.
Vince: "Tonight, I'm not going to watch another Hart/Uso tag team match. Tonight will be an open divas challenge, and the winner's tag team will get an opportunity at the tag team championship."
The Hart Dynasty hug while the Usos look pissed and annoyed by McMahon's announcement.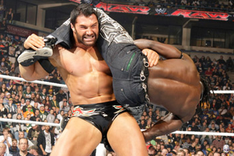 We head back ringside where R-Truth is in the ring for a good pop. Next come Mason Ryan and William Regal (holding Ryan's European Championship) who receive a terrible reaction.
JR: "Mason Ryan has been an absolute wrecking ball since he joined forces with William Regal. If I know Ryan, this match will not be difficult."
Ryan stares at Truth and immediately starts the action by nailing a running Polish hammer. R Truth gets up, only to be served with a butterfly suplex.
Mason Ryan decides to cover early on in the match: 1…2.kick out! R Truth slowly rises to his feet. He moves out of the way from an attempted running knee, and when Ryan turns around, Truth retaliates with a spinning kick to Mason Ryan's face.
R Truth finally gets more offense in the match. He heads to the top turnbuckle and goes for a corkscrew senton, but Ryan moves out of the way. Truth hits the ground hard and rolls around in pain.
Ryan tries finishing the match by going for a spinebuster, but R Truth turns it into a very impressive yet pain-dealing DDT. He covers: 1…2...kick out!
JR: "That was such a close call. Truth has sent Ryan far in this match. Could he be the one to stop this warpath?"
Ryan still gets up pretty quickly and goes for an armbreaker. R Truth's arm is in pain and becomes the target for the rest of the match. Ryan viciously stomps on Truth's arm so vigorously that Truth yells in agony.
R Truth gets up slowly. Ryan pulls his body close as if he is going to Irish-whip him into the turnbuckles, but instead, pulls his body and then hits a dastardly elbow to the right arm of Truth.
JR: "This can't be fair. I really think that Ryan just broke Truth's arm and the match still isn't over!"
Lawler: "JR, this is a newsflash to you. Wrestlers fight regardless of any injuries. They don't just stop a match for a broken arm, and they never give up. Truth is fighting for Richmond, Virginia, and the crowd loves it."
Truth gets up to the best pop he's gotten in awhile. He cherishes the cheers, but is immediately taken down by a big boot. The cover: 1…2…rope break!
Ryan starts arguing with the referee, mouthing that was three, d*** it! Ryan starts antagonizing the referee almost attacking him. Out of nowhere, R Truth comes in with a rollup: 1..2…kick out! This got the crowd very excited.
Truth gets up first and goes for the Truth Axe, but the Welshman reverses it with a kick to the gut. He now puts Truth in the pedigree formation (but with only his right arm back). He then hits a Mason Bomb during which Truth lands arm first.
Lawler: "That was great strategy by Ryan. This one's over with."
JR: "Strategy? He's out for blood and the whole WWE Universe knows it."
The cover: 1…2…3!
"Here is your winner, Mason Ryan!" (Time of Match: 6:43)
JR: "And the wrecking ball rolls over another target. This man has already been one of the most dominant forces on Raw, and I wouldn't be surprised if he was given the opportunity to be the double champion, European and World Heavyweight."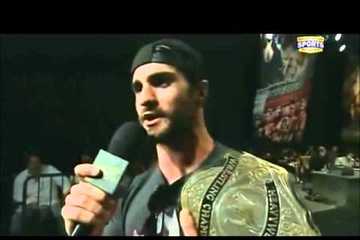 Seth Rollins' music hits and he comes down to the ring. He's holding the World Heavyweight Championship in hand.
Rollins: "I don't think I've ever gotten the chance to say how elated I am to hold this championship. I did what nobody thought I could do. I pinned Kassius Ohno and won Randy Orton's World Heavyweight Championship. What's important about this belt is, it's my first time."
Rollins: "This is going to be the moment that is highlighted in the WWE DVD dedicated to me. This is the time where I'll look back and say 'damn, I really was something.' This is the time where fans see me walking into the organic foods store and say, 'crap, you're Seth Rollins, world heavyweight champion'."
Rollins: "And I guess what I'm trying to say is, I thank all of you guys. You're the reason why I am here. You're the reason why I'm not sitting in some crap independent league, just waiting for WWE to see my talent. Basically, I just really want to say thank you to each and every one of you, some way or another."
Ohno comes out with a sarcastic clap.
Ohno: "It's amusing that you could just trash this crowd week in, week out, blaming them for all of your misfortunes. Truth be told, you are a crappy wrestler. I knocked you out not five weeks ago and you still think that you are the face of this brand? Yeah, right."
Rollins: "I could beat you anytime, any place. Yeah, you beat me one time. And I had a revelation, something I know somebody as fat-headed as you would never head. I learned that these people out here, the ones who come out every week to support me. They are my true friends."
Ohno: "Once Vince is under watch, I will have a title shot and I will take that title. So enjoy the last few weeks of your title reign; it's going to go quickly."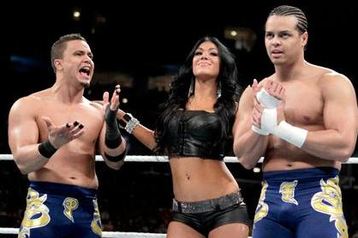 Primo and Epico make their way to the ring. It warrants a pretty decent reaction. Next come the Dudley Boyz, who enter with a very slight pop.
Lawler: "The Dudleyz are trying to recover after a few embarrassing losses. If they can beat the champions tonight, don't be surprised to see a title shot around the corner."
Bubba Ray Dudley and Epico are in the ring and exchange looks. Dudley goes to start the offense with a few rights followed by an atomic drop. Epico gets up and is hit by a running elbow to the upper torso.
Dudley drags Epico to the turnbuckle. Dudley hits a running baseball kick on Primo's cousin.
JR: "This is the type of offense they need to possibly win this match."
Epico gets up with the rope's aid and dodges an attempted Bubba Ray Dudley spear by using the two ropes (he's still in the corner) to hold him up. Dudley spears the turnbuckle and is hit by a spinning kick.
Epico does a somersault to save Bubba Ray from tripping him. He makes the hot tag to Primo, who immediately hits a running dropkick on Dudley (who is sitting up). He then goes for D-Von with a clothesline that knocks him out of the ring.
Primo jumps to the top turnbuckle and hits a senton from the top turnbuckle. He covers Dudley: 1…2.kick out! When Bubba Ray gets up, he is hit by a dynamite enzuigiri.
Bubba Ray moves out of the way when Primo goes for a top-rope leg drop. Dudley gains enough momentum to choke bomb Primo into the turnbuckle. He tags out into D-Von.
D-Von runs across the ring and hits Epico out of the ring with a clothesline. He watches Epico, and without knowing it, Primo rolls him up: 1…2…kick out!
Primo goes to the top turnbuckle and goes for a crossbody, but D-Von catches him. Primo then slides in the hold and hits a hurricanrana.
JR: "What a veteran move by Primo. He must be gaining a thing or two from his rich wrestling background."
Primo decides to go for his finishing Backstabber and hits it.
Lawler: "Well, the Dudleyz are good as done at this point."
1…2…3! "Here are your winners, Primo and Epico Cólon!" (Time of Match: 6:25)
Lawler: "They haven't won in a month and fall victim to another backstabber and loss."
JR: "I don't know what to say about them anymore. Maybe their age is catching up. They have been fighting together for over 15 years now, and I wouldn't be surprised to see these two hang up the boots."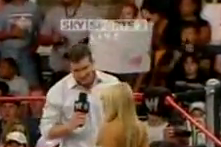 Kelly Kelly is walking around backstage. First, she passes by John Morrison.
Kelly: "You're not in a tag-team, are you?"
Morrison takes off his glasses: "The Shaman of Sexy is not in a tag team right now."
Kelly Kelly walks away.
She keeps running until she sees Joe Hennig and David Otunga standing around.
Kelly: "Aren't you two a tag team? Remember, you two never won a match? Well, if I win tonight, I can get you guys a tag team championship opportunity."
Hennig: "And why would you want to do me a favor?"
Kelly: "Because if I win this match, I'll be able to get my women's championship back. It's the title I deserve and there's nothing in my way anymore."
Hennig and Otunga both leave her laughing. She keeps walking around frantically. She walks into a big white body without a visible head. Finally, the camera moves up and we see that she ran right into Ted DiBiase.
DiBiase: "Great to see you, Kelly. I'm gonna be honest, you were an amazing women's champion."
Kelly blushes: "Thanks Ted, it means a lot. Anyway, are you in a tag team? I'd love to help you out tonight."
She rubs his arm and he chuckles somewhat awkwardly.
DiBiase: "No Kelly, unfortunately, I'm not. But I'd love to help you somehow."
Kelly: "See you some other time, Ted."
DiBiase: "Bye, Kelly."
The announcers are talking at the announcer's table.
Lawler: "She's absolutely smitten for him. I can't believe I'm saying this, but I'd pay one million dollars to be DiBiase."
JR: "DiBiase really has it all at this point. This could be his golden age in the WWE. But more importantly, what role will Kelly Kelly have in this match? Will she have one at all? Only time will tell. That match is next!"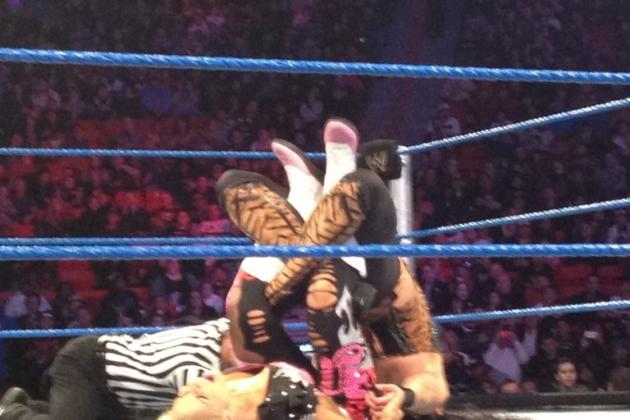 Raw's newest superstar, Natalya Neidhart, comes down to the ring for an amazing pop. Next is Tamina Snuka, who gets strong heat due to her association with both the Usos and Vince McMahon. Finally comes Rosa Mendes, who actually gets a pretty decent pop this week.
JR: "This is the first time I recall that divas will decide the fate of their respective tag teams."
Lawler: "These type of new stipulations, if well-received, could be a big reason why Vince McMahon keeps his job."
JR: "I definitely agree with that. This is extremely creative on the part of Vince, but how fair is it?"
Just before the bell rings, Mark Henry comes out with Abraham Washington and a microphone.
Henry: "Hold it, hold it, hold it. We have our own representative diva, and she'll be a part of this match too."
At that moment, loud maniacal laughs make their way onto the speaker, and out comes Kharma. This gets a great heat reaction from the crowd, but nobody saw it coming.
The match begins as Kharma walks in the ring. Tamina tries to hit her with a Lou Thesz press, but Kharma catches her before any punches make their way over and hits a scoop slam. She walks over to Rosa, who immediately crouches at the lowest turnbuckle.
Kharma kicks her right in the upper chest and holds her boot there for about five seconds until the ref tells her to stop.
Natalya and Kharma trade looks before any action between them takes place. Natalya plays possum to an extent, but not in a feared way, but using a smart and technical strategy. Kharma tries to keep up with her, but she eventually slows down. At that point, Natalya lands a spinning dropkick on Kharma, who luckily uses the ropes to catch her fall. This gets an amazing pop from the crowd.
Natalya then goes for a running Polish Hammer to knock Kharma out of the ring, but Kharma uses her immense strength to bend down slightly and then use her arms to throw Natalya out of the ring.
Natalya goes flying and almost goes head-first into the security barricade. She gets up very slowly.
JR: "I think Kharma may have given our newest diva a concussion."
Lawler: "If Natalya can't stop her, I don't know what chance anybody else has."
Kharma takes Rosa Mendes and throws her into Tamina Snuka, who is just starting to get up. Rosa hits a clothesline and actually rolls her up too: 1…2…kick out!
Lawler: "And I wonder what would've happened if Rosa won this match. Would Primo and Epico get to choose their opponents?"
JR: "According to Vince McMahon, that's exactly what would happen."
Kharma hits a backdrop suplex on Rosa and then lands a spinebuster on Tamina Snuka. She covers Snuka: 1…2…3!
"Here is your winner, Kharma!" (Time of Match: 4:14)
Lawler: "So it looks like Mark Henry and Abraham Washington are going to have a title shot. They definitely make an interesting team and haven't gotten much opportunity."
JR: "And depending on the momentum and the outside help from Kharma, we could have new tag team champions!"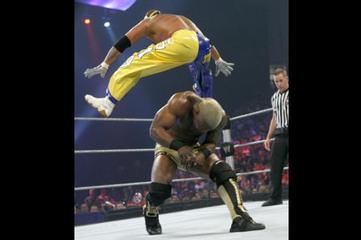 Kassius Ohno comes down to the ring for a very loud "boo" from the fans. Shelton Benjamin's reaction is much better, but still isn't a pop in any way. Next comes Alex Riley, who garners a big pop, and Rey Mysterio gets one too.
Riley and Ohno start in the ring. The bell rings and the match is underway. Riley starts by going for a crossbody clothesline, which he hits. He immediately heads to the top turnbuckle and then hits a top rope legdrop. He covers Ohno: 1..2.kick out!
Riley tags in Rey Mysterio, and he doesn't hesitate. He immediately hits a running baseball slide on Ohno's upper torso. Mysterio goes to the top rope and hits a senton somersault, but Ohno counters it.
Ohno Irish whips Mysterio, and on the rebound, Barrett hits a knee to Mysterio's chin. Just before Mysterio goes down, Ohno hits a powerslam on him. The cover: 1…2..kick out!
JR: "That was pretty close. It's a little strange that Mysterio barely pulled out of that one; maybe his age is catching up to him."
Mysterio gets up slowly and is hit by a running Polish Hammer. Ohno then picks Mysterio up and throws him out of the ring. Ohno follows him out of the ring and throws him (back first) into the edge of the announcer's table.
JR: "Barrett is on a serious mean streak, and nobody can stop him in this match."
Riley leaves the ring and tries to help Mysterio, but Benjamin lands a superkick on him. The count hits eight when Ohno decides to re-enter the ring. At nine-and-a-half, Riley rolls Mysterio back into the ring.
Ohno wastes no time and hits the Hangman's Elbow on Mysterio. The cover: 1…2...rope break! Mysterio finally shows some signs that he still has it. Ohno lands a spinebuster on Mysterio and then tags in Shelton Benjamin
Benjamin hits a half-flip leg drop on Mysterio and covers him up: 1…2…kick out! When Mysterio gets up, he eats a vicious superkick. No cover. Benjamin now picks Mysterio up from the ground and lands a T-bone suplex. He tells Ohno to go hit Riley and covers Mysterio: 1….2….3!
"Here are your winners, Kassius Ohno and Shelton Benjamin." (Time of match: 7:13)
Shelton tells Ohno to go get a chair and he does. Shelton slams Riley on his upper back and then lands a DDT on the chair (which is now on the mat).
JR: "He'd better stop this. This is no way to get on your boss's good side."
Shelton: "I'll respect you whenever the hell I think you deserve it."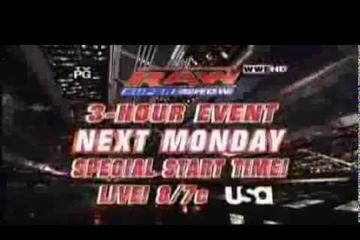 Raw is scheduled to be a three-hour episode with the following perks:
Vince McMahon's last week to impress COO Triple H (or else he's fired)
Alex Riley vs. Shelton Benjamin
Mason Ryan vs. Justin Gabriel for the European Championship
Possibly: Randy Orton vs. Kassius Ohno for No. 1 Contender to World Heavyweight Championship
Possibly: Wade Barrett vs. Rey Mysterio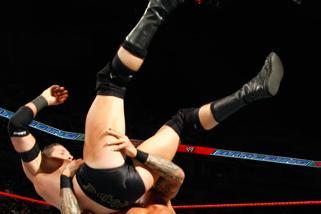 JR: "These two have had a special hatred for them since November 2010 that never really came to a proper end. Tonight, they have another chance at each other with different motives in mind. Barrett could finally get Mysterio in the ring while Orton could have another chance at his World Heavyweight Championship. Nothing will be able to stop these two from going full throttle."
Wade Barrett comes out for tremendous heat, already receiving tons of boos from the beginning of the show. Randy Orton comes out for an amazing pop.
JR: "Regardless of the winner, this match should be exceptionally exciting."
Randy Orton starts the action with a running kick to the face of Barrett. When the Englishman gets up, he is taken in for a backdrop suplex. Barrett turns a potential Boston crab into a roll up: 1…kick out!
Barrett gets up and stiffs Randy Orton's dropkick. When Randy gets up, he is hit by a big boot to the mouth. Orton gets up and is hit by an atomic drop. Barrett then lands a running knee to the face and goes for the cover: 1…2...kick out!
JR: "Barrett and Orton are heaving some great back and forth."
Barrett goes for a spinebuster, but Orton elbows Barrett and hits a running elbow. He locks in a gogoplata on Orton. The Viper can't hold on much longer; he looks to the ropes to save him, but they seem to far away. Somehow, he elbows Barrett in the chest and breaks free.
Orton gets up and immediately goes for the RKO, but is pushed away. Barrett responds with an elbow to Orton's torso. He then puts Orton in a Torture Rack. Orton is stuck again until he uses all of his might to get back down and lands a neckbreaker.
Barrett gets up slowly and is whipped into the turnbuckle. Orton hits the famous 10 punches and then throws Barrett off. Orton then goes for a diving elbow and hits it. The cover: 1…2…kick out.
Orton situates Barrett at the top turnbuckle and goes for his second rope DDT. He hits it. He starts pounding on the ground repeatedly when Sheamus comes running in. Sheamus stomps on him, whips him into the ropes and then responds with a massive Brogue Kick.
JR: "Ring the damn bell. Sheamus just screwed Randy Orton just like Orton did to Sheamus two weeks ago."
Lawler: "And if anybody really hates each other, it's those two."
JR: "Who's going to main event Raw next week for the special three-hour episode? Only time will tell. Good night."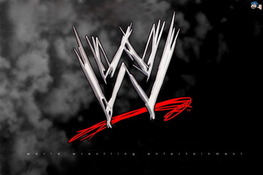 And that's our show! Tell me if you liked it by leaving a comment with a rating of the show (1 to 10). Just as a recap, this was the card:
1. Ted DiBiase def. The Great Khali via pinfall
2. Mason Ryan w/William Regal def. R Truth via pinfall
3. Primo + Epico def. The Dudley Boyz via pinfall
4. Kharma def. Natalya, Rosa Mendes and Tamina Snuka via pinfall
5. Kassius Ohno and Shelton Benjamin def. Alex Riley and Rey Mysterio
6. Wade Barrett vs. Randy Orton ended in a no contest
Tune in Sunday night for Monday Night Raw and on Thursdays at 7 p.m for episodes of Smackdown.
Please leave a comment and thanks for reading!
Editor's Note: Another thing I've added to my articles is a direct link to all of my older articles if you are new to the series.