Los Angeles Kings
NHL 2012 Stanley Cup Playoffs Final Odds Preview: NJ Devils vs. LA Kings

Photo/andrewshabs.blogspot.com
May 26, 2012
Introduction
Of course.
The No. 6 seed from the Eastern Conference against the No. 8 seed from the Western Conference in the 2012 Stanley Cup Final. Just as we all expected, right?
 ViewFromVegas' Dave Tuley said the odds of that happening was 109-to-1, so if anyone tells you they had the New Jersey Devils meeting the Los Angeles Kings to meet in the end, tell them to go fly a kite.
Anyone claiming they had the Devils or Kings winning hockey's Holy Grail must be a die-hard fan of one of those teams because no experts tabbed either two to get here even after they both made the playoffs.
With the two top markets in the United States participating, NBC has to be absolutely thrilled with this matchup, and I expect the ratings to be superb.
To no one's surprise, hot goalies and defense are the reason that both these teams have advanced to this Stanley Cup Finals.
Let's look at the particulars for both sides heading in with opening odds for the series coming from the LVH SuperBook here in sunny Sin City.
STANLEY CUP FINALS OPENING SERIES PRICE: Kings -160, Devils +140
Because they're the higher of the two seeds remaining and had the better regular season record (48-28-6), the Devils have the home-ice advantage in the 2-2-1-1-1 best-of-seven series.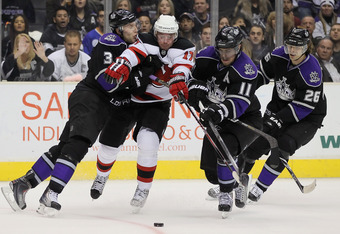 The Kings will have to keep the Devils Ilya Kovalchuk under wraps to win the Stanley Cup Finals.
Jeff Gross/Getty Images
Prudential Center in Newark is the site of Game 1 on Wednesday night (8 p.m. ET/5 p.m. PT NBC, CBC, RDS), and I expect a tight-checking, low-scoring affair in the opener. The LVH SuperBook opened the Kings as -120 favorites and the total at 4½ goals (which it will likely be for all the games).
New Jersey heads into the Stanley Cup Final after playing 18 games in the NHL Playoffs while Los Angeles took just 14 games to get to this point.
The Devils—winners of three Stanley Cups, the last in 2002-03—were tops in the league on the penalty kill (89.6 percent), eighth in goals allowed per game (2.5) and 15th in goals scored per game (2.8).
New Jersey rode the back of 40-year-old goalie Martin Brodeur to eliminate the Florida Panthers, Philadelphia Flyers and its rival New York Rangers to get this chance to win Lord Stanley's cup. Ilya Kovalchuk, Petr Sykora, Zach Parise and Patrik Elias have been as solid as usual in this postseason.
The Kings (40-27-15) arrive in New Jersey winners of an improbable eight straight road games, but the way Jonathan Quick has played this season, Los Angeles is well deserving of this Cup appearance.
Los Angeles upset the No. 1 (Vancouver Canucks), No. 2 (St. Louis Blues) and No. 3 (Phoenix Coyotes) seeds in the conference en route to these finals.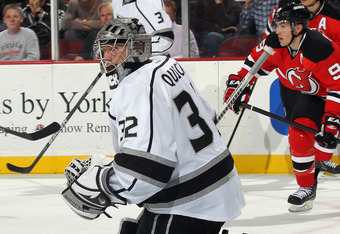 Kings netminder Jonathan Quick has been brilliant all season.
Bruce Bennett/Getty Images
The Kings—who now get the Staples Center all to themselves with the Lakers and Clippers being bounced from the NBA Playoffs—ranked fourth in the NHL on the power play kill (87.0 percent), second in the league in goals allowed per game (2.1) but a dismal 29th in goals scored per game (2.3).
One thing stars Anze Kopitar and Drew Doughty can rest their heads on is the fact the Kings registered more hits than any other club in the postseason—quite a feat for an eighth-seeded team from the west coast.
Like the Devils-Rangers series, this one should be extremely close with neither team getting too far ahead in any one game of the series.
And you can bet your bottom dollar there will be an overtime game or two.
I think either the Devils' Kovalchuk or the Kings' Kopitar will emerge as the offensive star of the series, but your guess is as good as mine as to which one it will be. Scores on Brodeur and Quick come around about as often as a laugh in a Jay Leno monologue on The Tonight Show.
New Jersey swept the regular season series in two low-scoring games, winning 2-1 in a shootout at home on Oct. 13 then shutting out the Kings 3-0 in Los Angeles 12 days later on Oct. 25.
One thing of remember if the Devils should lose Game 1 on Wednesday is that they also lost their openers to the Flyers and the Rangers but came back to win both series.
Although they're slight series underdogs, I'm leaning toward New Jersey to pull the mild upset over Los Angeles in a long, close and very entertaining series.
But Kings fans should take solace from the fact that I am a perfect 0-5 in my last five series predictions in these postseason previews, and I decided to pass on them against Phoenix in the Western Conference semifinals even though I knew they were on a roll.
One thing I know for sure from the Twitterverse on Friday night: Rangers fans will now be pulling heavily for the Kings against their hated rivals, as Los Angeles laces up the skates and tries to finally bring home its long sought-after first Stanley Cup.

PREDICTION: Devils 4-3

LVH SuperBook Pre-Playoffs Odds To Win Stanley Cup
Los Angeles Kings 20/1
New Jersey Devils 20/1
SERIES SCHEDULE:
 Game 1: Wednesday, May 30 2 Kings @ Devils 8 p.m. ET/5 p.m. PT NBC
 Game 2: Saturday, June 2 Kings @ Devils 8 p.m. ET/5 p.m. PT NBC
 Game 3: Monday, June 4 Devils @ Kings 11 p.m. ET/8 p.m. PT NBCSN
 Game 4: Wednesday, June 6 Devils @ Kings 11 p.m. ET/8 p.m. PT NBCSN
*Game 5: Saturday, June 9 Kings @ Devils 8 p.m. ET/5 p.m. PT NBC
*Game 6: Monday, June 11 Devils @ Kings 11 p.m. ET/8 p.m. PT NBC
*Game 7: Wednesday, June 13 Kings @ Devils 8 p.m. ET/5 p.m. PT NBC
* If Necessary

Follow me on Twitter: @KevinStott11
Like the new article format? Send us feedback!