Indy 500 2012: Drivers Who Are Most Likely to Become First-Time Winners at Indy
May 26, 2012

Chris Graythen/Getty Images
The Indianapolis 500 is arguably the most prestigious race in motorsports and it will be run for the 96th time on Sunday. Past winners like Helio Castroneves, Dario Franchitti and Scott Dixon are obvious favorites, but there are many hungry drivers who are looking for their first 500 victory.
Several younger drivers have gotten off to hot starts this season and that would seem to lend itself to an upset victory of some kind at Indy. There are at least 15 or so strong contenders, so this year's 500 has a very open field. There is obviously a chance that Castroneves, Franchitti or Dixon could win, but they're going to have to hold off some very strong challengers.
Here are three drivers with the best respective chances of reaching victory lane for the first time in the Indy 500 and etching themselves in the annals of racing history for all time.
Back in 2006 as a rookie, Marco Andretti came within fractions of a second of winning the Indianapolis 500, but he was edged out by Sam Hornish, Jr. in the closest finish ever. Andretti is now a 25-year-old veteran who has had plenty of success on the circuit, so he is ready to finish the job. A member of the famous Andretti racing family, Marco has two career wins in the IndyCar Series and he has come close to winning in Indianapolis on several different occasions.
Andretti has finished in the top three on three different occasions, and so many close calls have to be wearing on him. He was very impressive in qualifying, as he will start on the inside of the second row in the fourth position.
He has the equipment and the skills to compete all race long, and provided he can stay out of wrecks and other trouble, he is going to be a factor in the closing laps as he so often is.
Ryan Hunter-Reay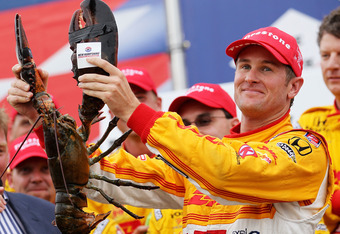 Nick Laham/Getty Images
Ryan Hunter-Reay is now in his fifth IndyCar season with his fourth team, but the 31-year-old driver is ready for a break-out win. Hunter-Reay has been great this season with Andretti Autosport, as he is fourth in the points and coming off a second-place finish at Sao Paulo. He appears to be racing better than he ever has at this point and if things fall into place for him on Sunday, there is no reason why he can't reach victory lane.
Hunter-Reay has three career IndyCar wins, but he is still searching for the one that will make him a star. He's going to start third this weekend and will merely have to retain his spot throughout the day to give himself a real chance.
There are a lot of talented drivers on the circuit, but Hunter-Reay is undoubtedly one of the most talented and that will be put to the test as he looks to win his first Indy 500.
Ryan Briscoe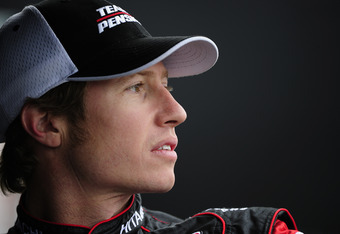 Robert Laberge/Getty Images
At the age of 30, Ryan Briscoe is in his sixth full season in the IndyCar Series, but he has only begun to scratch the surface of his vast potential. Briscoe has already won five times on the circuit, but the Indy 500 hasn't been kind to him as he has finished in the top five only once. Briscoe hasn't scored a win in more than 30 races, so he is certainly hungry to get on the board, and the Indy 500 would be the perfect place to start.
Briscoe surprised some when he nabbed the Indy 500 pole last week, but for those who follow IndyCar closely, it has always been clear that Briscoe has top-notch ability. Pole sitters haven't always fared well in the Indianapolis 500, but I doubt that is on Briscoe's mind at all.
Briscoe is in a great spot, as he obviously has a very fast car and plenty of confidence heading into the race. If he uses those two things to his advantage, he is going to be very tough to beat.
Follow @MikeChiari on Twitter