Los Angeles Galaxy vs. Houston Dynamo: 10 Bold Predictions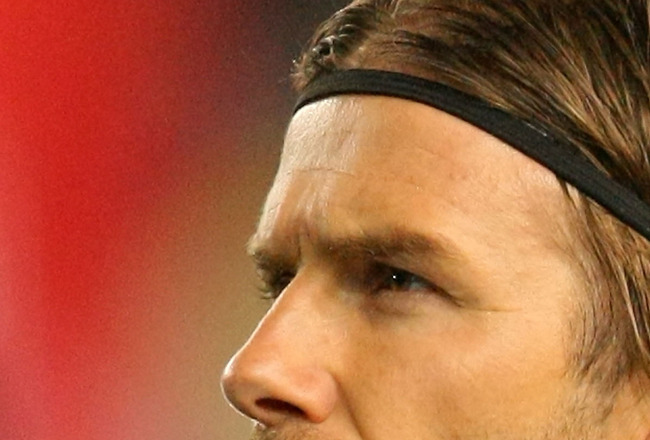 Victor Decolongon/Getty Images
Bruce Arena's Los Angeles Galaxy sport the worst record in the MLS Western Conference at 3-7-2 (11 points). It doesn't seem that there could be any letting up in terms of maintaining their cold streak when they face the Houston Dynamo on Saturday at BBVA Compass Stadium.
Or is there not?
It has not been a pleasant May for Los Angeles, who have yet to win this month. This is their last chance to salvage something this month in league play. Houston currently sports a 3-3-4 record (13 points), and are similarly struggling to get points in the MLS Eastern Conference.
Kickoff is scheduled for 2:30 p.m. (EST) and will be televised by NBC Sports.
Here are 10 bold predictions for Saturday's afternoon tilt in H-Town.
1. Possession Domination for Houston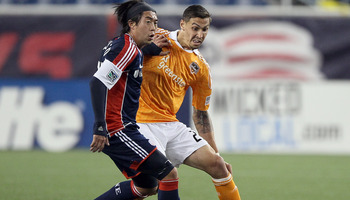 Elsa/Getty Images
In spite of drawing 2-2 with the New England Revolution last weekend, the Houston Dynamo were solid in their ball possession, dominating 61.9 percent to 38.1 percent.
So, look for the Dynamo to establish the tempo against the Galaxy here.
2. Stats Domination for Houston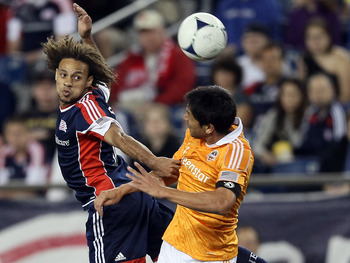 Elsa/Getty Images
Going back to the stat sheet on MLSSoccer.com, Houston had better passing accuracy (81 percent to 68 percent), more open play crosses (24 to seven) and shots on goal (nine to seven).
Given this, I expect the Dynamo to lead in these three departments this Saturday against LA.
This leads in to my third bold prediction.
3. Houston Will Score First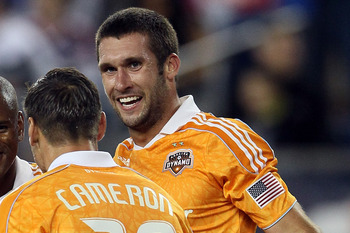 Elsa/Getty Images
Stats domination combined with home field advantage equals a Dynamo lead early in the first half.
One player who should get on the score sheet first for Houston is the Dancing Bear, Will Bruin, who leads the team in goals with five on the year.
There are a number of other possibilities, such as Brad Davis, Brian Ching, Andre Hainault and Luiz Camargo, but I am putting my money on Bruin to score first here.
4. Two Assists for Adam Moffat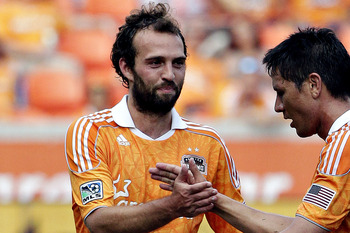 Bob Levey/Getty Images
Adam Moffat is tied with Brian Ching in assists with two, but I think he will get on the score sheet with a brace of assists.
He is one of the more reliable providers on the Dynamo team and is a refreshing change-up from Davis' playmaking ability last year.
5. Mike Magee with a Goal for Los Angeles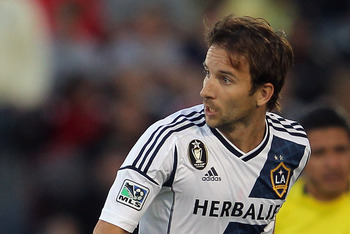 Doug Pensinger/Getty Images
Los Angeles should get on the score sheet, but it will be in the second half.
When Mike Magee has the ball, the Houston defense will need to be aggressive in marking him because he has the skills to beat players on one on ones, as seen in his goal against the San Jose Earthquakes on Wednesday.
6. At Least Six Corners from David Beckham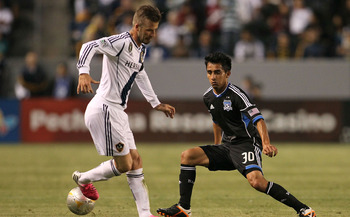 Victor Decolongon/Getty Images
The David Beckham show comes to Houston this weekend, and Becks himself is expected to earn a fair share of set piece opportunities. I expect at least six corners awarded to Beckham, and all of them will be cleared.
7. The Wrath of Brian Ching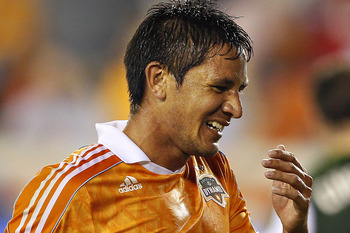 Bob Levey/Getty Images
After the Montreal escapade fell through, Brian Ching was sent back to Houston, where it has been business as usual. I expect Ching to record an assist or a goal, but it will be purely insurance.
8. At Least 20 Fouls and Four Yellows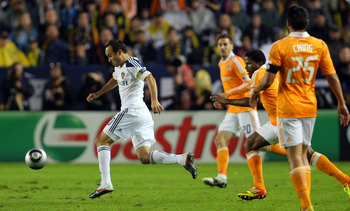 Victor Decolongon/Getty Images
It's the rematch of MLS Cup 2011.
This means plenty of fouls and cards to be issued out. I am looking for at least 20 fouls and four yellow cards for each team. As with all matches that are boldly predicted by yours truly, any red card is icing on the cake.
9. Silent First Half, but Houston Takes the Lead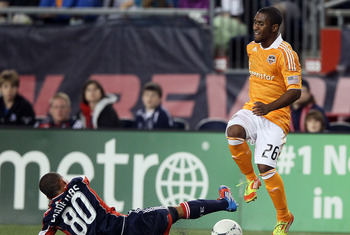 Elsa/Getty Images
As mentioned, it will be an early Houston lead in the first half. But, Los Angeles will bunker down and reduce the damage in the opening stanza. The Dynamo will come into the break leading 1-0.
The second half, however, will be a different story.
10. Houston Explode to Rout Los Angeles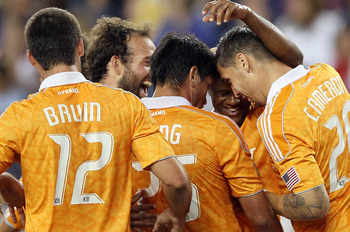 Elsa/Getty Images
Three second-half goals from the Dynamo will be more than enough to secure all three points for Houston, while putting the Los Angeles Galaxy's postseason hopes in serious question.

I predict the final score will be 4-1 Houston Dynamo over the Los Angeles Galaxy.
Keep Reading