ACC Baseball Tournament 2012: Biggest Keys for N.C. State vs. Wake Forest
December 16, 2016
N.C. State kicked off their 2012 ACC Tournament with a little late-inning magic in a win over Miami, but they'll need to play better if they hope to stand a chance against Wake Forest tonight.
The No. 3-seeded Wolfpack should seemingly be able to overwhelm the Demon Deacons based on their regular season success, but tournaments oftentimes see unexpected results. 
If N.C. State hopes to come away from this matchup with another victory, they will need to rely on these three elements to get the job done.
Keep Temper in Check
Baseball is an emotional game for those who play and for those who watch.
Head coach Elliott Avent knows this firsthand, as he was recently suspended for three games due to an altercation with an umpire, according to the Charlotte Observer, because he made physical contact with the ump.
Now that it's tournament time, it is more crucial than ever that Elliott and his team restrain their emotional responses to questionable calls by the umpiring crew. 
There is a good chance that they aren't going to agree with a call or two in this upcoming game, and the players and coaches need to keep their tempers in check when those instances occur.
Level heads and steady play will win the day, but hot-tempered emotional responses can kill their chances. 
Continued Brilliance by their Freshmen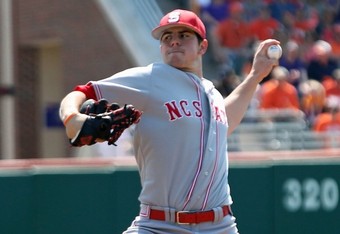 N.C. State features a handful of stellar freshmen who have been a huge part of the program's success in 2012. They will need to continue their brilliant play against Wake Forest and throughout the tournament if the Wolfpack hope to keep winning.
One of the biggest keys to the game is rookie pitcher Carlos Rodon, who will start for N.C. State in this upcoming game vs. Wake Forest. Rodon dominated his opposition in the regular season, posting a 1.59 ERA while striking out 114 batters, according to collegebaseball360.com.
He's joined by Trea Turner, Brett Austin, Jake Fincher and Logan Ratledge as the rookies who have made a major impact this year for the Wolfpack.
All of them must play at their highest levels against Wake Forest to insure another victory tonight.
Ryan Matthews Must Continue Making His Mark
Matthews drew a walk in the bottom of the ninth inning against Miami. He ended up scoring one of the final two runs for the Wolfpack, but his decision to take the walk broke a 21-game hitting streak, according to the Boston Herald. 
He has been on a tear in 2012, posting a 343 batting average, 14 home runs and 52 RBIs. 
His story is quite remarkable, too. N.C. State is the fourth school Matthews has attended since 2007, according to the Charlotte Observer. If the Wolfpack hope to continue winning throughout this tournament, they will rely on his big bat to keep producing.
Matthews has finally found a home at N.C. State. Now it's time for him to bring an ACC Tournament championship trophy back to Raleigh.