Indy 500 2012 Lineup: Racers Whose Position Will Render Them a Quick Lead
May 24, 2012

Andy Lyons/Getty Images
Getting out early ahead of the pack has to happen for any driver to have a legit shot at winning the Indianapolis 500.
Scott Dixon, a former winner of the race (2008), is one driver that's positioned well—courtesy of the grid—to be a part of the leading pack as he can ride the outside to avoid any contact or pressure from the middle.
Along with Dixon, there are some other notable drivers well-suited to jump ahead early. So let's see who will be up front during the early stages of the 2012 Indy 500.
Here's a look at the full Indy grid, courtesy of the race's official website.

Marco Andretti, Grid No. 4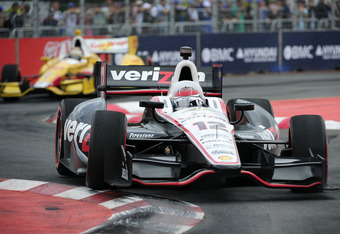 Robert Laberge/Getty Images
With four top-10 finishes in Indianapolis, Marco Andretti enters the race in 2012 near the front on the inside of Row 2.
It's a great placement to begin such an important race, because Andretti has yet to finish in the top 10 this season. The good news is that Indy was good to him in 2011 (ninth) and 2010 (third), so the consistency has been proven.
Directly in front of Andretti is Ryan Briscoe. Briscoe didn't even finish the Indy 500 last year, so expect Marco to come out rough and try to work the innermost part of the track.
Also, among the front wall of drivers, Andretti has other tough competition in Will Power and former winner of the race Hélio Castroneves.
Andretti doesn't have a choice but to start strong—otherwise another disappointing finish will happen in 2012. 
Tony Kanaan, Grid No. 8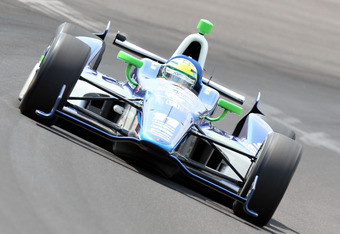 Andy Lyons/Getty Images
Coming off a fourth-place finish in 2011, Tony Kanaan has endured impressive success at the Indy 500, getting third in 2003 and second in 2004.
Heading into the race this year, Kanaan does have a fourth-place finish at Long Beach so the potential to race well is there for Indy. Receiving the No. 8 spot on the grid, Kanaan may be in the middle of his row but it's near the front of the pack.
At the start, right in front of Kanaan is James Hinchcliffe, who enters the race with four top-six finishes in 2012. The bright side of that will be Kanaan getting to chase early, thus forcing him to focus on staying with the front pack instead of worrying about those behind him.
Then you have Andretti who is slightly up front and to the left while Castroneves is angled to the right. So, for Kanaan to have a chance he must work between Will Power (directly in front) and rookie Josef Newgarden to establish position early. Doing that will simply set him up for later on.
Graham Rahal, Grid No. 12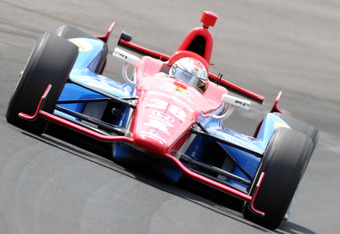 Andy Lyons/Getty Images
One row back and to the right from Kanaan we see Graham Rahal at No. 12 on the grid.
Although he's on the outside of row four, Rahal has fared well in Indianapolis, taking 12th in 2010 and third in 2011. More impressively, his third-place finish in 2011 began with a No. 29 grid spot, so he's way better positioned this year.
While the tough drivers like Kanaan, Andretti, Hinchcliffe and Castroneves are battling to gain an edge, Rahal can use the outside to his advantage. For one, E.J. Viso, who is directly ahead of him, has yet to finish in the top 20 at Indianapolis.
In short, the surrounding competition within his row and in front to challenge Rahal on the outside is limited. It's the competition that sits behind him that Rahal must be concerned about.
Scott Dixon, Grid No. 15
As previously mentioned, Scott Dixon has won the Indy 500 once before and has other good finishes, with a fifth the past two years, sixth in 2009 and second in 2007.
Dixon also has added two second-places in 2012 but does enter on a brief slump.
Looking at the 2012 Indy 500, Dixon has his work cut out. Behind him is JR Hildebrand, who took second last year, obviously Rahal and Co. in the rows closer to the front and Dario Franchitti (position 16) who is also a former winner of the race.
Here, Dixon must immediately challenge Rahal to the outside and force the pace to get out front. This then prevents Hildebrand from making an early move and allows Dixon to match Franchitti in racing to the lead pack.