Pacers vs. Heat Game 5: Larry Bird Calls out Team for Being Soft
May 23, 2012

Gregory Shamus/Getty Images
When NBA legend Larry Bird speaks, people listen.
After being blown out, 115-83, by the Miami Heat in Game 5 of the Indiana Pacers' second-round playoff series, Bird took it upon himself to explain to the media why his team lost.
UPDATE: Wednesday, May 23, 4:40 p.m. ET by Donald Wood
After harsh words for his team, Indiana Pacers president of basketball operations Larry Bird's message was received loud and clear by his star player, Danny Granger.
Granger responded to the Associated Press about the accusations levied by Bird that the team played soft in Game 5:
I agree with his assessment. We did play soft. We got smacked around. We got beat up, we got bullied, and we really didn't respond well. I've been with Larry since I've been in Indiana for seven years. He's not been one to hold his tongue, and 99 percent of the time what he's saying is right. I think he just called out what everyone else saw. We played a soft game. We didn't play with the playoff intensity that we needed to win.
While Granger and the rest of the Indiana players were buying into what the NBA legend was saying, the Miami Heat claim they can see right through Bird's ruse.
James told to the Associated Press exactly what he thinks the words from the Pacers president meant:
He's just trying to amp them up. That's all. That's all it is. He knows his team isn't soft. But with them, with their backs against the wall at this point, he knows what he's doing. He's not the executive of the year for no reason.
While James did shower him with praise, he is still trying to discount something that Larry Bird is saying. As correct as James is, this is even more talk that the Pacers could use for motivation in Game 6.
There is no doubt that this possible elimination game is going to get chippy, and no one will walk away from that battle and think anyone is soft.
----------End of Update----------
Bird knows his words will get back to his players, and that's exactly what he wants.
As the Pacers president of basketball operations, it's Bird's job to get the best players on the court. While it's usually the head coach's job to motivate a young team, the Pacers may take the criticism more seriously if it comes from a legend like Bird.
In this case, Bird may have given the Pacers the shot in the arm they needed without the fear of the team turning on head coach Frank Vogel.
Mike Wells, Pacers beat writer for the Indianapolis Star, is reporting on Twitter about what Bird had to say about his Pacers after their Game 5 loss:
Larry Bird: "I can't believe my team went soft. S-O-F-T. I'm disappointed. I never thought it would happen."

— Mike Wells (@MikeWellsNBA) May 23, 2012
When asked to elaborate more, Bird said, "That's all I have to say."

— Mike Wells (@MikeWellsNBA) May 23, 2012
These young players can be mad about what Bird said concerning how soft the squad played, but if there is any player in NBA history that deserved to say that to his team, it would be Bird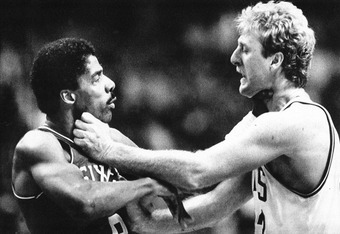 Say what you want about Larry Bird as a man or as a player, but this is a great move by the Pacers executive. If there is any way his team will bring enough energy to the table to beat the Miami Heat in Game 6, it will be after one of the greatest players to ever step onto a court calls them soft.
How would you respond if an all-time great and one of your mentors like Larry Bird went to the media and called you soft?
There are two natural responses; they can get angry that Bird said these things and mail in their effort like Andrew Bynum, or they can use these words as motivation and punch Miami right in the mouth.
Bird's calculated words will have the Pacers spitting mad in Game 6. You better believe this series is going seven games.
Check back for more on the National Basketball Association as it comes, and check out Bleacher Report's NBA page to get your fill of all things basketball.