Let's go out on a limb and assume that the first two rounds of the Western Conference playoffs were no fluke and that the San Antonio Spurs are the NBA's version of a buzz saw, fully capable of mowing down anything and everything in their path as efficiently as possible.
The Oklahoma City Thunder are up next, but in five—maybe six—games, Kevin Durant and Russell Westbrook are back on their couches watching the NBA Finals while James Harden's playoff beard continues to grow despite the elimination from contention.
After that, the representative from the Eastern Conference awaits. Just because it's the best story (and keep in mind that this is, in no way, a guarantee), let's say it's the Miami Heat.
LeBron James doesn't fade away during the biggest moments of the NBA season, but the offensive firepower of Tim Duncan, Tony Parker, Manu Ginobili and the rest of the Spurs is simply too much for a three-man team to overcome, and we're forced to listen to trade rumors involving Dwyane Wade and Chris Bosh for all of eternity.
The enduring moment of the lockout-shortened 2012 NBA season becomes Duncan holding up the Larry O'Brien Trophy yet again, cradling it in his arms as he realizes that this is how he wants to go out. This is the end of his storied career.
It's time to retire on top.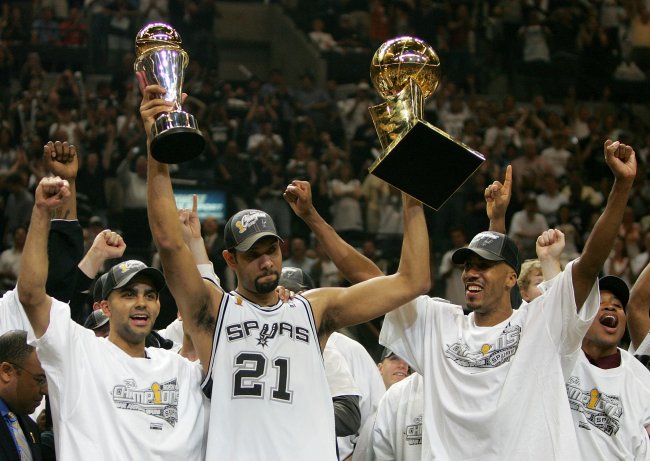 Ronald Martinez/Getty Images
Assuming my elaborately-crafted hypothetical becomes a reality, how would this fifth NBA title affect the legacy of the greatest power forward ever to play the game?
Well, part of the answer to that question is contained in the previous sentence itself. Duncan's grip upon the title of "best power forward ever to suit up in the NBA" would become more of a stranglehold. There would be no denying that claim whatsoever.
Along with that affirmation would be the setting in stone of Duncan's place among the top 10 basketball players of all time.
I'm not going to rank them here or anywhere else because it's my personal belief that no matter how much basketball history I learn (and I believe I've learned quite a bit), I still don't have enough knowledge to minimize non-quantifiable career arcs into a single set of all-time rankings.
That said, I'm 100 percent sure that Duncan would be in my top 10. He was before, and that's even more of a sure thing now.
In a way, that's fairly emblematic of the legacy alteration that the one-for-the-thumb would bring about.
Duncan's legacy isn't going to change drastically at this point. It's just going to be solidified.
The list of players who have won five titles is populated almost exclusively by members of the Boston Celtics and Los Angeles Lakers dynasties of years past—plus Michael Jordan and Scottie Pippen, of course. Robert Horry and his overrated clutchness have earned admission into the club, as have part-Laker Kareem Abdul-Jabbar and a few others.
A ring at the end of this season, quite possibly the best one put together in this franchise's storied history, would make Duncan the first player in NBA history to win five championships without ever suiting up for the Lakers, Celtics or Bulls.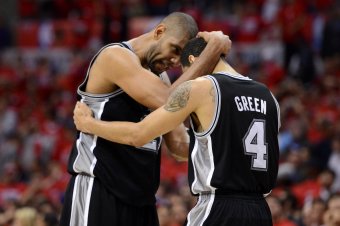 Harry How/Getty Images
Think about that for a second.
Essentially, this ring thrusts the Spurs into that upper-tier of NBA franchises as a true dynasty, one that was led from start to finish by Duncan over a time frame of no less than 13 years. The Duncan Dynasty would be on par with the ones produced by Michael Jordan, Larry Bird, Magic Johnson and the rest of the legendary names that don't start with a "B" and end with an "ill Russell."
Finally—and I've saved the most important and most controversial change a fifth NBA title would bring about for last—Duncan would be able to lay claim to another title: the best player of this generation.
Duncan would match Kobe Bryant's five titles and either exceed the Black Mamba's collection of Finals MVP titles by two or one, depending on whether he was named MVP of the final series of this season.
The Big Fundamental's stoic attitude has left him well short of the media attention the Los Angeles Lakers superstar has received, but his play has placed him in the same category. A tying ring would push Duncan ever so slightly ahead of Bryant in the race for the player of the generation.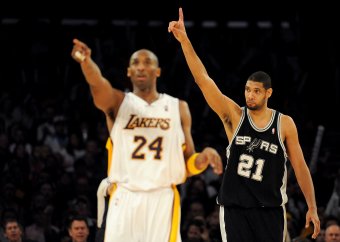 Harry How/Getty Images
This isn't the place for the inevitable Kobe-Duncan debate, though, so if that's a topic that tickles your fancy, I would highly recommend checking out fellow NBA Featured Columnist Kelly Scalleta's informative and entertaining article about that very debate.
It's not in Duncan's nature to pursue individual accolades and recognition instead of team success, but that's still one hell of a thing to be playing for.
Regardless of whether Duncan does indeed win the final game of the 2011-2012 NBA season, he'll still be remembered as one of the all-time greats. When you're watching him go head-to-head with Serge Ibaka and the rest of the Thunder, keep all of this in the back of your mind.
Duncan has been tragically underappreciated (despite all the appreciation he has received) throughout his career. Don't miss out on what could be your final chance to watch greatness personified.