Indy 500 2012: Remembering Past Winner Dan Wheldon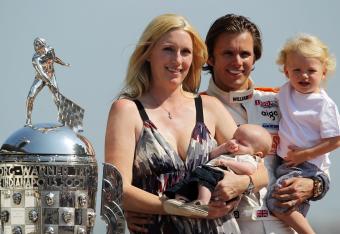 Nick Laham/Getty Images
Dan Wheldon was the exception to the British dentistry stereotype. His pearly whites dominated his face as much as his hair. He had the personality to match. Wheldon's tragic death at Las Vegas Motor Speedway will be felt heavily twice a year instead of just once.
Last year's Indy 500 was deemed one of the greatest in history. Wheldon led only one lap. It was the most important lap—No. 200. He made a dramatic last-lap pass to win the race. Nobody knew he had won until the electronic scoring monitors flashed his car number at the top of the scoring pylon.
How it happened is a great story.
Wheldon didn't have a full-time ride but was hoping to get one. He had spent the previous two seasons driving the National Guard car for Panther Racing. He finished second in the Indy 500 in that car for two years in a row.
Bryan Herta, a former teammate of Wheldon, wanted to sign him to a one-race deal for the 2011 Indy 500. Wheldon had other plans. He wanted to wait until he knew that he wouldn't have a full-time ride. The full-time ride never came, and he signed with Herta (who finished second to Wheldon in the 2005 Indy 500.)
Rookie J.R. Hildebrand replaced Wheldon. Hildebrand drove the National Guard into a position where he looked to have victory wrapped up. He had a comfortable lead and enough fuel to go the distance. However, he crashed coming out of the final turn. Hildebrand tried to get the car off the wall while he kept his foot on the throttle. The car stayed along the wall and crossed the line, but Wheldon passed him first.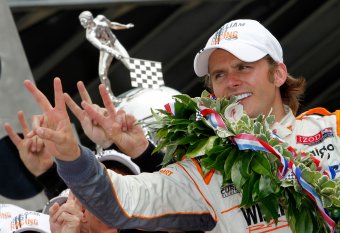 Jonathan Ferrey/Getty Images
There have been too many examples of the defending winner of the 500 not returning the following year. In 2001, Juan Pablo Montoya moved on to Formula 1 and was committed to the Monaco Grand Prix. Buddy Rice couldn't race in 2005 as a teammate to rookie Danica Patrick because of a neck injury he suffered during practice.
None of these examples from recent memory have been due to a driver's death. Wheldon is the first driver in 66 years to pass away before having the opportunity to defend his title.
Except for his first 500 in 2003, almost every year that Wheldon raced at Indy, he had a chance at winning. In 2006, he led the most laps but didn't win the race. He finished second for two years in a row.
The thing is, he would have had a great opportunity to win another Indy 500. Wheldon will certainly be remembered as one of the best drivers around the 2.5-mile rectangle. The biggest question is: How did he not win more Indy 500s?
One way Wheldon has already been remembered is the new chassis. IndyCar and Dallara have named it the DW12 in memory of the two-time Indy 500 champion. Wheldon had been the test driver for the IndyCar's version of the car-of-tomorrow that began its era of racing at Wheldon's American home of St. Petersburg, Fla.
There will be many tributes to Wheldon come Sunday. The Indy 500 ticket has a picture of Wheldon celebrating his unexpected win on it.
Susie Wheldon will be in Indianapolis for the race. She told the Associated Press that she doesn't know if she will attend the race with their two young boys.
Last year's Indy 500—and Wheldon's incredible ability to quickly adapt to television—made him one of the most popular drivers in the IndyCar Series. Dan was a natural people-person. The NBC Sports Network had him in the booth for race telecasts, and he was a complete natural. People got to know Dan better as a driver and as a person.
Everyone was pulling for him when he accepted the opportunity to race at Las Vegas for the $5-million bonus. Had he not won the Indy 500, would he have had such an opportunity? We will never know. What we do know is that Dan Wheldon touched the lives of many people, from close friends to fans he never actually met.
This article is
What is the duplicate article?
Why is this article offensive?
Where is this article plagiarized from?
Why is this article poorly edited?