2012 MLB All-Star Game: Predicting the Starter at Each Position for the NL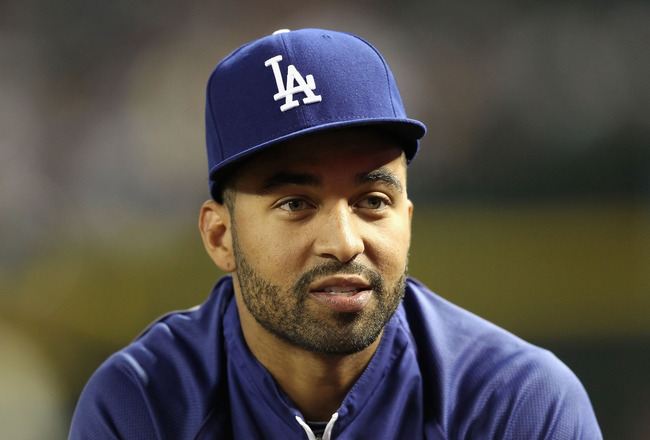 Will Matt Kemp be the leading vote-getter for the NL All-Star team?
Christian Petersen/Getty Images
Have you been filling out any MLB All-Star Game 2012 ballots at the ballpark or online? I suspect that the balloting won't really pick up until MLB releases some of the voting results shortly after Memorial Day weekend.
Fans will see that their favorites at certain positions aren't getting much support and will try to pick up the slack. Perhaps an undeserving player or two will be the leading vote-getter due to a larger fanbase, as fans will attempt to give their candidate a push. That seems to be how this usually goes.
The NL ballot actually doesn't allow a vote for designated hitter, which seems sort of silly since the game is being played in the Kansas City Royals' Kauffman Stadium, an AL ballpark. And with no one on the ballot to name as a candidate, I won't speculate as to who the NL manager will pick to man that spot.
The same goes for the starting pitcher. The top ace in the league doesn't often get the nod, as it depends on the pitcher's schedule in his team's starting rotation. So predicting who gets the start would be a guess, at best.
So here are the eight starters I believe will be selected by the fans for the 2012 MLB All-Star Game—not necessarily who deserves to start at those respective positions.
First Base: Joey Votto, Cincinnati Reds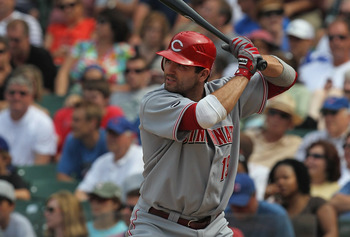 Will Joey Votto be a landslide winner for first base on the NL All-Star team?
Jonathan Daniel/Getty Images
Prior to the 2012 season, first base looked like an absolute lock for Joey Votto. Who else was going provide competition in the voting? Lance Berkman, perhaps?
The Cincinnati Reds first baseman still looks like the heavy favorite to win the fan vote for his position. With a .304/.461/.580 slash average, seven home runs and 28 RBI, he's a candidate for MVP in the NL.
Going by WAR (Wins Above Replacement), Votto is the best first baseman in the majors at 2.3. His 1.041 OPS is the fourth-highest in the NL.
The Chicago Cubs' Bryan LaHair would be a great story, and a .315/.413/.622 average to go with 10 homers, 21 RBI and a 1.7 WAR certainly warrants consideration.
Adam LaRoche of the Washington Nationals is another good choice, with a .304/.405/.543 average, seven homers, 31 RBI and a 1.6 WAR that ranks him fourth among major league first baseman.
But it's difficult to imagine either one of those players being voted in over someone with Votto's name recognition and an MVP award on his mantle.
Second Base: Dan Uggla, Atlanta Braves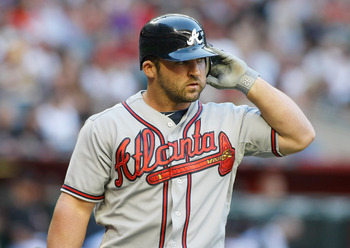 Dan Uggla leads NL second baseman with 24 RBI.
Ralph Freso/Getty Images
Here's one choice people might take issue with. Unlike past seasons, Dan Uggla is off to a good start for the Atlanta Braves and has put up some impressive numbers.
With a .267/.364/.422 average, five home runs and 24 RBI, Uggla wouldn't be a bad selection at all. It's just that two other second basemen are arguably having better seasons.
Omar Infante of the Miami Marlins leads major league second basemen with a .945 OPS and has six homers and 20 RBI for the season. His 1.4 WAR is also tops among NL players at his position.
Jose Altuve could very well be the Houston Astros' lone All-Star representative. He's been one of the breakouts of the season, compiling a .310/.361/.417 average with two homers, 13 RBI and nine steals. He also has a 1.4 WAR, which ranks higher than Uggla.
But Uggla is the better-known player and mans second base for one of the best teams in the NL. That will give him the nod over two players that might be more deserve of the All-Star starting spot.
Shortstop: Rafael Furcal, St. Louis Cardinals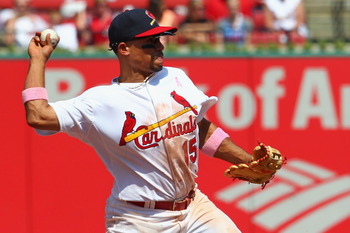 Rafael Furcal's .350 batting average is fourth in the NL.
Dilip Vishwanat/Getty Images
What? Troy Tulowitzki won't be the starting shortstop for the NL?
Well, he very could be, and he is the best player at that position. But he had a rough start to the season with the Colorado Rockies, both offensively and defensively, and is only now beginning to put up the numbers we're accustomed to seeing from him.
A .262/.339/.416 slash average is respectable enough, accompanied by five homers and 18 RBI. He could win the fan vote at shortstop based on popularity and name recognition.
But I think Rafael Furcal is going to receive a bunch of votes by virtue of playing for the World Series champion St. Louis Cardinals. It's not like his performance doesn't warrant the honor, either.
Staying healthy has made a huge difference for Furcal. His .350/.407/.466 is tops among NL shortstops. That batting average is the fourth-best in the league. And his 2.0 WAR ranks first among all major league players at his position.
Third Base: David Wright, New York Mets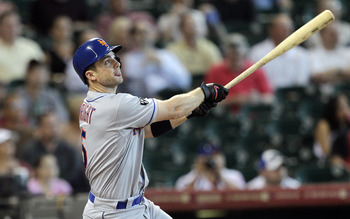 Mets third baseman David Wright leads the majors in batting average and on-base percentage.
Bob Levey/Getty Images
The competition at third base in the NL could be tough.
Pablo Sandoval is a popular player and will get plenty of support from San Francisco Giants fans. But he's also been out for weeks with a broken bone in his left hand.
Chipper Jones could get a sympathy vote from fans, paying tribute to him in his final MLB season. He's putting up good numbers too, with a .307/.372/.485 average, five homers and 24 RBI. But he's also missed some time with his bad knees.
The Miami Marlins' Hanley Ramirez and San Diego Padres' Chase Headley would also be fine candidates. But will they get enough votes from fans?
David Wright, meanwhile, is an MVP candidate, leading the majors in batting average and on-base percentage. Essentially, he is the New York Mets offense. They'd be in huge trouble without him. With him, they're over .500 and hold third place in the NL East.
And with a 3.3 WAR, he far exceeds his peers at third base.
Catcher: Carlos Ruiz, Philadelphia Phillies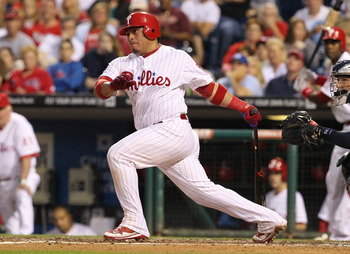 Phillies catcher Carlos Ruiz has been one of the top hitters in the NL this season.
Hunter Martin/Getty Images
There might be bigger names to vote in at catcher for the NL, including the Braves' Brian McCann and Giants' Buster Posey. Neither would be a bad choice, though McCann has had some major struggles with hitting for average.
A.J. Ellis of the Los Angeles Dodgers would also be an excellent pick, based on his .937 OPS for the best team in baseball. But unless Dodgers fans stuff the ballot box, he won't be voted in.
The clear top candidate for NL All-Star catcher this year is the Philadelphia Phillies' Carlos Ruiz.
With a .347/.400/.581 average, seven home runs and 29 RBI, he's been the best hitter on a Phillies team starved for offense. Those numbers also put him among the top batters in the league—not just at catcher, but at all positions.
Ruiz has yet to make an All-Star team in his seven-year major league career. He won't be overlooked this year. If the fans don't vote him in, it will be a travesty.
Plus, "Vote for Chooch" is just so catchy. It was meant to be a slogan.
Outfield: Jay Bruce, Cincinnati Reds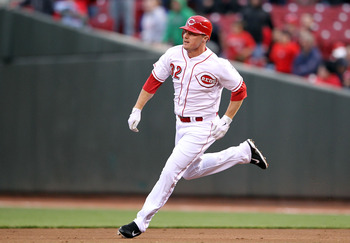 Jay Bruce's 10 home runs rank third among NL outfielders.
Andy Lyons/Getty Images
One of the intriguing stories to follow during the NL All-Star voting process will be how fans perceive Milwaukee Brewers outfielder Ryan Braun after being dogged by drug-testing controversy throughout the offseason. That cloud has hung over him well into the regular season as well.
But we're still talking about the reigning NL MVP. And with a .333/.402/.647 average, 12 homers and 30 RBI, his numbers most certainly warrant All-Star consideration. His 2.6 WAR ranks above Matt Kemp among NL outfielders.
However, I think people will hold the performance-enhancing drug allegations against Braun. Generally, I don't think fans care about PED use as much as the media thinks they do (or should), but the question of whether or not Braun is clean is enough to keep some fans from voting for him.
With those doubts, the Cincinnati Reds' Jay Bruce will overtake him in fan voting. Before Joey Votto began to pick up his production, Bruce was the Reds' best offensive player this season. His .270/.321/.561 average might not be as impressive as his outfielder peers, but his 10 home runs rank third, and his 27 RBI are in the top 10.
This could make for an interesting discussion in the comments section, though. Will Braun be a top vote-getter among NL outfielders?
Outfield: Matt Kemp, Los Angeles Dodgers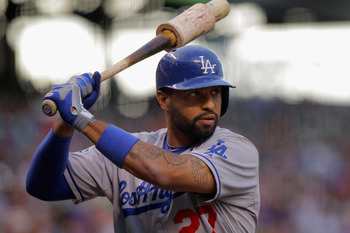 Matt Kemp has been the favorite for NL MVP all season.
Doug Pensinger/Getty Images
If Matt Kemp is good enough to be NL MVP, he's certainly good enough to be a starting outfielder for the NL All-Star team.
Despite missing time with a strained left hamstring, Kemp is still considered the favorite for MVP honors due to his leading the league in batting average, home runs and RBI for much of the season. Many fans think he was snubbed for the MVP last season, and seem likely to make up for that with some serious All-Star love.
Even with that hamstring restricting him, Kemp's early-season performance still has him near the top of the NL's major hitting categories. His 1.173 OPS leads all AL hitters, while his 12 homers and 28 RBI put him among the league leaders, as does his .359/.446/.727 slash average.
Surprisingly, Ryan Braun and the Braves' Martin Prado rank ahead of Kemp in WAR among NL outfielders. But his 2.2 WAR is still the third-best figure, and he figures to improve once his hamstring recovers and Kemp picks up where he left off before heading to the DL.
Outfield: Carlos Beltran, St. Louis Cardinals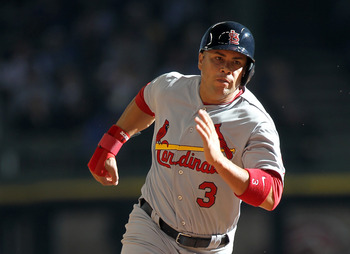 Carlos Beltran's offensive numbers have surged in recent weeks, making him an MVP candidate.
Mike McGinnis/Getty Images
If not for Matt Kemp, Carlos Beltran would be the current favorite for NL MVP.
Though he's struggled with a sore knee over the past few games, Beltran has been mostly healthy in 2012, and that's made all the difference for the St. Louis Cardinals. Once again, he's one of the most explosive hitters in baseball.
Beltran leads the NL with 13 home runs, and his 33 RBI rank second. His 1.001 OPS is the sixth-highest total in the league, and his 2.0 WAR places him fifth among NL outfielders.
The Cards right fielder also has three multi-home run games this season, giving him some of the most impressive hitting performances of the year.
Getting an All-Star start in Kansas City, where Beltran began his major league career, would also make for a nice story and essentially bring him full circle. Hopefully, his presence isn't too painful a reminder to Royals fans about the players that have gotten away over the years due to the team's inability (or unwillingness) to compete with the large-market teams in baseball.
Royals fans haven't always been the kindest to players who have left. But Beltran didn't leave as a free agent for the big bucks; he was traded when the Royals didn't believe they could sign him long term.
Follow @iancass on Twitter
Keep Reading