LeBron James' Top 10 NBA Playoff Performances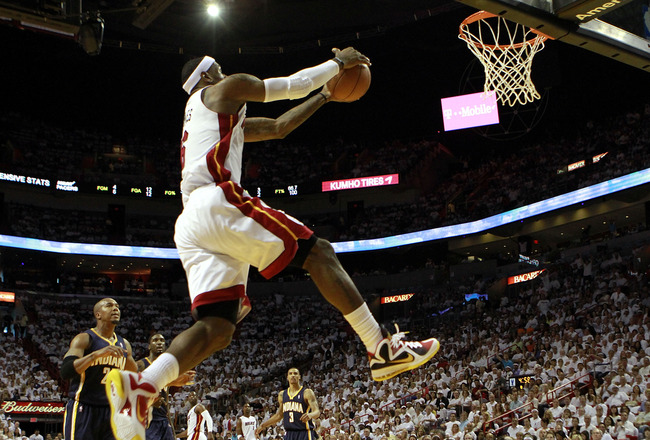 Marc Serota/Getty Images
Although he still has yet to win that elusive NBA championship, Miami Heat superstar LeBron James showed the world on Sunday that he's capable of being great in the postseason.
While all the focus is routinely on the fact that James doesn't have a ring, people tend to forget how great LeBron has performed in the postseason throughout his career.
Sunday's 40-point, 18-rebound and nine-assist performance against the Indiana Pacers in Game 4 not only evened up this Eastern Conference semifinal series at two games apiece, but it also gives me the perfect opportunity to go back and look at the best playoff performances in James' legendary career.
It was tough to narrow this list down, but here's a look at LeBron's 10 best playoff performances to date.
10. 2009 Eastern Conference Finals vs. Orlando Magic: Game 2
So LeBron can't come through in the clutch, right?
James put up a solid 35 points, grabbed four boards and dished out five assists while shooting 12-of-23 from the floor and 10-of-12 from the charity stripe—en route to a 96-95 Cleveland Cavaliers victory.
The Cavs needed a big performance from LeBron after they had already dropped Game 1 in the series.
They needed one, and they got one when James came through with a playoff buzzer-beater.
9. 2011 Eastern Conference Semifinals vs. Boston Celtics: Game 4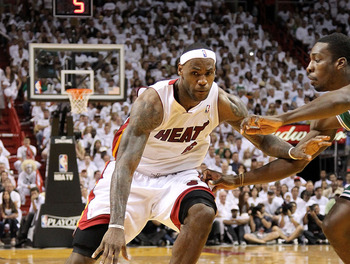 Mike Ehrmann/Getty Images
LBJ stepped up big for the Miami Heat, scoring 35 points, grabbing 14 rebounds and dishing out three assists to go along with three steals.
The Heat came from behind to tie the game in the fourth, and dominated overtime to walk away with a 98-90 victory to pull within one game of reaching the Eastern Conference finals.
James hit a three-pointer to tie the game at 84 and then made a left-handed layup with 48 seconds to play to give Miami an 86-84 lead.
LeBron hit a fadeaway jumper to give the Heat the lead in overtime, and they never looked back.
8. 2010 Eastern Conference Semifinals vs. Boston Celtics: Game 3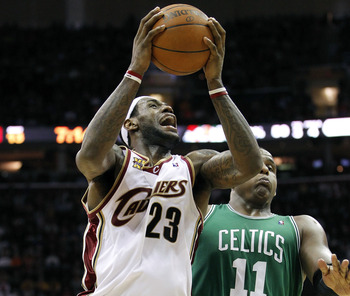 Gregory Shamus/Getty Images
With the series tied at a game apiece, LeBron came through with a huge effort in Game 3, leading Cleveland to a 124-95 win and a 2-1 series advantage.
"The King" scored 38 points, grabbed eight rebounds and dished out seven assists while making 14-of-22 shots from the floor.
He scored 21 of the 38 points in the first quarter and proved too tough for the Celtics the remainder of the night.
While the Cavs would eventually lose the next three games of the series, this Game 3 performance was something special.
7. 2006 Eastern Conference Quarterfinals vs. Washington Wizards: Game 5
LeBron made the game-winning shot on a baseline drive to give the Cavs a 120-119 win in overtime and a 3-2 series lead.
This game was defining for King James. LeBron missed a game-winning shot at the buzzer in regulation. But his tiptoeing on the baseline before the go-ahead basket with under a second left is the moment that may have changed the course of the Cavaliers—at the time.
He finished with 45 points, seven rebounds, six assists in 46 minutes, shooting 14-of-23 from the floor and 17-of-18 from the free-throw line (see, he can shoot free throws). LBJ and the Cavs started rolling for the next few years, and this game was a huge part of that.
6. 2008 Eastern Conference Semifinals vs. Boston Celtics: Game 7
This Game 7 didn't go the way that the Cavs may have wanted it to as they lost 97-92, but it certainly wasn't due to the effort from James.
He did all he could, scoring 45 points, dishing out six assists and grabbing five rebounds.
But what made this game memorable was the shootout between James and Boston's Paul Pierce.
Pierce hit a shot, and then James had an answer. That process repeated almost the entire game, and while LBJ's season would come to an end, this performance has always stuck out.
5. 2009 Eastern Conference Finals vs. Orlando Magic: Game 1
The Cavs would lose this game 107-106, but LeBron was simply fantastic in this one. He scored 49 points, dished out six assists, grabbed eight rebounds, along with two steals and three blocks.
Cleveland gave this game away, squandering a 15-point second-half lead, but LeBron made 20-of-30 shots. His 49 points was a career high and franchise postseason record.
4. 2009 Eastern Conference Semifinals vs. Atlanta Hawks: Game 3
King James scored 47 points, grabbed 12 rebounds and dished out eight assists as the Cavs beat the Hawks 97-82 to take a commanding 3-0 series lead.
He scored 25 of his 47 points in the second half, and joined Michael Jordan as the only players in NBA postseason history with 45-10-8 in a playoff game.
It was just one of those nights where LeBron was unstoppable, and he rode that and came through with a very special performance.
3. 2012 Eastern Conference Semifinals vs. Indiana Pacers: Game 4
This one is fresh in everyone's mind, but Sunday's performance ranks right up there as among LBJ's greatest of his career.
His performance was one of the best in NBA playoff history, recording the first 40-point, 18-rebound, nine-assist postseason game since Elgin Baylor accomplished the feat in 1961.
But the most important part was that the Heat needed a performance like this, and James delivered.
It was a must-win situation on the road, and LeBron dominated despite all of the pressure on his shoulders.
Simply a fantastic individual performance.
2. 2009 Eastern Conference Finals vs. Orlando Magic: Game 5
This Eastern Conference finals performance from LeBron was one of his best ever, coming in an elimination game with the Cavs down 3-1 in the series.
The King put up a triple-double with 37 points, 14 rebounds and 12 assists, and kept Cleveland alive for one more game.
In the 112-102 win, James showed off every dimension of his game and was unstoppable in every way.
While the Cavs would go on to eventually lose Game 6, LeBron's Game 5 performance was simply outstanding.
1. 2007 Eastern Conference Finals vs. Detroit Pistons: Game 5
All you really have to say to Cleveland Cavaliers fans are the words "Game 5."
They'll know exactly what you are talking about.
Love him or hate him, the only way to sum up the performance of James on that night is by using the word incredible.
LeBron took over. It often looked like he was playing one-on-five, but the Pistons had no answers for him.
When it was all said and done, James finished with 48 points, nine rebounds and seven assists while making 18-of-33 shots. Cleveland won 109-107, which put them one win away from a trip to the NBA Finals.
It was one of the greatest performances in NBA playoff history as James scored the last 25 and 29 of his team's final 30 points.
Keep Reading