Lance Berkman Injury: Updates on Cardinals Star's Knee Injury
May 20, 2012

St. Louis Cardinals fans and Lance Berkman fantasy owners now wait with bated breath as to the status of Berkman after the Cardinals slugger injured his right knee while catching a routine throw to first base during Saturday's game against the Los Angeles Dodgers.
Update: Friday, May 25 at 12:05 p.m. ET by Alex Kay
According to Jon Heyman of CBSSports, there is some great news for St. Louis Cardinals fans regarding Lance Berkman.
The surgery to repair Berkman's meniscus and cartilage tears in his right knee was successful today.
Now for an even better report; the team estimates slugger will be out for eight-to-ten weeks for recovery, putting his timetable to return somewhere between late July and early August.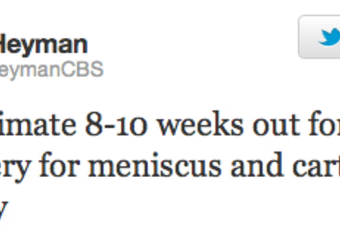 It's a relief that Berkman will be able to get back on the field in time for a potential playoff run and it seems that he could round back into form by October.
Keep it tuned to Bleacher Report for the latest news, updates, opinions and analysis on Berkman's recovery from knee surgery.  
Update: Thursday, May 24 at 11:20 a.m. ET
Lance Berkman was hoping to get his ailing right knee surgically repaired on Thursday. Unfortunately his doctor is a popular man and had a schedule conflict that will delay the procedure until Friday, according to the Cardinals' official Twitter. 
Lance Berkman's right knee surgery, scheduled for this morning, is postponed until the 25th due to a conflict in the surgeon's schedule.

— St. Louis Cardinals (@Cardinals) May 24, 2012
This is not a big deal, since it's not like Berkman will be able to play again this season. As long as the procedure goes well, a one-day delay is not going to make a bit of difference. 
Update: Wednesday, May 23 at 12:50 p.m. ET by Alex Kay
Lance Berkman is getting set for arthroscopic surgery for his banged up right knee and it will take place either Thursday or Friday in his hometown of Houston.
According to Joe Strauss of St. Louis Today, the slugger opted to return home instead of going to Vail, Colorado for the procedure.
Berkman had originally intended to travel today to Colorado but reconsidered partly because of logistics and partly because of [orthopedic Dr. Mark] Adickes' reputation.

"I just thought it made sense to have everything happen here if possible," Berkman said.
It is still unknown if he will undergo ACL replacement surgery and will possibly decide today at the consultation. 
UPDATE: Monday, May 21st at 6:45 p.m. ET by Josh Martin
The Cardinals got some encouraging news regarding Berkman's knee on Monday. According to Derrick Goold of the St. Louis Post-Dispatch, a scan of Berkman's balky right knee revealed a torn meniscus, but no evidence of a torn ACL.
Mozeliak says Berkman has torn meniscus. Going for 2nd opinion in Vail this week. ACL damage not evident in today's scan, GM says #STLcards

— Derrick Goold (@dgoold) May 21, 2012
Berkman will go for a second opinion in Vail, Colorado. If the diagnosis checks out, his timetable for recovery and return may be much shorter than originally anticipated. 
Update at 9:00 a.m. ET on May 21 
Joe Strauss of the St. Louis Post-Dispatch is reporting that Berkman tore his ACL on Saturday, with an MRI scheduled for Monday to confirm it. 
Post-Dispatch reporting early diagnosis is that Berkman did suffer a torn ACL in right knee Saturday. Monday MRI to confirm.

— Joe Strauss (@JoeStrauss) May 21, 2012
The Cardinals called up Matt Adams from Triple-A to take Berkman's spot. They have one of the deepest lineups in the National League, so they can stomach this loss better than most would be able to. 
Still, if Berkman is out for the year, it puts more pressure on Carlos Beltran, David Freese, Yadier Molina, Matt Holliday and Rafael Furcal to perform. 
Update at 8:29 p.m. ET on May 20 by Tim Keeney
Berkman, who has torn his right ACL before, said that he felt a similar pain after Saturday's game (via stltoday.com):
"If I've re-torn my ACL or something like that, I'd certainly get it fixed but you don't know how psychologically you're going to come back from something like that," Berkman said. "I'm not talking from the standpoint of being scared of hurting it again. I'm talking about doing everything it takes to come back and play again at an elite level. I think that's a legitimate question I'm going to have to answer if, in fact, it turns out to be something more serious than we hope that it is."
This is certainly scary news for Cardinals fans, but we will have to wait until Berkman and the Cards management knows more before we start jumping to conclusions.
Update at 2:25 p.m. ET on May 20
It's official—Berkman is headed to the DL, according to Jon Morosi of FOX Sports:
Lance Berkman officially placed on DL. Matt Adams called up. He will be making his ML debut. #STLCards

— Jon Morosi (@jonmorosi) May 20, 2012
This doesn't come as much of a surprise. The real news will come on Monday, when Berkman undergoes an MRI in St. Louis.
For now, Jenifer Langosch of MLB.com has the latest on the injury:
There is not yet a specific diagnosis on the injury, nor a clear indication of how severe it might be. That is all expected to come into focus on Monday, when Berkman undergoes a magnetic resonance imaging scan in St. Louis.

By then, Berkman is likely to already be back on the disabled list. The Cardinals prepared for such a move almost immediately after Berkman's removal from Saturday's 6-0 loss to the Dodgers by removing first baseman Matt Adams from Triple-A Memphis' game.
For what it's worth, Berkman—who has had four knee surgeries in his career—didn't think the injury felt too serious, per MLB.com:
"There is definitely a little bit of instability that is mildly concerning, but it definitely wasn't the same kind of injury," Berkman sad. "When I did it before, it was a hyperextension. This time, my knee was bent. I'd be surprised if it is anything that major. My guess is that I have a little meniscus ding. How bad? I don't know. It's just a wait and see."
It's been an injury-plagued season for Berkman, who spent most of April on the DL, and for the Cardinals. Jon Jay, Allen Craig and Kyle McClellan have all been put on the DL this past week. Stud pitcher Chris Carpenter hasn't been there all season, and Carlos Beltran has been hobbled of late.
This sudden rash of injuries might explain the team's recent 3-7 mark, though it remains atop the NL Central.
For Berkman, it's been a disappointing beginning to a 2012 season after his huge comeback effort a year ago when he hit .301 with 31 home runs, 94 RBI and helped lead the Cardinals to a World Series title. After missing only 17 games last season, Berkman has already missed 27 games this year.
Yikes.
Hopefully for both Berkman and the Cardinals, this latest injury won't be too serious. Be sure to check back here as further news on the injury is released.
Hit me up on Twitter—my tweets will gladly have another as well.