NASCAR Sprint All-Star Race 2012: Reaction, Leaders & Post-Race Analysis
May 19, 2012

Jason Smith/Getty Images
With the 2012 NASCAR Sprint Cup Series All-Star Race Saturday night, fans from all over the world have their attention focused on the beautiful Charlotte Motor Speedway.
Years of history culminate in one of the wildest races of the season, and we have all the coverage you'll need.
Keep it here for updates, reactions, and results as the races begin and throughout the entire wild night of action!
Update: Saturday, May 19th at 8:13 p.m.
Jimmie Johnson, and his team, are $1 million richer. The 5-time Sprint Cup champion claimed the top spot in the NASCAR's winner take all All-Star race. 
This unique format is broken up into segments, and in all they drive just 90 laps. That means he took home a little over $11,000 per lap. Not bad for a day's work. It is also not unfamiliar ground for Johnson. He has won this event twice before. 
JJ spent most of the 90 laps hanging back, and making sure his car was ready for the final 10 laps, and it was ready. Johnson led all 10 laps after the restart. It was clear early in that final 10 laps that no one else would have the car to catch him. He joins Dale Earnhardt and Jeff Gordon as the only three-time winners of this event. 
| Pos. | Driver |
| --- | --- |
|  1 | Jimmie Johnson        |
|  2 | Brad Keselowski |
|  3 | Matt Kenseth  |
|  4  | Kyle Busch  |
|  5 | Dale Earnhardt Jr.  |
|  6  | Kevin Harvich  |
|  7 | Marcos Ambrose  |
|  8 | Kurt Busch  |
|  9 | Kasey Kahne  |
|  10  | Ryan Newman  |
Update: Saturday, May 19th at 8:13 p.m.
Dale Earnhardt Jr. cruised to a victory in the 40 lap Sprint Showdown to earn a spot in the All-Star race. AJ Allmendinger finished in second, and also locked in a spot for the All-Star race. 
Jr.'s car looked fantastic all race. He certainly figures to be a factor in the All-Star race. 
They have yet to announce who won the fan vote, to get the final entry spot for the All-Star race coming later tonight. 
Where: Charlotte Motor Speedway in Concord, N.C.
When: Saturday, May 19 at 9 p.m. EDT
Watch: SPEED
Live Stream: TrackPass
Listen: Motor Racing Network
Race Lineup
Marcos Ambrose
Trevor Bayne
Greg Biffle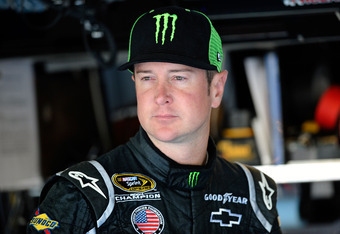 Jared C. Tilton/Getty Images
Clint Bowyer
Kurt Busch
Kyle Busch
Carl Edwards
Jeff Gordon
Denny Hamlin
Kevin Harvick
Jimmie Johnson
Kasey Kahne
Matt Kenseth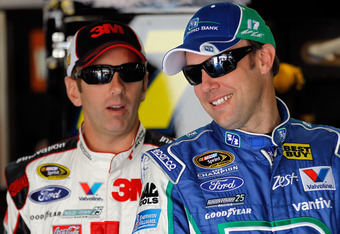 Streeter Lecka/Getty Images
Brad Keselowski
Mark Martin
Paul Menard
Ryan Newman
David Ragan
Regan Smith
Sprint Showdown winner
Sprint Showdown second place
Sprint fan vote winner
Drivers to Watch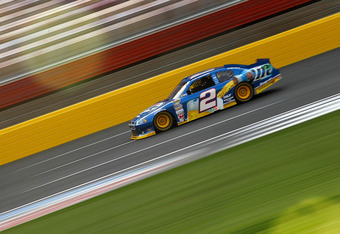 Streeter Lecka/Getty Images
Brad Keselowski
With a heated Truck Series race Friday night, Brad Keselowski will be looking to get his car into victory lane to satisfy his need for redemption. Keselowski is one of the youngest drivers in the series and he will look at this race like a mini-championship that will put him in the top five at least, when all is said and done.
Kurt Busch
While I don't think he will be a factor in the win, his recent off-track meltdowns and blowups have fans wanting to see what's next. The hope is that Busch ruins someone's night with his reckless behavior which causes a pit road battle. At least that's what I'm hoping for.
Scott Halleran/Getty Images
Jimmie Johnson
After getting back into the winner's circle at the Southern 500, Jimmie Johnson heads to the Charlotte Motor Speedway, a track that he has dominated on over his career. If Johnson can bring that all-out mentality to Saturday's race, he will factor in the outcome.
Prediction: Dale Earnhardt Jr.
There is no doubt that NASCAR's most popular driver will win his way into the All-Star race Saturday night with the fan's vote. If Junior does get into the field, there is no doubt that he will adopt the checkers-or-wreckers mentality and win the whole thing.
Check back for more on NASCAR as it comes, and check out Bleacher Report's NASCAR Page to get your fill of all things motorsports.