Iowa Football: Can the Hawkeyes Compete in B1G Legends Division in 2012?
May 25, 2012

Once again, NFL draft day was a day of celebration for Iowa Football.  For the third year in a row, six Hawkeyes were drafted to the league.  Riley Reiff went in the first round, also a three-year streak for the program.  But while once again having the most names in the B1G called this April is a testament to past success, it's also cause for hand-wringing about the 2012 outlook. 
In addition to player losses, the B1G Legends Division looks loaded with both preseason Top 20 teams (Michigan, Michigan State and Nebraska) and proven Hawkeye spoilers (Northwestern and Minnesota).  Does Iowa have what it takes to compete for a trip to Indy?
Wait, This Year?  In Football?  Seriously?
Big Uglies Leave Biggest Holes to Fill
No question marks are bigger (literally) than those left by the men upfront.  Three of the six NFL draftees were linemen: OL Riley Reiff, OL Adam Gettis and DL Mike Daniels.  Including free-agent signees OL Markus Zusevics and DL Broderick Binns, that's five losses to the NFL across the nine positions in the trenches. 
For a program that wins games with solid line play on both sides of the ball, this could spell disaster in 2012. 
Losing the All-Time Leading Receiver (Again) and Leading Rusher (Again)
The Hawkeyes are losing loads of offensive production in WR Marvin McNutt and RB Marcus Coker.  McNutt heads to the NFL with the most receiving yards and touchdowns in school history. 
Coker left not for the NFL, but for Stony Brook University (it's real and in New York…I checked). 
Between the two, they accounted for 60 percent of Iowa's yards from scrimmage and 63 percent of Iowa's offensive touchdowns in 2011.
But at Least Coaching Stability Will Help, Right?
No offseason in Kirk Ferentz's tenure at Iowa has had as much change to the staff as did 2012. 
For the first time since 1998, neither Ken O'Keefe nor Norm Parker will be coordinating a Hawkeye unit.  Ferentz didn't stop there, shuffling position coaches such that only running backs and special teams coach Lester Erb's and wide receiver coach Erik Campbell's job descriptions haven't changed since the Tempe "Belldozing" back in December. 
OC Greg Davis brings new ideas and new terminology to the Hawkeye offense, and DC Phil Parker is a long-time Norm disciple, but he's already hinted at a few new wrinkles, like greater blitzing and press coverage. Both sides of the ball have adjusting to do.
Absolutely Book Accommodations in Pasadena Now
No Controversy Necessary
While Legends Division quarterbacks Denard Robinson of Michigan and Taylor Martinez of Nebraska may get the headlines, no returning B1G quarterback threw for more yards last year than James Vandenberg's 3,022, which is also the most ever in a season by a Ferentz quarterback.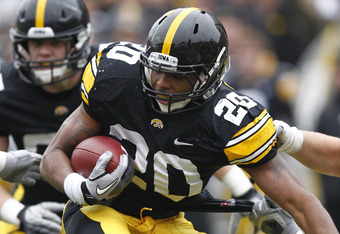 Joe Robbins/Getty Images
Expect Vandenberg to thrive in his senior season under the tutelage of Davis, who has previously mentored a few pretty good signal-callers like Eric Zeier, Major Applewhite, Vince Young and Colt McCoy.
Young Guns
Running back and wide receiver may be unanswered questions, but Iowa does have several potential answers.  Youth and inexperience can be mitigated easier at RB and WR than at OL and DL, and Iowa will need contributions from the high school classes of 2011 and 2012. 
True sophomore Damon Bullock is listed as the starting RB at the end of spring camp, but he'll get pressed for carries once freshmen Greg Garmon and Barkley Hill arrive on campus.  Garmon is a 4-star recruit and cancer survivor, and Hill is a Parade All-American, so you can bet neither is intimidated at the prospect of being "the man" when the season kicks off in Chicago this fall. 
Wide receiver Keenan Davis has shown flashes in his first three years on campus. Now, out from the shadows of DJK and McNutt, is his time.  Kevonte Martin-Manley is the clear No. 2, and more fresh faces with speed and size are on the way in true freshmen Tevaun Smith, Maurice Fleming, Cameron Wilson and Greg Mabin. Expect at least one of the rookies to be catching balls this year.
Offensive Line: The Ferentz Family Business
Replacing three starting OLs that will be playing on Sundays is never easy, but Iowa is blessed with a deep stable of OL talent and one of the best development factories in the nation. 
James Ferentz, a senior, will provide leadership at C, while the senior Ferentz, Kirk, is quoted recently as saying that projected LT Brandon Scherff "has a chance to be a really good player, not just a good player." 
New position coach Brian Ferentz has plenty of talented options in Brett Van Sloten, Matt Tobin, Conor Boffeli, Andrew Donnal, Austin Blythe and Jordan Walsh to ensure the offensive line success that Iowa football is used to each year.
Standing Behind the Defensive Line
While growing pains are to be expected on the defensive line, the back seven already looks ready to carry the unit. Four game-tested linebackers return in starters James Morris and Christian Kirksey (the team's top two tacklers in 2011), and experienced reserves Anthony Hitchens and Quinton Alston. 
The Hawkeyes lose two NFL draftee defensive backs in Jordan Bernstine and Shaun Prater, but expect the drop-off to be limited.  Safety Nico Law has shown playmaking abilities in special teams action, and cornerback B.J. Lowery would have pushed for a starting position last year, but a broken wrist kept him out of the first five games.
Parting Thoughts: Familiar Keys to Success and a Gift from Jim Delany
There is enough talent with the 2012 Hawkeyes to be competitive in the Legends Division.  Success will depend on a few of the same things it always does at Iowa: avoiding injuries at the more thin positions (i.e., QB, RB, DL), taking care of business against the bottom half of the league and winning the close games. 
On paper, the Hawkeyes may look like the fourth-best team in the Legends, but no team is good enough to run away with the division. 
Maybe the most significant advantage Iowa has in 2012 is its schedule, avoiding Leaders contenders Ohio State and Wisconsin and getting Penn State at home. 
Expect a crowded race in which 6-2 or maybe even 5-3 gets it done.  When Iowa, Michigan, Michigan State and Nebraska all trade punches, three winnable crossover games might just be the break this team needs to find their way to Indianapolis.