Euro 2012: Two Recent World Cup Finalists Look to Atone for Lost Glory
May 18, 2012

Dean Mouhtaropoulos/Getty Images
The date was July 9th 2006, and two European giants battled to penalties in Berlin in an attempt to capture world football's ultimate prize; the World Cup trophy.  For Italy and France, such a stage was commonplace.  Italy was playing in its sixth final, while France was playing in its second, having also finished third twice; in 1958 and 1986.  
But for as much glory as the 2006 World Cup finals brought the two nations, 2010 was a horror show, to put it lightly.  
The Azzurri failed to advance out a group that featured New Zealand, Slovakia and Paraguay, and France's squad fell to shambles before the group stage had even concluded.  
When the dust was settled, the world was witnessing a rare occurrence; neither Italy nor France had qualified for the knockout stages of the tournament.
Two years later, European football is ready to begin one of its most prestigious tournaments; Euro 2012.  
For Italy and France, this is the perfect time to atone for their poor showings in South Africa, with the rest of Europe (and the world) watching.
It is also a good measurement of the progress the two sides have made towards rebuilding their national image and showing what they have to offer in Brazil come the 2014 finals.
I believe that both countries are going to make deep runs in this tournament, and they have assembled squads who will be able to play with anyone they meet.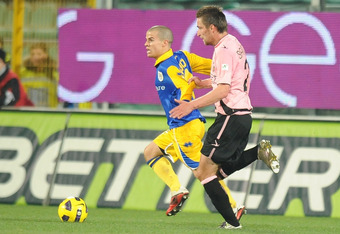 Tullio M. Puglia/Getty Images
YOUTH
Both Italy and France have a plethora of young talent on their preliminary rosters that are going to be instrumental in turning the two nation's fortunes around.  
While youth can, at times, be a disadvantage on the the world stage due to inexperience, both countries feature quality young players who have already proven they can dominate for their respective club squads.  
If their success can translate to Euro 2012, both nations will have a young core they can build around for the future, but also contribute in the present. 
For Italy, Andrea Ranocchia (24), Ingazio Abate (25), Davide Astori (24), Luca Cigarini (25), Sebastien Giovinco (25) and Mario Balotelli (21) join seasoned veterans Andrea Pirlo, Daniele De Rossi, Antonio Di Natale and Giorgio Chiellini to form a solid nucleus for the 2012 tournament.  
Antonio Cassano (29), Claudio Marchisio (26), Riccardo Montolivo (27), Domenico Criscito (25) and Christian Maggio (30) are all still in their prime as well.
While the new additions to the side may be young, they have each had very successful club seasons in Serie A and the Premier League.  
Ranocchia and Abate each had successful seasons in the respective Milan sides, while Sebastien Giovinco finished third in Serie A with 11 assists behind only Pirlo and Fabrizio Miccoli, on a Parma side that finished eighth in the table.  
Giovinco is one of the brighter young talents in Italian football, and he should showcase his skill on an international level in this tournament.  
Noted more for his dreadful antics on the field, eccentric forward Mario Balotelli had an extremely successful Premier League season with champions Manchester City, quietly potting 13 league goals in 23 appearances.  If his head is right (a big if, but always possible), Balotelli is a threat to score from anywhere on the pitch, something Italy needs with Di Natale aging quickly.
France also has some quality young players that could make a giant difference this time around.  
Absent from their 2010 World Cup side, Karim Benzema and Samir Nasri are a young duo that France can build its core around.  
Benzema scored an impressive 21 goals in 34 La Liga appearances, a number we may have heard more about if he did not share the pitch with Cristiano Ronaldo.  Nasri provided 9 assists for the Premier League's most prolific offense this past season, in what was considered by many to be a down season.
It may seem like he has been around forever, but Franck Ribery is still only 29 years of age, and he should form a dynamic partnership with Nasri in midfield.  
Yoann Gorcuff (25) scored 13 league goals for Bordeaux, and relative newcomer to international football Yohan Cabaye (26) will get a chance with the team along with his fellow Newcastle United teammate Hatem Ben Arfa (25) as the pair will look to keep the momentum of a 5th place EPL finish going into Euro 2012. 
Up front, Nasri will be able to feed Benzema and Olivier Giroud (25), Ligue 1's joint top goal scorer who has lead Montpelier to an improbable top of the table position.  World Cup 2010 snub Loic Remy (25) is a legitimate goal threat, scoring 12 league goals for Marseille this season.    
STRENGTH FROM THE BACK
Both Italy and France feature two of the best goalkeepers in the world.  Gianluigi Buffon's resume speaks for itself.  When thinking of goalies, he is one of the first faces that comes to mind as being among the best to ever mind the net, and he has done everything a footballer could ever hope to accomplish.  
While Hugo Lloris has a much thinner list of accomplishments, his talent has brought him to the elite level and he is currently one of the best keepers in all of world football.  
France's success going forward rests largely on his shoulders, and there is no implication that this is a job he cannot handle.  
Fabien Barthez's retirement from international football was a huge loss after the 2006 cup, and Steve Mandanda has given no indication that he is the proper man to step up and grab the job by its horns.
Lloris is a more talented keeper, and he will undoubtedly build on what he has started with Lyon.
Defensively, both nations also have much to look forward to.  For Italy, Giorgio Chiellini, Andrea Barzagli, and Leonardo Bonucci anchored Serie A and all of Europe's best defense as Juventus conceded a paltry 20 goals in 38 league games.  
A stay at home defender, Barzagli proved to be one of Serie A's most valuable players, allowing Chiellini to play a more offensive role.  If Barzagli can be the rock that he was for Juve during Euro 2012, Chiellini will be able to do the same, and Buffon will be comfortable with them due to the partnership they have formed at Juve.  
Christian Maggio is another unheralded player, playing behind the three headed monster of Hamsik, Lavezzi and Cavani at Napoli.  What was not unheralded, however, is the booming vertical runs he made that sparked much of Napoli's offense.  
With Chiellini and Maggio being offensively inclined, the stellar defensive play of Barzagli this season could add a new look to the Azzurri attack.
For France, the ever solid Bacary Sagna will miss the tournament due to a broken leg.  
While his loss is a big one, two young players should be able to step in and replace him.  Both Adil Rami and Yann M'Vila are coming off of splendid seasons at Valencia and Rennes, respectively.  
While M'Vila is a midfielder, he is one of the most heralded defensive mid's in the world, and is a boon to any defense that plays behind him.  Lille defender Mathieu Debuchy is another young talent, mentioned as being looked at by the likes of Manchester United as a transfer target.  
Man U has shown they can scout French defenders well, as Patrice Evra can attest to, and if he is good enough for them that tells you all you need to know.  
Rami and Debuchy's youth should pair nicely with Evra and fellow Mancunian defender Gael Clichy, as France looks to rebuild a defense that can back up an offense that suddenly looks much better. 
MANAGEABLE GROUPS
First off, both nations should be giving thanks that they were not slotted to play in Group B with the Netherlands, Germany and Portugal.  That aside, both Italy and France should feel that they have a highly legitimate chance of advancing out of their own groups. 
Italy was drawn into Group C with super-power Spain, but I feel they are much better side than Ireland, and can edge out Croatia for the second position.  
It would have been quite a story if it were France who was drawn into Ireland's group, but Italy will feel they have nobody to blame if they can not qualify over Croatia and Ireland.  
I know that it may be tough to make this argument after looking at the group Italy finished at the bottom of in the past World Cup, but I think this time will be different.  
The infusion of young talent, along with the development of many of its middle aged players and a good run of luck in the injury department makes Italy an easy favorite to clinch the second position in the group, and challenge Spain for the top spot.
France was drawn into Group D along with hosts Ukraine, Sweden and England, a favorable group for a French side looking to rebuild.  They will have to deal with likely raucous Ukrainian crowds, an in form Zlatan Ibrahimovic (scary for any side) and Roy Hodgson's England, but France will feel the draw has been kind to them.
England has fielded a rather weak squad by its standards, and France should capitalize on it to the best of their abilities.  
Besides Wayne Rooney, a forward squad of Danny Welbeck, Andy Carroll, and Jermain Defoe should be manageable for France's young defense.  While I do expect England to win the group, I see France as a lock to clinch second, and possibly steal first.  
If both Italy and France can get into the knockout stages, they certainly have the talent to make a run at winning the tournament.  
Six years after they battled for the World Cup, it would be quite a sight to see them battling in a final for silverware again.