NBA Playoffs: Why the Los Angeles Lakers Won't Beat Oklahoma City Thunder
May 17, 2012

Brett Deering/Getty Images
It's time to stick a big fork in the Los Angeles Lakers and consider their 2012 edition cooked and done.
As much as I would love to be proven wrong, the Lakers are not going to defeat the Oklahoma City Thunder.  This is one major storm the Lakers just don't want any part of.
In a Game 1, 29-point blowout this past Monday, the aging, slow, non-athletic Lakers looked absolutely lost next to their young, athletic, fast Western Conference rivals.
Their heartbreaking, two-point loss on Wednesday was even worse.  The champion Lakers of 2009 and 2010 would have found a way to close that game out and head back to Los Angeles tied at one game apiece.  But these are today's Lakers.
As Andrew Bynum said (via ESPN's Chris Palmer) after the team lost an eight-point lead and the game in the final two minutes, "We're better than Santa Claus.  We like giving out gifts."
Some gift.
Remember 2011 and the Dallas Mavericks wipeout of L.A. in four games?  Well, as Yogi Berra might have said: "It's deja vu all over again." 
A year ago—as L.A. was about to get swept out of the second round—Magic Johnson told beat writer Mark Medina of the L.A. Times:
The Lakers have two problems. They're too slow and they have no athletes. This is an athletic league now. When you think about all the teams that are in the playoffs right now, they all can run fast and jump high. 

Sometimes you can be together too long. This group (Lakers) has probably been together too long.
How prophetic. 
These Lakers have been alternately sluggish, slow and disjointed one game, and communicative, hungry and passionate in the next—but the results were the same.  To lose a game the way they did on Wednesday shows that these Lakers are not championship caliber.
Don't forget, the Lakers did try to retool their creaky lineup at the beginning of the year.  Mitch Kupckak and GMs from Houston and New Orleans agreed on a deal that would have brought uber point guard Chris Paul to the Lakers while shipping out Pau Gasol to the Rockets and Lamar Odom to the Hornets.
We all know what happened next—thank you, David Stern.
The Lakers went to Plan B: move Derek Fisher and Luke Walton, bring in Ramon Sessions and Jordan Hill.  Not bad, but not really a difference-maker for a team in desperate need of getting younger and more athletic. 
Hill has been a pleasant surprise in the paint, but Sessions has virtually disappeared under the weight of the pressure and behind numerous pick-and-roll screens for the bigger and stronger Russell Westbrook, James Harden and Kevin Durant of OKC.
Even Kobe Bryant, for 16 years one of the best in the business at finishing games, could not get it done defensively or on offense.  He committed a crucial turnover last night, throwing a lazy pass right into the big hands of Durant with 1:45 left that led to a dunk and the start of a 9-0 Thunder run that closed the game. 
He also shot an air ball and mishandled a pass from Steve Blake that went out of bounds to OKC.
Blogging from courtside, ESPN.com blogger Brian Kamenetzky wrote: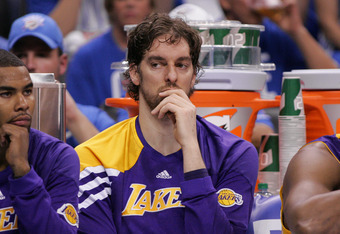 Brett Deering/Getty Images
By now, most Lakers fans know the math when it comes to this scenario. It isn't good. The Lakers showed they can hang with OKC, get physical with them, and disrupt their juggernaut of an offense. They forced turnovers, they established Andrew Bynum inside, they kept a lid on Russell Westbrook. And they still lost. In a playoff series, the lesser team -- and make no mistake, the Lakers are just that -- can't afford to give away games they ought to win.
Bryant was subdued and ready to move on after one of the ugliest finishes to what had been a well-executed defensive game for L.A. until the final 120 seconds.
"It was a tough loss, yes, but the biggest thing for us was that we found some things out defensively that we feel like we can do that's effective," Bryant said, choosing to focus on the positive rather than dwell on the negative. "They did a great job. It was a great comeback by them in the last two minutes, or whatever it is. They got themselves a gritty win, and now it's on us to go back home and defend our home court."
You have to love Kobe's poise and determination.  Somehow, I just don't think it'll be enough.