Denver Broncos' Omar Bolden Impresses in Camp: Could He Be Champ's Replacement?
May 17, 2012

Justin Edmonds/Getty Images
Omar Bolden fell to the Denver Broncos in the fourth round of the 2012 NFL draft at the 101st pick overall. Lucky, for the Broncos, only a year ago, he projected to possess first-round skills.
Broncos head coach John Fox raved about the rookie on Denver's local 850 KOA AM radio station: "He definitely looked like a first-round type of talent in our mini-camp."
Those are the type of comments you want to hear from your head coach coming out of your rookie minicamps in the first weeks of your NFL career. He's also been getting some pointers from the Broncos' future Hall of Fame cornerback and locker-room leader, Champ Bailey, the team's longest tenured player on the roster.
Bolden tweeted about rookie minicamp that he was already learning from Champ:
Had the opportunity to learn a few things from Champ today just by speaking with him on the field. This will be 1 incredible journey!

— Omar C. Bolden (@Os_Island) May 15, 2012
Champ has been a leader on the defensive side of the ball ever since he joined the Denver Broncos in 2004, when the Broncos traded Clinton Portis to the Washington Redskins to acquire him. He challenged the defense to continue to improve earlier this offseason and embraces his role as a leader. Part of that includes training up his replacement at cornerback.
Most analysts around the Broncos believe that Bailey will soon be transitioning to a safety position and give way to his successor this season or next. If Omar Bolden is the Broncos' answer to replacing Bailey, his invaluable pointers and encouragement is a great sign that Bolden possesses the ability and may even be ready sooner than most thought to vie for time at cornerback for the Broncos in 2012.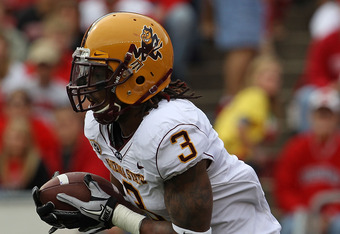 Jonathan Daniel/Getty Images
Despite ACL injuries in both 2009 and last season in the spring prior to the 2011 season, Bolden remains optimistic and hopeful about his future. He is living out his dream to become a professional football player and enjoying the ride of playing the game that he loves.
Coming out of the rookie minicamp, Bolden told reporters:
"I got hurt in the spring of 2011 so this is all exciting for me. I really love this game. Just to have the opportunity to be out here and play in the NFL and for the Broncos, it's an amazing opportunity."
Not only does Bolden relish the opportunity to play the game, he is excited about gleaning wisdom from some great veteran cornerbacks who have thrived in the NFL for many years.
"There's no better situation to come in than to be in my shoes—to learn from Champ Bailey, Tracy Porter and [Drayton] Florence," Bolden said. "These are guys, they've been around for a long time. There's a reason why they're still here. Seven-to-ten years later, I want to be one of those guys that's still around. I'm just going to do my best to stick in their pocket, stick in their ear and learn as best as I can."
Bolden has impressed his head coach, but he remains just one of many CB prospects looking to earn spots on the roster in a grueling offseason program. He has to compete with last season's standout undrafted free agent Chris Harris and this season's undrafted rookie free agent, Coryell Judie, who has caught the eye and attention of coaches and scouts alike in the Broncos' rookie minicamp.
Young buck Syd'Quan Thompson is another promising talent that will be aiming to move up the depth chart behind Champ this offseason as well. Thompson has been stellar on special teams, but has only seen limited time on the field at CB in his two seasons as a Bronco. Last year during the meaningless final game of the preseason, his season ended after he tore his Achilles tendon.
If Bolden can stay healthy this time and his ACL holds up, first-round talent is hard to deny. Don't be surprised if he pushes some of the veterans despite his humility.