WWE Raw Results: Top 15 Moments from Last Night's Show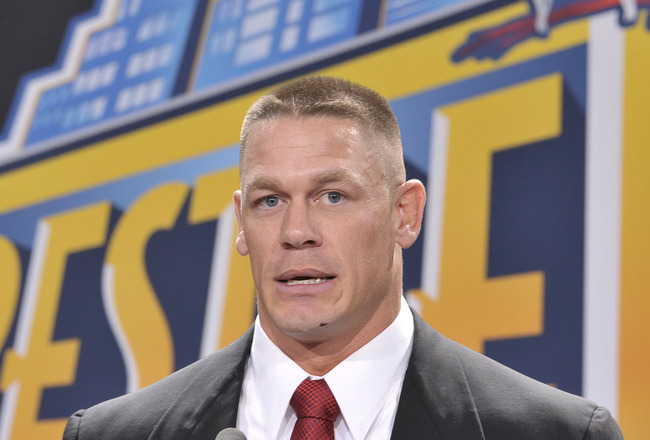 Michael N. Todaro/Getty Images
WWE presented a very interesting Raw last night. The show was pretty good (B- grade), but they never fully hyped Sunday night's Over the Limit pay-per-view.

Die hard fans know it is this weekend. I doubt many of the casual fans even know or care. As a stand alone show, I enjoyed the Red Brand. For a go-home show, this was disappointing.

What were the highlights? Let's find out!
15. Beth vs. Alicia
Beth Phoenix defeated my "it" girl, Alicia Fox, in a short match. With the Glamazon getting a Diva's title shot this Sunday, it was definitely the only logical move.

Outside of one mishap, Alicia looked great. I have long said her wrestling ability is the weakest of her traits. Everything else, she has down perfect.

Beth and Layla had a little physical interaction to tease Over the Limit's match. It was fine, but I am not sure the live audiences are cheering Layla as loudly as they should be.
14. John Cena's Charity Work
I don't care if WWE is airing these videos because of any personal issues about to be revealed in John Cena's life.

I don't care if WWE is airing these videos because of Linda McMahon's upcoming election.

I don't care.

The fact is I am not saying a single negative word about Cena. There are a million reasons why, but his charity work is one of them.

WWE can air the Make-A-Wish promos every week for the next 100 years, and I would not complain. It is simply amazing there are still "haters" out there towards Cena in 2012.

It was cool in 2006. That was six years ago...

I think it's time to move on.
13. All World Watches
Abraham Washington was with all of his talents last night.
Mason Ryan was there. Primo and Epico were there. My "it" girl, Rosa Mendes, was also on hand for Raw. The group is forming nicely, and it was great to see them.

All World does not need a match every week. They do not even need a promo each week.

However, All World does need an appearance each week. Showing them living the good life in a luxury suite was a great sight to see.
12. Pre-Show Match
Three months later, Kane and Zack Ryder are finally getting their big pay-per-view match.

Except it is on the pre-show and very few care.

As I wrote back in December, Kane putting his mask back on was never going to mean some sort of monster role. It was simply a nostalgic move to keep him interesting one last time.

There was never going to be an amazing main event run. His mask was not going to magically make him scary again. That was never going to happen.

Ryder?
Well, I have covered his downfall perfectly for the past six months. From destroying television ratings to being a goofball character for a small, niche audience, that is simply beating a dead horse. I am sure the Zack Pack is still out there somewhere.

I hope the two have a good match and convince some to actually spend $50 on Over the Limit. However, I am realistic in knowing that has a very small chance of happening.

Woo, woo, woo! You know it.
11. Smackdown Announcement
This Friday night, Sheamus vs. Randy Orton is the main event.

That is a huge money match to save for a future pay-per-view. Both are big faces on the Blue Brand, and that would serve as a nice main event feud this summer.

Instead, we get it with only a few days notice.
I can't believe it. Maybe they saw last week's ratings for Smackdown...
10. Live Crowd
The live crowd seemed very hit or miss last night.

Pittsburgh has always been a great WWE audience.
However, I couldn't really get a read on them Monday night. Some segments were very loud. Others were not.

If anybody attended the Raw taping last night, feel free to give me a live perspective. I couldn't tell if they were a good or bad crowd...
9. Kane vs. Big Show
Kane vs. Big Show is a match we have all seen many times.
Sometimes, they are heel. Then they are face. Then they change. Then they change some more. It is just a big cycle with these two.

This match was more of a "story," but it was okay for two big legends. Kane won with a weak-looking chokeslam after a distraction from John Laurinaitis.
8. Six Man Tag
First, I must mention that the women looked stunning last night. Vickie Guerrero, Naomi, and Cameron continue to shine each and every week.

As for the match, it was fun.

Brodus Clay, Kofi Kingston, and R-Truth defeated The Miz, Jack Swagger, and Dolph Ziggler. The ending sequence had Brodus pin Miz.
I actually liked that the two "teams" were not involved in the finish.

Kofi and Truth will battle Swagger and Ziggler on Sunday for the tag straps. I doubt the belts change hands, but you never know with these four...
7. Backstage Segment
Alex Riley and CM Punk were shown backstage talking. They were interrupted by AJ, who wanted to wish Punk luck in his match this weekend.

This was a short segment, but I liked it for a few reasons.

First, it is always nice to see Riley on television. The man could be gone next week or be in the main events by next month. His career is very intriguing to watch.

Second, it gave AJ an appearance on Raw. She has done some nice work the past few months, so it is only fitting her act moves over to the live (more watched) show for a change.

Finally, it adds another layer to the WWE Championship match at Over the Limit.

To be fair, AJ did nothing at Extreme Rules last month even though everyone expected her to interfere. Thus, it could be yet another tease that leads to nothing.

Punk was smart to stay away from her because he knows "something" is up.
6. Bryan and Punk Tease
You remember Daniel Bryan and CM Punk, right?
They were in the main event last week on Raw. This week, the two were thrown in a "comedy" tag team match 20 minutes into the show.

Yeah, television ratings mean nothing...

In any event, Punk and Santino Marella beat Cody Rhodes and Bryan in a good tag team match.

With Rhodes doing nothing on Sunday, it was only logical for him to take the loss. Punk looks strong heading into his WWE Title match with Bryan, as the world counts down the minutes.
5. WWE Universe Challenge
Everybody always talks about how amazing Daniel Bryan and CM Punk are.

Everybody always talks about how much they are the "future" of the business.

Everybody always talks about how amazing the two can be when given an opportunity.

Everybody always talks about letting news guys step up and show their worth.

This Sunday, the talking stops and actions will speak loudly.

In five days, the WWE Universe will make a choice.

Do I purchase Over the Limit and watch Punk and Bryan compete for the WWE Championship in a match many dreamed of many years ago and seemed impossible?

Or do I stake out my usual illegal stream and not support them in their biggest time of need, all but telling WWE to never feature these two in the main event again?

It is do or die time. It is time to put up or shut up. It is time to put your money where your mouth is.
You can use every fancy saying in the world or cliche you want. The question is simple, and the answer should be as well...
4. Orton vs. Jericho
Yet another disqualification...
Smackdown was filled with non-finishes. On Raw, we saw the exact same thing. It really is becoming overkill in not giving anybody a victory.

Randy Orton vs. Chris Jericho was a good Raw main event. It could be a nice pay-per-view match, but that is not the topic here.

Sheamus was on commentary watching and was really good.

As usual, we never did get an actual winner. The action was entertaining, but I still can't see anybody (especially Alberto Del Rio) beating Sheamus for the World Title this Sunday night.
3. Big Show Fired
First, it was great to see David Otunga on television again. It is awfully funny how everyone is suddenly on his bandwagon after bashing him for the longest time. It never fails to make me laugh...

As for Big Johnny making Big Show apologize, this part was solid. It went a little long, but the segment needed some length or else it wouldn't soak in.

When Mr. Excitement fired Show, it really put this over the top...
...in a good way.

If you felt bad for him, WWE did their job. If you were uncomfortable watching, WWE did their job. If you hated Johnny Ace even more, WWE did their job.

The fact is Show has needed a decent story for awhile now. As I wrote about last week, I think I know where this is all headed, but we will see on Sunday.
2. Opening Promo
Triple H and Paul Heyman in the same ring at the same time in 2012 was pretty cool.

I must admit.

Triple H began the night by pointing out Brock Lesnar's faults, yet making him out to be a destroyer all in one fell swoop.

Heyman continued to play his role nicely, threatening a lawsuit at every turn.
Both men did a great job. This thing really should be dragged out for another month or two, and I hope to see this kind of story each week. No need to rush anything here!

Patience folks...
1. Closing Segment
Go ahead.

Tell me how terrible John Cena was...

Okay, now tell me the last time you bought a WWE pay-per-view, attended a live event, purchased WWE merchandise, and spent money on a WWE video release.

Just curious...

Back to reality, John Cena was hilarious last night and had to be in the main event segment after last week's ratings failure. He did not do much to make Laurinaitis seem like a threat, but his "loser" speech was excellent.

The live crowd loved every second of it, and they (the members of the paying audience) are who matters in the end. If they liked it, WWE did it right.

Eve Torres coming down to the ring was perfectly done. Announcing nobody can interfere at Over the Limit or they would be fired sets up a few options for the heel to win.
Does Lesnar return to help Big Johnny or does Big Show turn heel to get his job back?

Either way, John Cena winning to get rid of Laurinaitis does not seem likely. I expect a very complicated match on Sunday with Mr. Excitement keeping his job.

Follow Justin Watry on Twitter!
Keep Reading