FYI WIRZ: NASCAR's Top Drivers Rock and Drop Going into Race 12
May 14, 2012

The rise and fall in point standings during NASCAR's 36-race Sprint Cup season and 26-race Chase for the Sprint Cup qualifying stint sometimes eludes week-to-week notice. One good or bad race result won't define a season, but consistency is premium to securing a contending spot.
The next NASCAR Sprint Cup race event that counts, race No. 12, will be in Charlotte on May 27th after the All-Star race on May 19.
The Chase eligibility system qualifies the top-10 drivers in accumulated points and two more drivers from the top 20 with the most wins.
At this point of the season, it's proper to evaluate consistency or inconsistency among the top-12 Chase movers and then 12 spots below the cutoff number. All final Chase contenders are likely to be among the top 24 positions over the next 14 races prior to start of the playoff races.
Some drivers and teams are moving up, and some are sliding. While that's normal in motorsports, it's worthy of a focus race-to-race.
This "rock and drop" list selected for review from the top 24 this week includes:
1. Greg Biffle
2. Matt Kenseth
3. Dale Earnhardt Jr.
5. Jimmie Johnson (+3)
8. Kevin Harvick (-3)
10 .Carl Edwards (+1)
16. Kasey Kahne (+3)
18. Marcos Ambrose (+3)
19. Juan Montoya (-2)
20. Jamie McMurray (-4)
22. A.J. Allmendinger (-2)
24. Jeff Gordon (-1)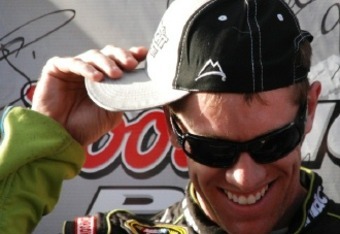 Biffle and Kenseth are Nos. 1 and 2 in the points but are equal, with one win and six top five finishes each. That's incredibly steady performance.
With his Darlington checkers, Hendrick Motorsports 200th win, Jimmie Johnson rocked and moved three positions into the top five. Not bad for a team that left Daytona at the bottom of the points pile.
Dale Earnhardt Jr. is the only driver among the top five without a win. Breaking his Victory Lane drought may not be requisite to making the Chase, but it would surely be welcome at Hendrick Motorsports—and Junior Nation as well. Earnhardt and team have had eight top-10 finishes already in 2012, and he has been in the top three in points most of the season.
Kevin Harvick has no wins, but he has managed five top-10 finishes. He remains in the top 10, but is sliding with a drop of three positions.
Carl Edwards is winless in 2012, but he slipped into the top 10 this week. Despite some equipment failures, Edwards has performed well, although has been slightly under the radar, with seven top 10 finishes.
Kasey Kahne has had a mix of bad luck and equipment problems in 2012, but he advanced three spots this week. Marcos Ambrose also moved up three spots.
Two drivers, A.J. Allmendinger and Juan Montoya, dropped two spots. Jamie McMurray dropped four positions. With their inconsistency, McMurray and teammate Montoya could slip out of the top 24.
A.J. Allmendinger has one top-10 finish, and Jeff Gordon has two. Forgetting a poor start for 2012 is likely at the top of their agendas.
Jeff Gordon matched his car number with his point position. That would be great if he were in the No. 1 car, but as always, he is in the No. 24 car.
This week's select top rockers are Jimmie Johnson and Kasey Kahne. The top droppers are Kevin Harvick and Jamie McMurray.
The next points-paying Sprint Cup race, the Coca-Cola 600 at Charlotte Motor Speedway, is Sunday, May 27. Those without tickets can view the action at 5:30 p.m. ET on FOX.
Below are some post-race comments from Jimmie Johnson and Kevin Harvick.
Jimmie Johnson spoke about the Darlington win and the 200th win for Hendrick Motorsports:
We had a great race car. We led a lot and we ran away once we had the clean air. But once we lost it, man, it was tough to make anything happen deep in the pack. And luckily we had a good enough car that I could work my way through there and still got it done. My focus really has been on making sure the 48 does the best job that it can.
Kevin Harvick wasn't deterred by his 16th place showing at Darlington: "All of the pieces were there, we just need to put them in the right places," Harvick said.
More rock-and-drop analysis will follow after the lengthy Coca-Cola 600 race.
FYI WIRZ is the select presentation of motorsports topics by Dwight Drum at Racetake.com. Unless otherwise noted, all quotes were obtained from personal interviews or official release materials provided by sanctions, teams or track representatives.