NBA: Ownership of Los Angeles Transferring from Lakers to Clippers? Not so Fast
May 14, 2012

Harry How/Getty Images
Make no mistake, Los Angeles is a Lakers town. But perhaps, just perhaps, the Clippers are closing the gap ever so slightly.
I know chances are slim and none, but how awesome would it be if the Staples Center roommates met in the NBA Western Conference finals? No travel days needed for that series.
It's a remarkable climb for the Clippers, who have long been considered the "worst owned" team in sports under Donald Sterling. No matter the comparison, the Clippers have always been looked at as inferior to the Lakers. Vastly inferior.
Consider the Tale of the Tape:
The Lakers have won 16 NBA Championships. The Clippers have won three NBA playoff series.
The Lakers are the NBA's most valuable franchise at a worth of $900 million. The Clippers? Not so much at $305 Million.
The Lakers have very cool uniforms, wearing regal gold and purple. The Clippers' red uniforms are almost garish in comparison.
The Lakers have a cooler history, having come from Minneapolis, where they were led by NBA royalty George Mikan to four NBA Championships. The Clippers originated as the Buffalo Braves and spent six seasons in San Diego before moving to Los Angeles in 1984.
The center position for the Lakers reads like a Who's Who of NBA greats. Wilt Chamberlain to Kareem Abdul-Jabbar to Shaquille O'Neal. And now potential great Andrew Bynum.
The Clippers acquired all-timer Bill Walton from Portland only to watch him break down, missing two entire seasons during his six with the team. Let's not forget the completely unforgettable Michael Olowokandi, the No. 1 pick of the 1998 draft.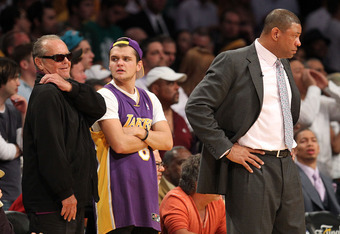 Ronald Martinez/Getty Images
Just look court-side to see the difference in franchises. Uber cool guy Jack Nicholson and beautiful Dyan Cannon are fixtures at Lakers' games. They're only the tip of the iceberg when it comes to celebrity sightings. That's quite a contrast to court-side for the Clippers with Billy Crystal.
With that all being said, here come the Clippers. Who would have imagined that it would be the NBA itself that would start to tip the scales for them?
Remember that the New Orleans Hornets and the Lakers had agreed to a trade that would have brought Chris Paul to the purple and gold. The league actually owned the Hornets at the time while looking for a buyer. When the trade was denied, the Clippers put together a package and acquired Paul. How different the two teams might have looked.
Will the Clippers keep coming and pass the Lakers? That's so difficult to imagine. I do think they are on the rise, while the Lakers need some tweaking to avoid slipping further. I do think the Lakers will pull off the tweaking, but all bets are off when Kobe retires.
Follow on Twitter@sprtsramblngman