Predicting the Final St. Louis Rams' 2012 53-Man Roster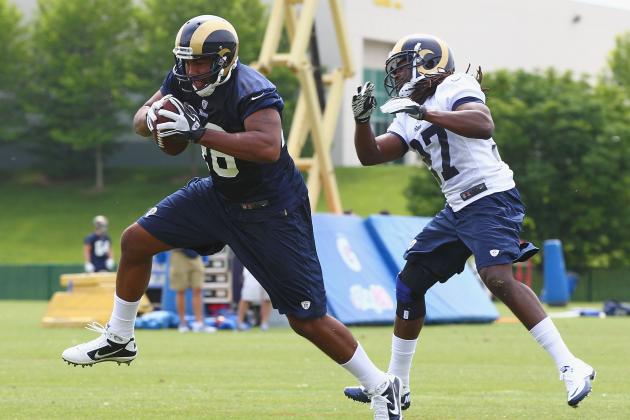 Dilip Vishwanat/Getty Images

The 2012 NFL draft has reached a conclusion. And not only that, NFL teams are basically done with the signing of undrafted rookies as well.
The June 1 cuts will allow the St. Louis Rams to make a few more veteran additions to the team (if that's what they desire), but for the most part, the members of the official 53-man roster are hidden within the current 84-man roster.
Over the next several months, the 84 players will put forth their best efforts as the coaching staff chips away at the roster. And by Week 1, we'll know which players collectively formulate the official 2012 St. Louis Rams.
Some players are long shots when it comes to making the team, but some position battles will force coach Jeff Fisher to make difficult decisions (read more on the anticipated training camp battles here).
There's still plenty of practices remaining, so it's impossible to perfectly predict the final roster at this point. But this article will review each position and take a guess at the Rams' 2012 roster.
Begin Slideshow

»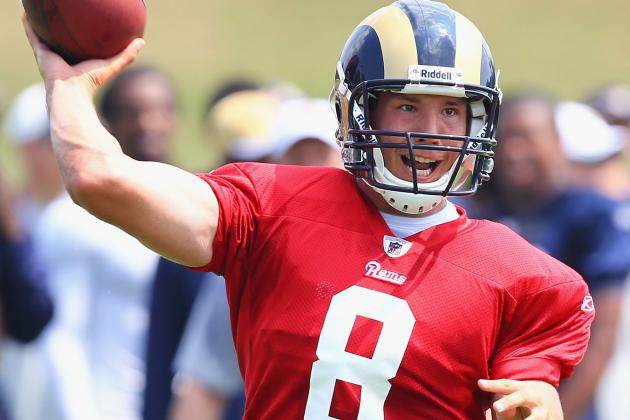 Dilip Vishwanat/Getty Images

Depth: Sam Bradford, Kellen Clemens, Austin Davis
Cut: Tom Brandstater
Quarterback is one of the easier positions to predict. The only challenge is determining who will make the team as the third-string quarterback.
Tom Brandstater has been around the league for several years now, so he knows what to expect. Although, he has failed to consistently make rosters and has little to offer.
Rookie Austin Davis was expected to be a late-round draft pick, but ended up being passed on by every NFL team. He's extremely raw, but he offers more upside as a developmental project than Brandstater.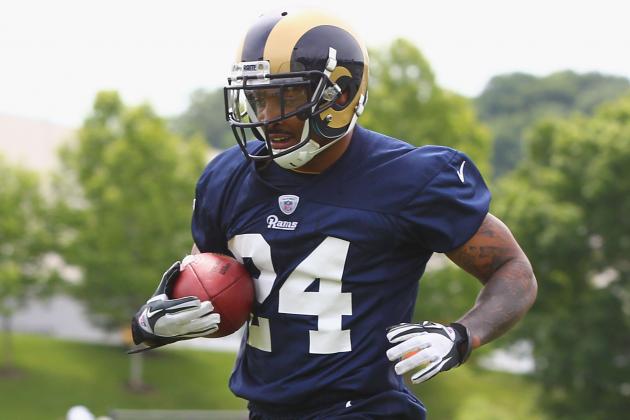 Dilip Vishwanat/Getty Images

Depth: Steven Jackson, Isaiah Pead, Daryl Richardson, Calvin Middleton, Brit Miller (FB)
Cut: Todd Anderson, Chase Reynolds, Nicholas Schweiger
At running back, Steven Jackson and second-round pick Isaiah Pead are guaranteed to make the roster, but the depth is up for grabs.
Daryl Richardson was a star at Division-II Abilene Christian and was drafted by the team in the seventh round. He's a speedy runner who can potentially fill in for Pead as a change-of-pace back in the event of an injury.
Calvin Middleton is an undrafted rookie who lacks speed, but he's a powerful runner who may have some value on short-yardage situations.
Brit Miller will make the roster as the team's only fullback, unless they are comfortable with Middleton taking over his spot.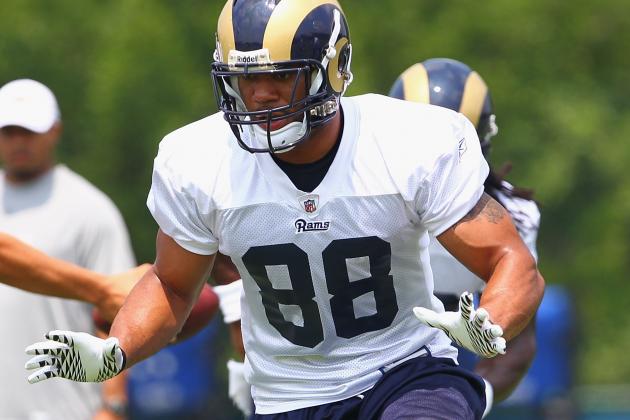 Dilip Vishwanat/Getty Images

Depth: Lance Kendricks, Matthew Mulligan, Michael Hoomanawanui, DeAngelo Peterson
Cut: Ben Guidugli, Cory Harkey, Mike McNeill
The top three tight ends are easy to predict. There's a clear drop off in talent between the top three and the bottom four.
Lance Kendricks is a dangerous offensive weapon who suffered from rookie jitters a year ago. Expect him to make big contributions in the upcoming season.
Matthew Mulligan will make the team as a blocking specialist and Mike Hoomanawanui is safe as long as he's healthy (easier said than done).
But the main question is how many tight ends will they carry? And if they choose to keep a fourth, who will it be?
Rookie DeAngelo Peterson offers some upside as a receiver and can contribute on special teams, so he has a decent shot at being the fourth guy.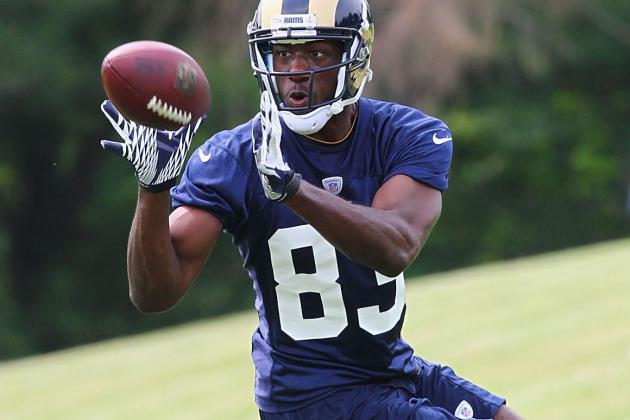 Dilip Vishwanat/Getty Images

Depth: Steve Smith, Brian Quick, Danny Amendola, Greg Salas, Chris Givens, Austin Pettis
Cut: Danario Alexander, Brandon Gibson, Nick Johnson
Wide receiver is possibly the most difficult position to predict, and it's certainly a highly anticipated training camp battle.
Steve Smith is a major question mark. If he's finally healthy, then he's the top receiver on the team. If not, then he'll struggle to even make the roster.
The two draft picks (Brian Quick, Chris Givens) and Danny Amendola are the only receivers who are locks, while Brandon Gibson's days are numbered.
And the final spot will be fought over by Danario Alexander and Austin Pettis. Alexander is clearly the more talented receiver, but his health problems could ultimately force the team to stick with Pettis.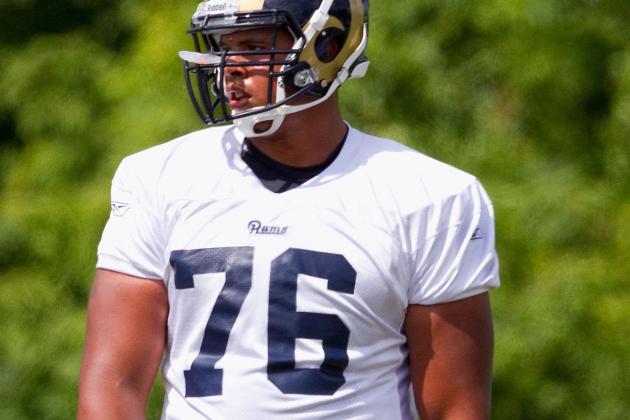 Dilip Vishwanat/Getty Images

Depth: Rodger Saffold, Jason Smith, Quinn Ojinnaka*, Rokevious Watkins*, Kevin Hughes*
Cut: Ryan McKee, Joe Long
* = Plays both tackle and guard.
Starters Jason Smith and Rodger Saffold are the only true tackles on the roster, but there are three backups who are more than capable of sliding outside in the event of an injury.
This scenario has Kevin Hughes making the final cut, since he stepped in last season and played well at times as an injury replacement.
Right tackle Ryan McKee needs to be cut. He may have potential, but a third-string lineman better play more than one position on the line if he wants to make it.
Joe Long is enticing since he's the brother of former No. 1 overall pick Jake Long, but there's a reason why the less talented brother went undrafted.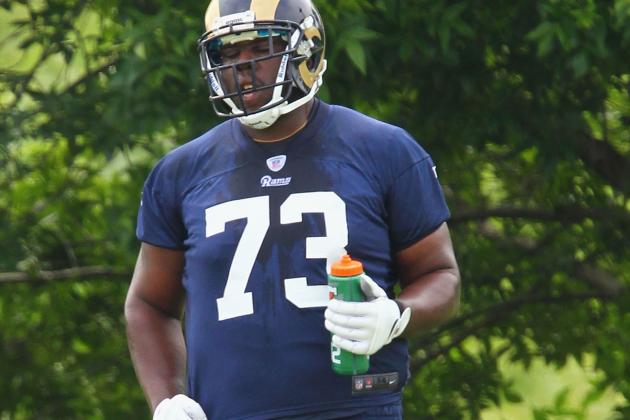 Dilip Vishwanat/Getty Images

Depth: Harvey Dahl, Robert Turner, Rokevious Watkins*, Quinn Ojinnaka*, Kevin Hughes*, Scott Wells (Center), Tim Barnes (Center)
Cut: Michael Hay, T-Bob Herbert (Center)
* = Also plays tackle.
Scott Wells (center) and Harvey Dahl (right guard) are guaranteed to be starters heading into the season, but the left guard position is up for grabs.
Rokevious Watkins is the fan favorite for the job, but the fifth-round pick may need a few weeks to develop. In the meantime, it wouldn't be shocking to see Rob Turner fill in as the starting left guard.
Turner has spent his entire five-year career in Brian Schottenheimer's system, so the veteran has an advantage.
Quinn Ojinnaka spent his 2011 preseason in a Rams uniform, but he was ultimately cut despite some solid production. Don't expect the new coaching staff to make the same mistake by cutting him.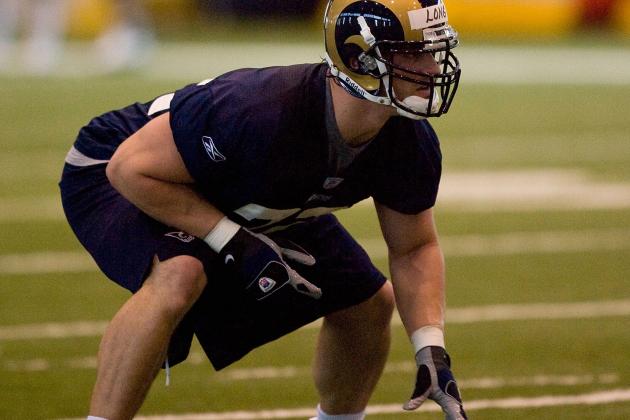 Dilip Vishwanat/Getty Images

Depth: Chris Long, Robert Quinn, William Hayes, Eugene Sims
Cut: Jamaar Jarrett, Bryan Mattison, Scott Smith
Defensive end is not a difficult position to predict. The top four are light years ahead of the three "camp bodies," so the final cuts should be easy enough for the coaching staff.
A defensive coach like Fisher might feel more comfortable with five defensive ends, but tackle Kendall Langford can move outside when needed.
Expect Long and Quinn to start, while William Hayes will occasionally rotate in. Eugene Sims will see a few snaps each game, but he'll primarily be retained for special teams.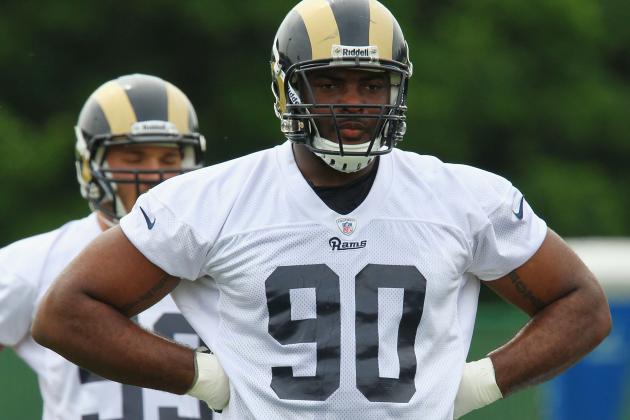 Dilip Vishwanat/Getty Images

Depth: Michael Brockers, Kendall Langford, Trevor Laws, Jermelle Cudjo
Cut: Darell Scott, Cornell Banks, Matthew Conrath
Michael Brockers and Kendall Langford are the obvious starters, and they'll be a significant upgrade over last season's duo of Fred Robbins and Justin Bannan.
Trevor Laws is a 3-technique tackle, so he'll likely sub in for Brockers on obvious passing downs.
Jermelle Cudjo and Darell Scott will fight over the final roster spot. Scott is naturally a better athlete, but the former fourth-round pick has failed to make an impact after three seasons.
Expect the raw but hungry Cudjo to grab Fisher's attention and claim the final spot.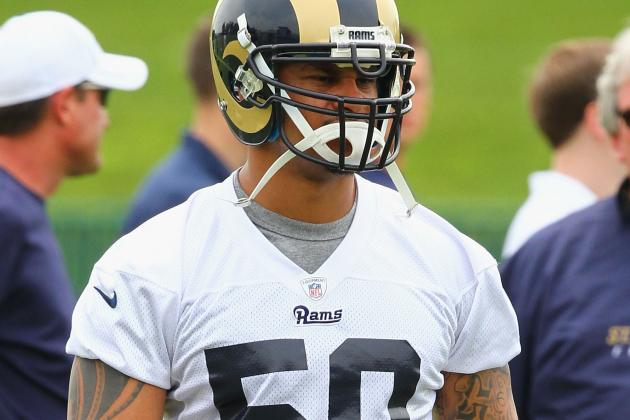 Dilip Vishwanat/Getty Images

Depth: James Laurinaitis (Middle Linebacker), Jo-Lonn Dunbar, Aaron Brown, Josh Hull, Alex Ellis-Hoffman, Sammy Brown
Cut: Justin Cole, Noah Keller, Derrick Choice
Outside of James Laurinaitis and Jo-Lonn Dunbar, none of the linebackers are safe this offseason.
There are no top-level talents fighting for roster spots, so only the hungriest players will ultimately make the team, which makes the position an interesting one to watch this offseason.
Seventh-round pick Aaron Brown is the favorite for the third starting spot, but undrafted rookies Alex Ellis-Hoffman and Sammy Brown are also generating a lot of buzz.
Josh Hull will also make the team not only as a special teams player but also as Laurinaitis' backup.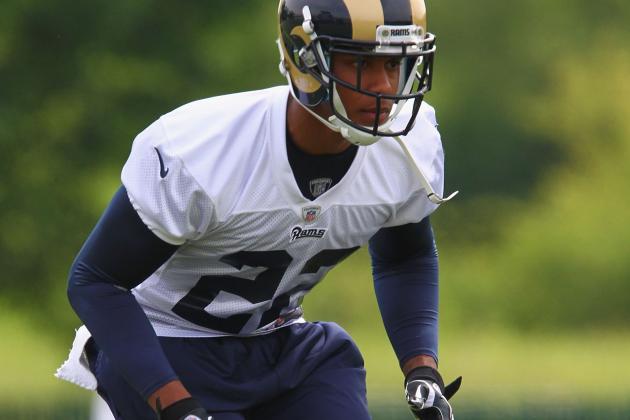 Dilip Vishwanat/Getty Images

Depth: Cortland Finnegan, Janoris Jenkins, Bradley Fletcher, Trumaine Johnson, Jerome Murphy, Josh Gordy
Cut: Kendric Burney, Jeremy Caldwell, Quinton Pointer
After the cornerback position was bombarded with injuries last season, the new regime was determined to give the position a complete makeover, which they have done successfully.
Cortland Finnegan and rookie Janoris Jenkins will formulate a dangerous starting duo, while Bradley Fletcher and Trumaine Johnson will add quality depth that can't be matched by any team in the division.
Josh Gordy will have to fight to make the team, but he was more than solid as an injury-replacement starter last season.
Jerome Murphy is a former third-round pick who missed the entire 2011 season with a broken ankle, but his return will also help the team.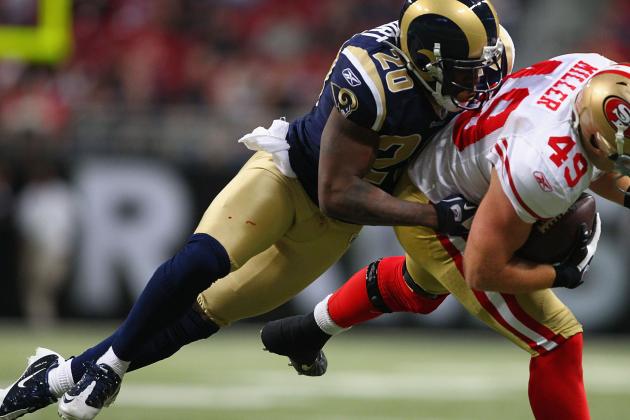 Dilip Vishwanat/Getty Images

Depth: Quintin Mikell, Darian Stewart, Matt Daniels
Cut: Craig Dahl, Rodney McLeod
Entering the season with only one backup safety is a little risky, but Jerome Murphy and Trumaine Johnson are big and physical corners who can move up top if needed.
Quintin Mikell and Darian Stewart are a competent pair of starting safeties, while undrafted rookie Matt Daniels is generating a lot of praise.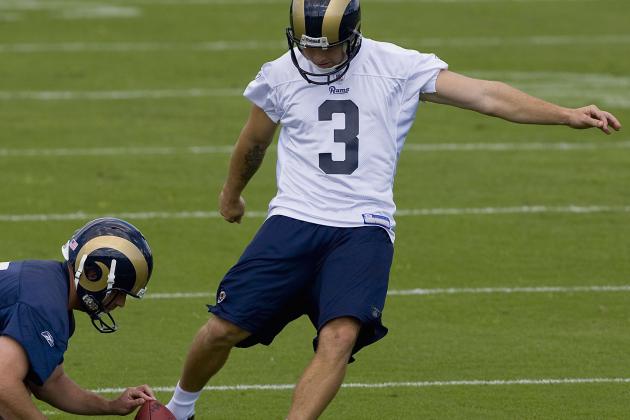 Dilip Vishwanat/Getty Images

Depth: Greg Zuerlein (Kicker), John Hekker (Punter), Jake McQuaide (Long Snapper)
Cut: Garrett Lindholm (Kicker), Travis Tripucka (Long Snapper), Tom Malone (Punter)
The coaching staff likely brought in two kickers, punters and long snappers in order to create a competitive atmosphere. They don't even want their specialists to feel overly safe during training camp.
However, there shouldn't be any surprises here. Greg Zuerlein, John Hekker and Jake McQuaide will all make the team.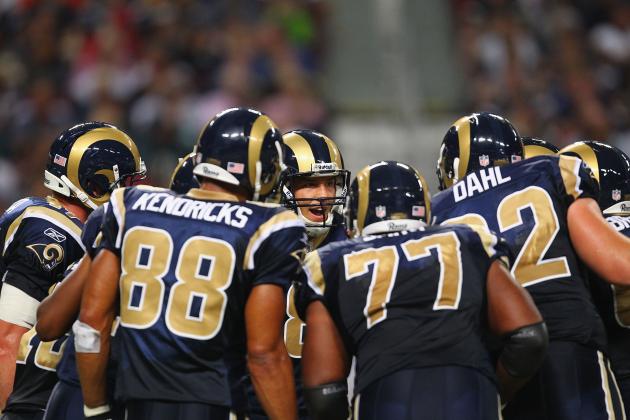 Dilip Vishwanat/Getty Images

Quaterback
Sam Bradford, Kellen Clemens, Austin Davis
Running Back
Steven Jackson, Isaiah Pead, Daryl Richardson, Calvin Middleton, Brit Miller (Fullback)
Tight End
Lance Kendricks, Matthew Mulligan, Michael Hoomanawanui, DeAngelo Peterson
Wide Receiver
Steve Smith, Brian Quick, Danny Amendola, Greg Salas, Chris Givens, Austin Pettis
Offensive Line
Rodger Saffold, Robert Turner, Scott Wells, Harvey Dahl, Jason Smith, Rokevious Watkins, Quinn Ojinnaka, Kevin Hughes, Tim Barnes
Defensive End
Chris Long, Robert Quinn, Wiliam Hayes, Eugene Sims
Defensive Tackle
Michael Brockers, Kendall Langford, Trevor Laws, Jermelle Cudjo
Linebacker
James Laurinaitis, Jo-Lonn Dunbar, Aaron Brown, Josh Hull, Alex Ellis-Hoffman, Sammy Brown
Cornerback
Cortland Finnegan, Janoris Jenkins, Bradley Fletcher, Trumaine Johnson, Jerome Murphy, Josh Gordy
Safety
Quintin Mikell, Darian Stewart, Matt Daniels
Teams
Greg Zuerlein, John Hekker, Jake McQuaide