St. Louis Rams: 5 Training Camp Battles We're Looking Forward to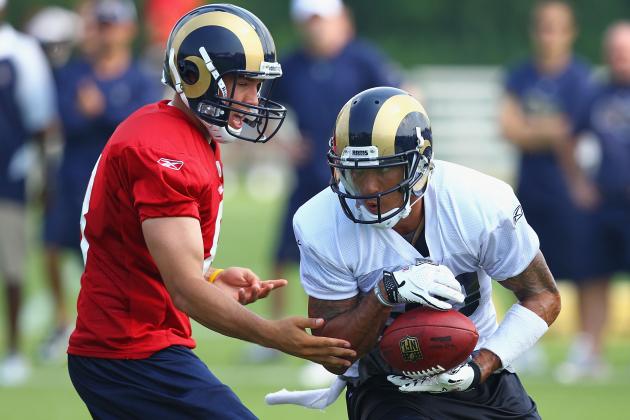 Dilip Vishwanat/Getty Images

The St. Louis Rams currently have 70 names on their roster, and that number could possibly approach the 90-man maximum by the time training camp opens in July.
And throughout the grueling process of training camp, that number will be chiseled down to just 53 men who will make up the final roster for the 2012 season.
The odds are slim for the undrafted rookies and the walk-ons, but they're not the only ones fretting over their futures. With a new regime and an influx of new talent from the offseason, even the veterans are aware that they must reclaim their roster spots.
There are several positions completely up for grabs, which guarantees that there will be some intense battles at Rams Park this summer.
This article will highlight the key training camp battles to keep an eye on, and will also predict the outcomes.
Begin Slideshow

»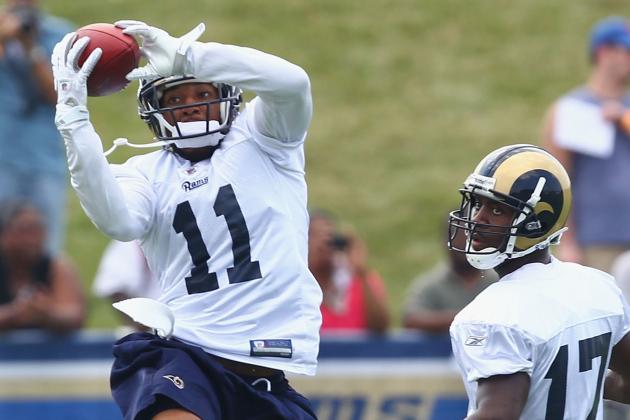 Dilip Vishwanat/Getty Images

Wide receiver is by far the most anticipated battle to look forward to, and it's also one of the more difficult positions to predict at this point.
Here are the receivers currently on the team: Danario Alexander, Danny Amendola, Brandon Gibson, Chris Givens, Austin Pettis, Brian Quick, Greg Salas and Steve Smith.
The team will likely cut two of the eight receivers, and it will need to identify its Week 1 starters as well.
The only receivers who are considered locks are Quick and Givens, both of whom were just drafted by the team, as well as Amendola, who is Sam Bradford's favorite target.
The Rams also acquired the former Pro Bowler Smith in free agency, but health concerns prevent him from being a sure thing.
Gibson is clearly feeling the most heat. He's been given three seasons to make an impression but has been underwhelming. He has his work cut out for him if he wants to be employed by September.
Pettis is also in hot water after a disappointing rookie season in 2011. On top of performing poorly last year, Pettis is suspended for the first two games of 2012, which could ultimately make the decision easy for Jeff Fisher.
Alexander is a complete unknown. He is extremely talented and has been very productive at times, but his damaged knees haven't been able to withstand the punishment of a 16-game season.
Week 1 Starters: Steve Smith, Brian Quick, Danny Amendola (Slot)
Depth: Steve Smith, Brian Quick, Danny Amendola, Chris Givens, Greg Salas, Austin Pettis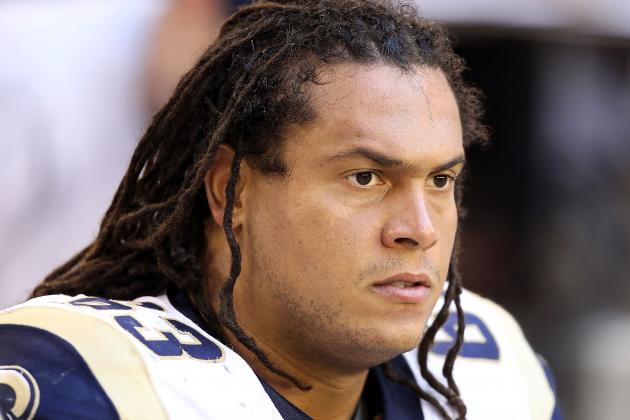 Christian Petersen/Getty Images

The Rams allowed left guard Jacob Bell to leave the team as a free agent (not that he had the position locked down anyway), so there's currently some debate as to who's going to be the final starter at the position.
Rodger Saffold (left tackle), Scott Wells (center), Harvey Dahl (right guard) and Jason Smith (right tackle) are all obvious starters, but the left guard spot is anyone's guess.
Veteran Rob Turner signed with the team in free agency, and he has five years of experience in Brian Schottenheimer's system from his time in New York, so he has to have a leg up at this point.
However, Turner only had two total starts during his tenure with the Jets.
Quinn Ojinnaka is another veteran with a shot at starting, but he's also a career backup with only 15 starts in six NFL seasons.
Rokevious Watkins was the Rams' fifth-round pick of the 2012 NFL draft. He may eventually become a starter sometime down the line, but he's likely too inexperienced to start Week 1.
At this point, the Rams will stick with a veteran since Sam Bradford needs protection immediately.
Week 1 Starter: Robert Turner
Depth: Robert Turner, Rokevious Watkins, Quinn Ojinnaka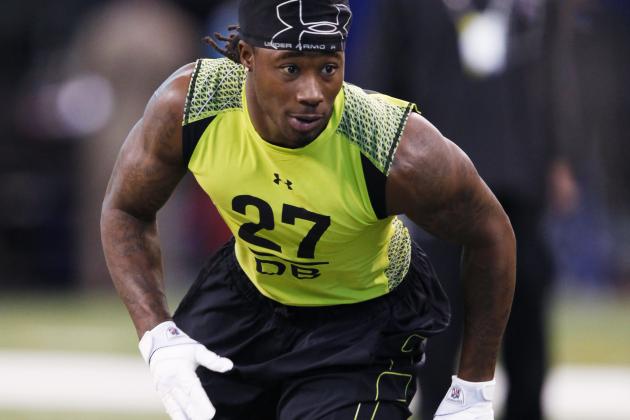 Joe Robbins/Getty Images

Jeff Fisher and Co. spared no expense this offseason when it came to adding quality cornerbacks to the roster.
With the amount of resources spent on the position, it's fair to say that solidifying the secondary was one of their top offseason priorities.
They signed Cortland Finnegan to a $50 million contract near the beginning of free agency. They also used a second-round pick on Janoris Jenkins, as well as a third-round pick on Trumaine Johnson.
The Rams also have Bradley Fletcher and Jerome Murphy returning to action. Both are promising young players who have struggled with injuries.
Assuming the Rams aren't paying Finnegan $50 million to play part-time, it's safe to say he's starting. The other starting spot, however, is available to the guy who wants it the most.
Jenkins is the front-runner, since he's the only one with the potential to be truly special. But if his childish behavior holds him back, the job will be stolen from him.
Week 1 Starters: Cortland Finnegan, Janoris Jenkins
Depth: Cortland Finnegan, Janoris Jenkins, Bradley Fletcher, Trumaine Johnson, Jerome Murphy, Josh Gordy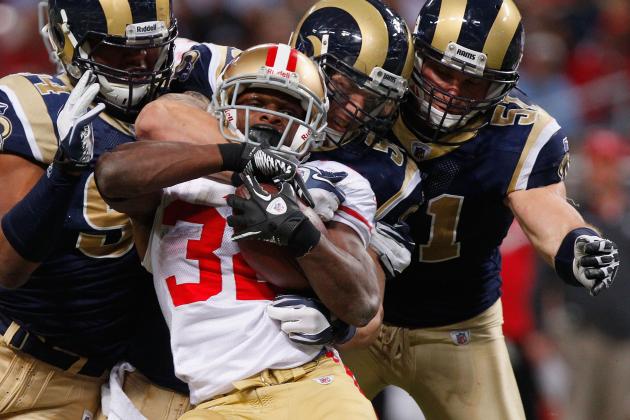 Whitney Curtis/Getty Images

The Rams signed Jo-Lonn Dunbar of the New Orleans Saints during free agency, so he's set to become one of the team's starting linebackers alongside James Laurinaitis.
The other linebacker spot is a bit of a question mark. It's a need that some people thought would be addressed early in the draft, but that never happened.
Last season, the Rams signed aging veterans Brady Poppina and Ben Leber to fill the team's need at linebacker, but the results were disastrous.
This year, it seems as though Jeff Fisher will take the opposite approach and stick with youth at the position. Rookie Aaron Brown and third-year player Josh Hull are the only options at this point.
Fisher may eventually add some more competition once the first wave of cuts are made and additional prospects become available. But for now, it looks like Brown and Hull will be fighting it out for the starting job.
Week 1 Starters: Jo-Lonn Dunbar, Aaron Brown
Depth: Jo-Lonn Dunbar, Aaron Brown, Josh Hull, Justin Cole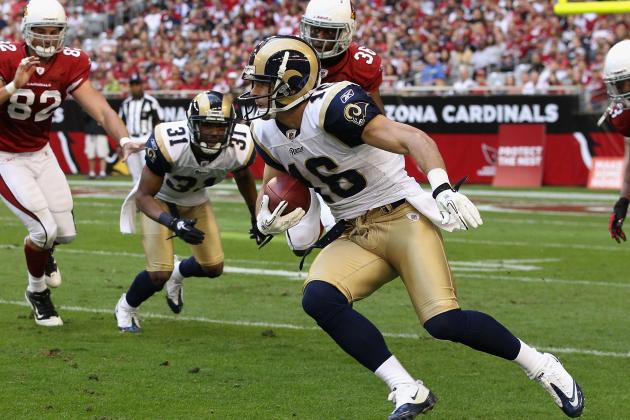 Christian Petersen/Getty Images

Danny Amendola was a dynamic kick and punt returner for the Rams during the 2010 season, which allowed him to lead the entire NFL in all-purpose yards (2,364).
And while Amendola certainly adds a special element to the return game, he's not a true burner and was never really a threat to return a kick for a score.
But now that the team drafted Janoris Jenkins, Isaiah Pead and Chris Givens, there's no need for Amendola to continue. He can now focus solely on his duties as a slot receiver.
In the meantime, the three rookies will have to fight it out in order to win over the return duties.
Jenkins is the most athletic, so he's capable of dodging a couple of tacklers and turning a punt return into six points.
Pead and Givens have a little more bulk than Jenkins, so they're probably a little more capable of absorbing a big hit from a gunner during a kickoff return.
Week 1 Starter (Punts): Janoris Jenkins
Week 1 Starter (Kicks): Isaiah Pead
Depth: Janoris Jenkins, Isaiah Pead, Chris Givens