Pacers vs. Heat: Game 1 Highlights, Twitter Reaction and Analysis
May 13, 2012

Marc Serota/Getty Images
The Miami Heat's march to an NBA title took another significant step forward with a 95-86 win over the Indiana Pacers in Game 1 of their Eastern Conference semifinal series at AmericanAirlines Arena on Sunday.
Chris Bosh totaled 13 points and five rebounds before leaving the game with a lower abdominal strain late in the first half. His absence made way for Ronny Turiaf and Joel Anthony (with a combined 13 points and 10 rebounds) to absorb his minutes after the break.
Indiana ran into trouble in the third quarter when Roy Hibbert and George Hill picked up their fourth and fifth fouls, respectively. That, along with the spectacular play of LeBron James and Dwyane Wade and Miami's suffocating second-half defense, allowed the Heat to construct a comfortable cushion down the stretch and secure the victory. 
Tweets of the Night
Bob Kravitz of the Indianapolis Star has some choice words for fans crying foul about a lack of respect for Naptown's finest:
Hey, I don't wanna hear about lack of national respect when Pacers can't even get attention from local fans. Sell out, we'll talk.

— BobKravitz (@bkravitz) May 13, 2012
As for the Pacers themselves...well, at least whoever runs their Twitter account would beg to differ:
The United States is taking notice: "Barbosa", "Roy Hibbert" and "Pacers" currently trending nationwide.

— Indiana Pacers (@Pacers) May 13, 2012
For those of you who found Game 1 between the Pacers and the Heat to be something of a bore, The Bill Walton Experience is here to help:
In case you missed it and need to catch up, here's the Heat-Pacers drinking game. Enjoy: bit.ly/K8cGJw

— Not Bill Walton (@NotBillWalton) May 13, 2012
Must-See Highlight
It's almost routine for Dwyane Wade and LeBron James to connect on a half-court alley-oop during the game, as they did during the first quarter on Sunday. Then again, they're always things of beauty, so who's complaining?
Grades for Key Pacers Players
Roy Hibbert: B
The Heat had no answer for Hibbert's size and surprising skill.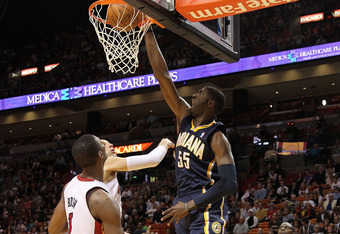 Mike Ehrmann/Getty Images
Unfortunately for the Pacers, Hibbert turned out to be his own worst enemy. The All-Star center contributed 17 points, 11 rebounds and two assists to the cause, but struggled to stay on the floor amidst constant foul trouble. 
Danny Granger: C-
The Pacers' leading scorer during the regular season and the first round was nowhere to be found in Miami. Granger managed all of seven points on 1-of-10 shooting from the field, along with four rebounds and three assists.
Indy will need much more from him if it's to truly make something of this series against the prohibitive title favorites.
Grades for Key Heat Players
LeBron James: A+
LeBron James' first game as a three-time MVP was, well, MVP-like. James finished with a balanced stat line of a game-high 32 points (most of which came in the second half), 15 rebounds, five assists and two steals to put the Heat ahead in the series.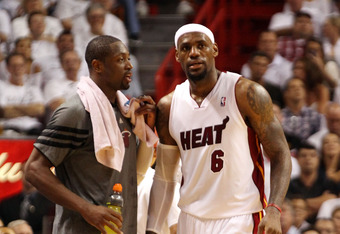 Marc Serota/Getty Images
Dwyane Wade: A
Like LeBron, Wade did some of his finest work in the second half after Chris Bosh had already been ruled out for the rest of the game. D-Wade came away with 29 points and four assists while flying all over the court, as he's prone to do.
Deciding Factor: Star Power
In short, the Pacers stars didn't (or couldn't) show up, while those of the Heat were out in full force. Danny Granger was a non-factor, and Roy Hibbert's impact on the game was mitigated by foul trouble.
On the other hand, LeBron and Wade took Bosh's injury as a sign that they had to step up their respective games, and they did just that. 
Game MVP: LeBron James

The MVP of the league was the MVP of this game, dominating the floor in the second half and playing like a man on a mission to couple his three Maurice Podoloff Trophies with a Larry O'Brien Trophy in the 2012 NBA Finals.
What's Next?
The series will resume on Tuesday, with Game 2 set to tip off in Miami at 7:00 p.m. EDT.