Philadelphia Phillies: 25 Consequences If They Miss the 2012 Playoffs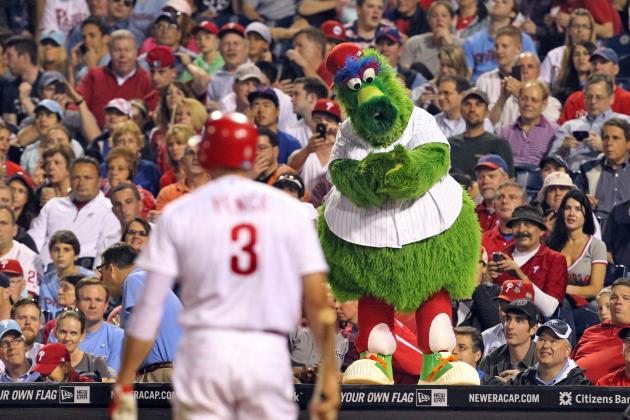 Hunter Martin/Getty Images

For the last couple of seasons, the attitude towards Philadelphia Phillies baseball has been "World Series or bust." Anything other than a victory in the Fall Classic is considered a drastic disappointment, so can you imagine what the attitude towards Phillies baseball would be if the club missed the postseason entirely in 2012?
I can. It would be an ugly situation.
There's no reason the Phillies should be in a position to miss the postseason. No excuses. Sure, they've had their share of injuries, but with a payroll just shy of $175 million, this should be a club with depth in multiple positions, and right now, it's not.
This is a payroll chock-full of former All-Stars failing to live up to their reputations, under-performing veterans, and even a few rookies who have yet to cut their teeth. One thing is certain: They don't resemble the contender that a lot of pundits picked to win the National League East before Opening Day.
The Phillies have the talent to turn this ship around, but what if they don't? If the Phillies fail to make the postseason this year, there will be serious repercussions moving forward, and depending upon their level of failure, things could get ugly for this club before the postseason even comes into focus.
Missing the playoffs could be big trouble for this club. Here's why.
Begin Slideshow

»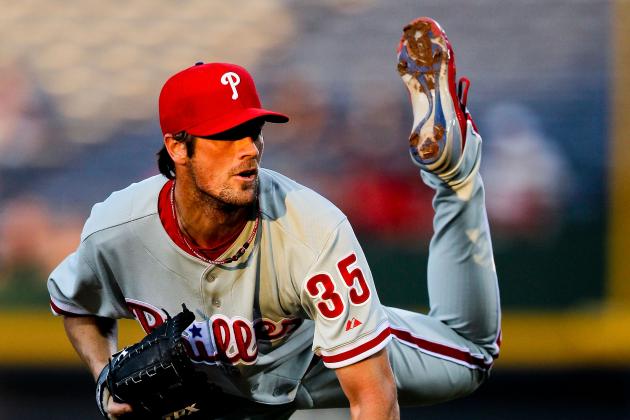 Daniel Shirey/Getty Images

With the way the Phillies are playing right now, they could be out of the postseason picture early, and if that's the case, you can expect a fire sale at the trade deadline, with the biggest piece to move likely to be Cole Hamels.
There will be plenty of interest in the prospective free agent. He's a legitimate front of the rotation starter who will instantly benefit any contender that lands him.
Who will that be? Well, that is a bit more uncertain. Any team with a deep farm system and legitimate shot at the postseason should come calling.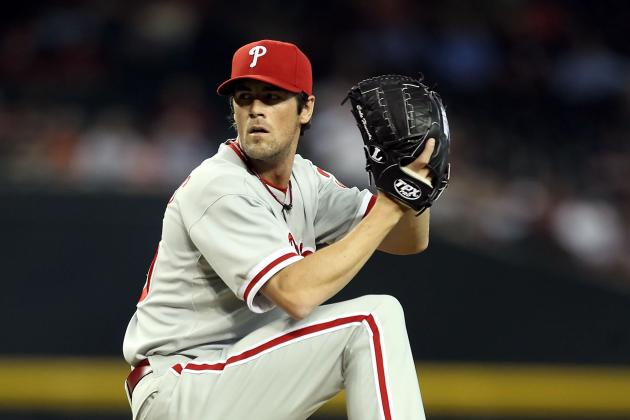 Christian Petersen/Getty Images

A trade isn't the only option for the Phillies regarding Cole Hamels. In fact, it's just one of many. If the club is anywhere near first place in the standings come the trade deadline, you can bet your bottom dollar that Hamels is staying put.
With the way the club is constructed at this moment, the Phillies' best shot at the postseason is on the collective back of their starting pitching, so they won't move Hamels with a short-term move in mind.
However, the club could decide after the season that the $100 million-plus contract that Hamels will command is best spent elsewhere—maybe on a bat, or several bats.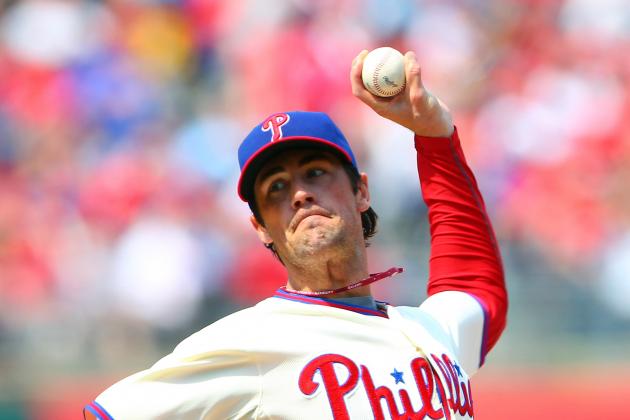 Rich Schultz/Getty Images

Of course, there is a final option for the Phillies and Cole Hamels: A contract extension.
The Phillies' longest-tenured pitcher isn't going to come cheap. He wants market value for his next contract and is definitely going to get it from someone, Phillies or not.
My gut feeling has always been that the Phillies want to keep Hamels, and I still think that a contract extension gets done during the season, mainly because I think that Ruben Amaro's recent comments about becoming a seller told us a little about his game plan.
He doesn't want to lock himself into a Hamels contract before the trade deadline in case he needs to make an emergency deal, but if Hamels is still in red pinstripes following July 31, I believe an extension follows shortly thereafter—maybe sooner.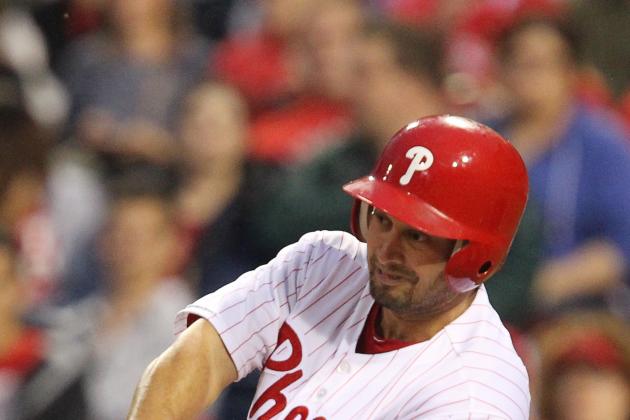 Hunter Martin/Getty Images

The next big trade chip for the Phillies is Shane Victorino, but his situation is on a smaller scale than Cole Hamels', especially after the former has come out and said that he'll accept a discount to return to Philadelphia, so the Phillies know in the back of their minds that an extension is possible.
If the Phillies miss the postseason, however, they could go a different route.
Plenty of teams in contention near the trade deadline would have interest in Victorino, one of the only five-tool players who will be available.
Don't doubt for a moment that the Phillies remember the New York Mets dealing Carlos Beltran at the the deadline last season for San Francisco Giants' top pitching prospect Zach Wheeler either.
If a team throws a blue-chip prospect at the Phillies for Victorino, they might trade him regardless.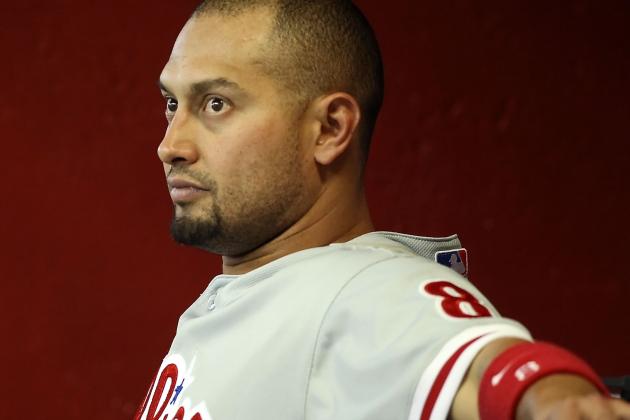 Christian Petersen/Getty Images

The other option is one I'm sure the Phillies will try to avoid: Letting Shane Victorino walk after the season for nothing.
This is where things could get tricky for the Phillies. If they're still in the race come July, they could keep Victorino around and make a push for the postseason. However, if they miss the playoffs, they risk the chance of Victorino walking after the year with no benefit to the club.
They could decide that, with Hunter Pence, John Mayberry Jr. and Domonic Brown all in the fold for next season, that Victorino is expendable.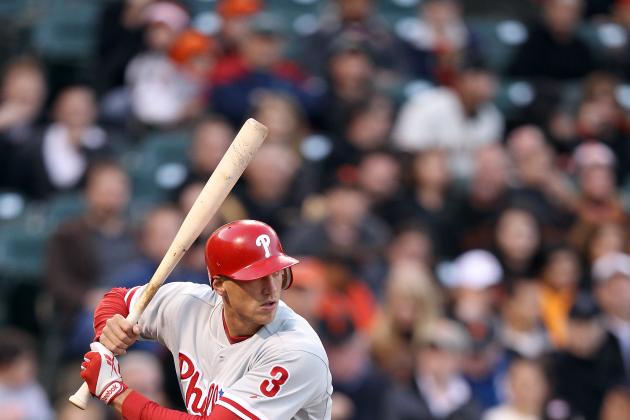 Ezra Shaw/Getty Images

Missing the postseason could force the Phillies to take a long, hard look at their future, and if I was a betting man, I'd bet that said future includes Hunter Pence.
He's been a great addition for the club, not only in the field, but from a marketing and fan perspective as well. He isn't necessarily a top-tier guy and may be an outfielder who the Phillies could lock up for less than $100 million, but still a solid chunk of change.
Pence is one of the few hitters on this club still in his prime, and keeping him around could be beneficial.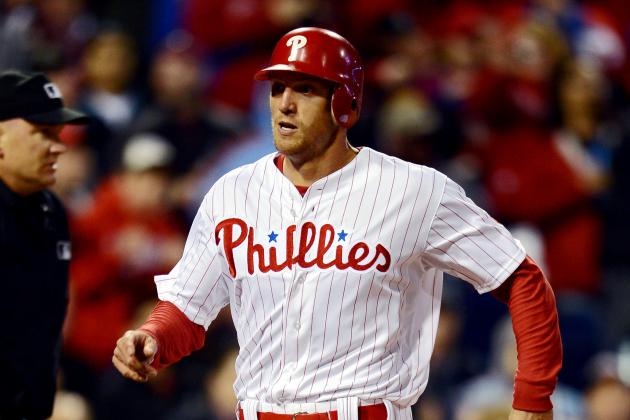 Drew Hallowell/Getty Images

Of course, if they're out of the race by the trade deadline, the Phillies could go in a completely different direction and blow up the team, including Hunter Pence, and add a couple of top prospects.
Annual contenders would salivate over Pence. He's under team control for the 2013 season and the Phillies would love to bring in a couple of top prospects for a year and a half of Pence.
Pence won't be cheap, so that would hurt his value somewhat, but the Phillies could land at least one top prospect after moving Jonathan Singleton and Jarred Cosart to acquire him.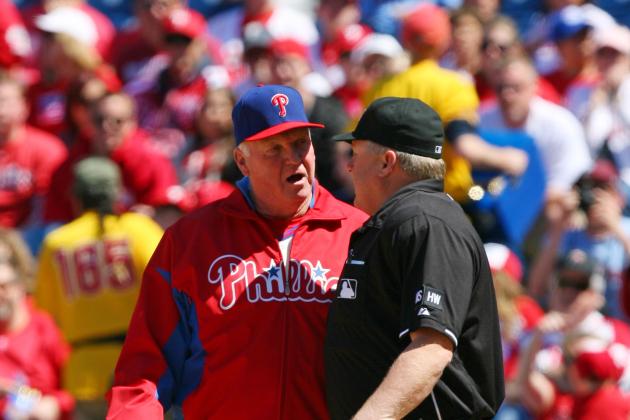 Hunter Martin/Getty Images

There's no two ways about it: If the Phillies miss the postseason, they'll part ways with Charlie Manuel.
Realistically, it's hard to place all of the blame on the Phillies' skipper, but his game management has been absolutely dreadful this season, even in the absence of Ryan Howard and Chase Utley. His lineup construction has been horrid and the Phillies' offense has suffered.
The rest of his staff wouldn't survive without him. Rich Dubee's bullpen management has been nothing short of dreadful this season, and as per the usual, Greg Gross will certainly be hung out to dry, thanks to the offense's inefficiency.
I could see Pete Mackanin and Sam Perlozzo making the cut, but the others are in trouble. As an aside, I've always thought that certain front office officials prefer another manager anyway...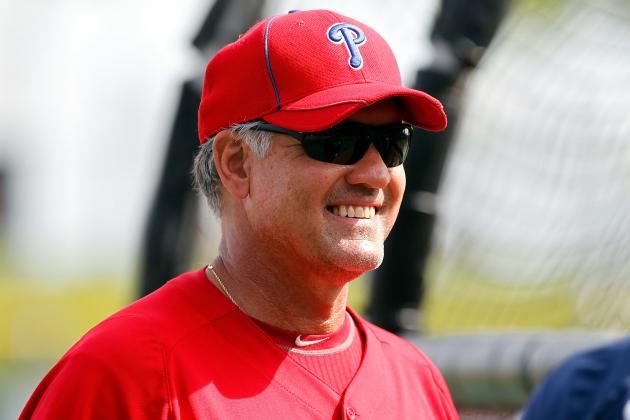 J. Meric/Getty Images

If Charlie Manuel gets the boot, the Phillies won't have to look far for his replacement.
After failing to land a job with another team at the MLB level, Ryne Sandberg returned to coach the Triple-A Lehigh Valley IronPigs this season and Phillies fans (and certain front office officials, I'm sure) breathed a sigh of relief.
There is no doubt that the organization has been grooming Sandberg to become the Phillies' next skipper, but it's hard to fire the club's most successful manager (in the win column), especially when the team is going well.
If the Phillies miss the postseason in 2012, all of that changes.
It gives the Phillies an opportunity to part ways with Manuel and hand the reins over to Sandberg, whose body of work with the IronPigs, given their rosters, is nothing short of incredible.
Truth be told, he's much better suited to manage this club as it stands now.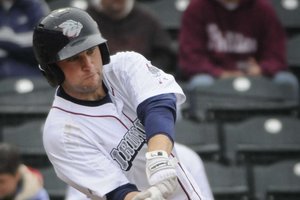 http://media.philly.com/images/300*325/20120506_inq_pminors06-a.JPG
If the Phillies are out of the race early, we could see a fire sale by the trade deadline, and by proxy, a bunch of under-the-radar prospects getting a chance to showcase their talents at the MLB level.
Of course, this is entirely hypothetical, but this season could be friendly to a number of prospects close to the majors, including guys like Cody Overbeck, Justin De Fratus and Phillippe Aumont, among others.
With the way this club is playing right now, they may get a shot regardless.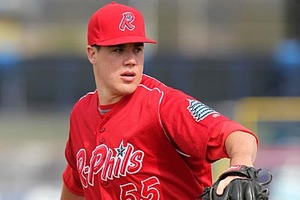 http://media.philly.com/images/042812-trevor-may-400.jpg
This is another one of those scenarios that I'm not sure won't happen anyway, but if the Phillies miss the postseason in 2012, what reason do they have to not start Trevor May in the rotation in 2013?
With Cole Hamels and Joe Blanton facing free agency at the end of the year, May represents the Phillies' best reason to re-sign just one of them.
He's the organization's top prospect, and though he has yet to pitch at Triple-A during his career, if his success at Double-A is any indication, he's ready to step in at the back of the rotation soon and develop in at the major league level.
For an organization that could be making more efficient, monetary decisions, May should be in their plans for 2013.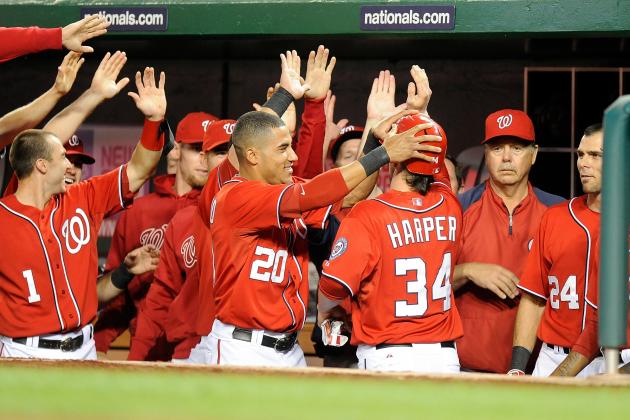 Greg Fiume/Getty Images

If you don't think that "bragging rights" are an important aspect of any sport, it's time to think again.
Over the last five seasons, the Phillies have absolutely dominated the National League East. They've come into each season with the mindset that they are the team to beat and the rest of the division has been put on notice.
Anyone who has ever competed in anything knows that there is no better feeling than walking into a competition knowing that you're the cream of the crop.
If the Phillies miss the postseason, that's the end of that. It'll also be a marketing nightmare. What sounds better: "Six straight division titles" or "Well, there's always next year"?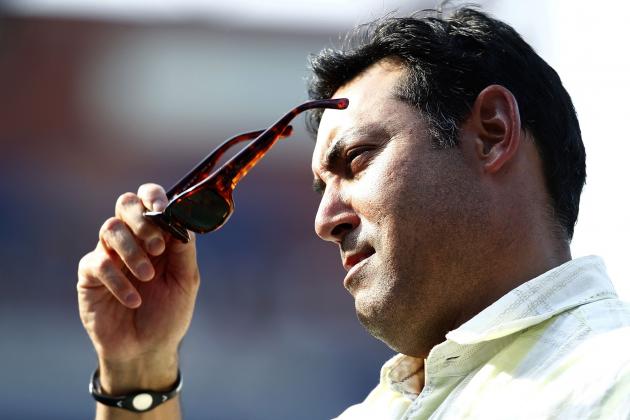 Jeff Zelevansky/Getty Images

If the Phillies miss the postseason with this roster and this payroll, someone is going to have to face the music, and I wouldn't be surprised if the organization completely cleaned house, including the dismissal of General Manager Ruben Amaro Jr.
Let's face it. He hasn't been the greatest general manager in history. He's known for giving aging players extra, guaranteed years on their contracts and handing out boatloads of money to players probably undeserving.
Truth be told, he's made more bad decisions than good ones, with the deals for Ryan Howard, Jonathan Papelbon, Raul Ibanez and Placido Polanco to name a few, just off the top of my head.
There's no obvious heir to the Phillies' general manager's throne, but if the club misses the postseason this year, it would not completely surprise me to see Amaro canned.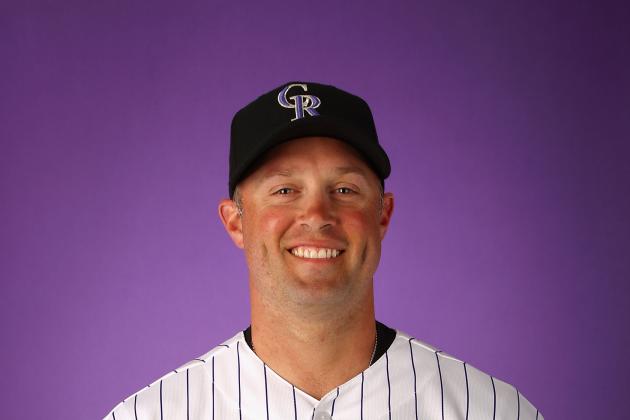 Christian Petersen/Getty Images

For a long time, big name free agents didn't want to come and play baseball in Philadelphia, and the club certainly does not want to relive those days. However, missing the postseason this year could hurt the Phillies in that way.
This is not a young club. The Phillies don't have an exceptional farm system and the future is a bit cloudy. When you look at the rest of the National League East, the Phillies' future is just uncertain. The Washington Nationals are going to be good for a long time. Ditto for the Atlanta Braves.
Missing the postseason in 2012 could signal a downward trend, and while it won't affect the decision of most free agents, some big name guys could decide to play elsewhere.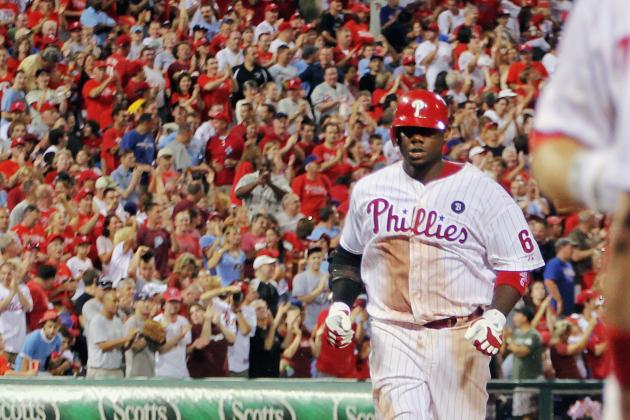 Len Redkoles/Getty Images

Of course, when MLB clubs, particularly front offices, feel as though they don't have the best shot at a free agent that they really, really want, they throw tons of money at them. They overpay guys who shouldn't be overpaid and it hurts the club in other ways.
The Phillies are no strangers to this concept.
Just ask Ryan Howard, Cliff Lee and Jonathan Papelbon what it's like to have more zeroes on their paychecks than they know what to do with.
The fact of the matter is that when you really need a player and they have more leverage than they would have had in the past, when things were going well for your franchise, you wind up overpaying them. So brace yourself for that if the Phillies miss the postseason.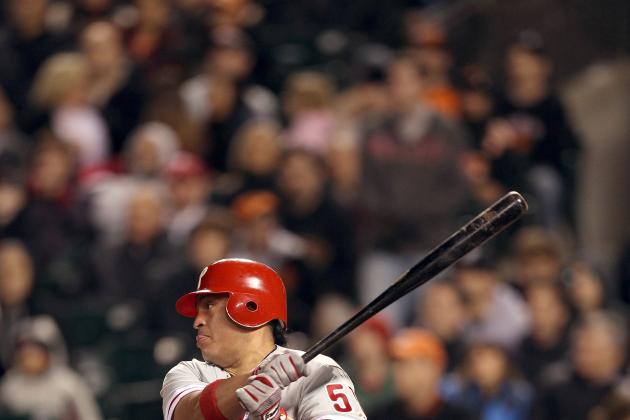 Ezra Shaw/Getty Images

Missing the postseason can make a team like the Phillies reanalyze their priorities, and when they look back on the 2012 season, there's a good chance that they realize that Carlos Ruiz, one of the biggest bargains on their payroll, was one of their best hitters.
The Phillies are going to pick up their very friendly team option for their starting catcher for the 2013 season, but after that (or maybe sooner), they'll have to start thinking about a contract extension.
Yadier Molina set the bar for elite catching contracts with the St. Louis Cardinals last off-season when he inked a five-year, $75 million deal. Miguel Montero, Russell Martin and Mike Napoli are all going to sign big deals.
It wouldn't shock me if the Phillies realized that it's time to get one of their most productive players locked up.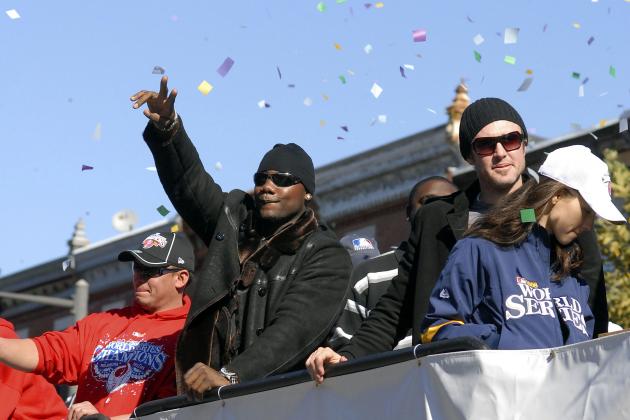 William Thomas Cain/Getty Images

Anyone who watched the Phillies parade down Broad Street after their World Series victory in 2008 knows that the two guys at the front of that float in the picture—Ryan Howard and Chase Utley—had a lot to do with that team's success.
They had mediocre pitching. Cole Hamels was just coming into his own and the rest of the starting rotation—Jamie Moyer, Brett Myers, Kyle Kendrick, and Joe Blanton—were all good enough to keep the Phillies' tremendous lineup in the game, but nothing like today's club.
Beginning in 2008 the Phillies' team philosophy changed. They moved away from offensive minded players and brought in elite pitching, including Roy Halladay, Cliff Lee, Roy Oswalt, Jonathan Papelbon and so on and so forth.
If the Phillies miss the postseason in 2012, it may be time to admit that the pitching-oriented Phillies just aren't doing the job. You need to have some sort of balance, and the core of offensive players that made this club great in 2008 just aren't the same.
From scouting, to drafting, to player development, you will begin to see a change in the Phillies' system, and it won't stop there. Expect the Phillies to stop shelling out top prospects and top dollar for big pitching names and instead, bring in some big bats.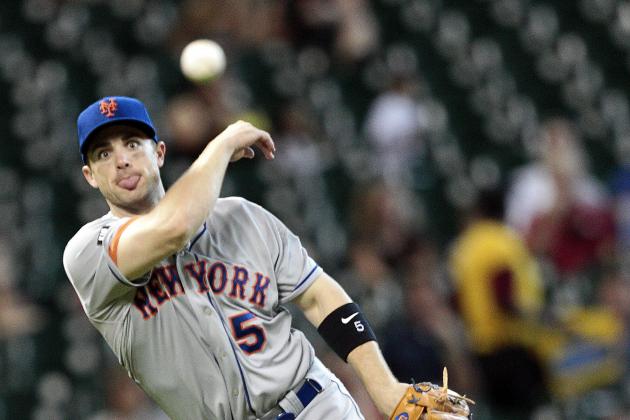 Bob Levey/Getty Images

Yes, I chose that picture of David Wright on purpose. Now, on to the important stuff.
With his tenure with the New York Mets nearing a possible end after the season, Wright has been a popular name around the city of Philadelphia for quite some time. The Phillies haven't had a great third baseman since Scott Rolen ditched them, and Wright would certainly fit in nicely.
Sure, he has his downsides. Wright has been on the disabled list with high frequency over the last couple of seasons and isn't impervious to a slump at the plate. He'll also command a big contract on the open market.
However, if the Phillies miss the postseason, there is no doubt in my mind that they'll explore options to upgrade the lineup, and few spots can be upgraded quite like third base.
That's why I think the Phillies would be linked to Wright, as well as a couple of other potential free agents who could give this lineup a boost...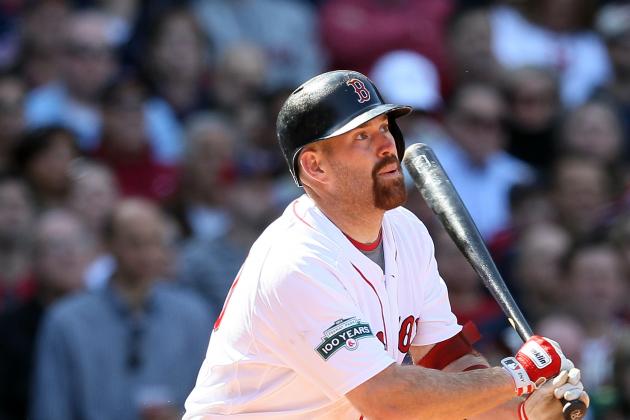 Elsa/Getty Images

Truth be told, I wouldn't be surprised to see the Phillies make a trade for Kevin Youkilis during the 2012 season, but if he were to reach the free-agent market, he is a guy they would certainly have some interest in following the season.
Dealing with an injury right now, Youkilis has been on the outs with the Boston Red Sox ever since Bobby Valentine took over as the club's manager. He isn't the same player that he used to be, but a guy like Youkilis, who would probably benefit from a change of scenery, would be a solid, short-term addition for the Phillies.
They'll need to upgrade the lineup somehow, either this season or next, and Youkilis could be a relatively inexpensive option, all things considered.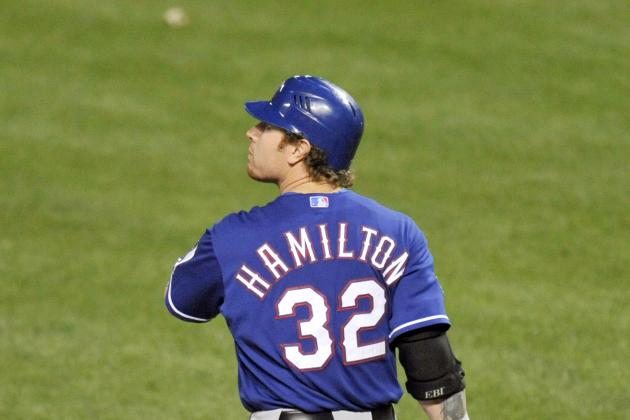 Mitchell Layton/Getty Images

If the Phillies miss the postseason, they are going to have to make some difficult decisions. They may find themselves faced with parting ways with guys like Cole Hamels and Shane Victorino to bring in a new face, and one face they'll have interest in is Josh Hamilton.
With the way he's playing this season, how many teams won't have interest in him?
Hamilton is absolutely mashing the ball right now with the Texas Rangers, and given his troubled past, he represents one of the most interesting free-agent cases ever.
If the Phillies are willing to pay the man, he should fit in nicely to their clubhouse, already filled with character guys who want nothing more than to win a World Series.
Signing a guy like Hamilton would be a risk, but the reward could be great for a team like the Phillies, who would still have plenty of pitching, and now a bit of offense to provide some run support.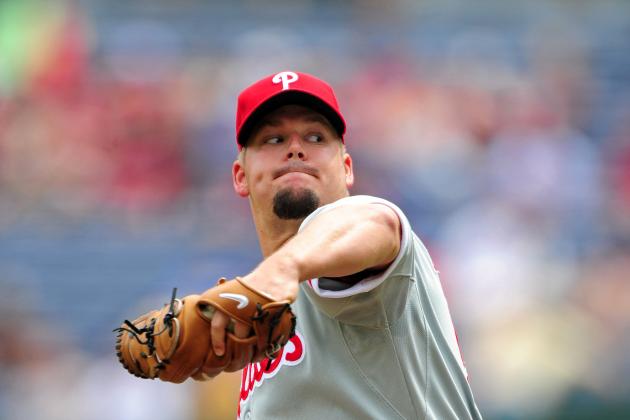 Scott Cunningham/Getty Images

If the Phillies are forced to part ways with Cole Hamels, it will certainly be interesting to see how they decide to fill out the rest of their starting rotation. If they miss the postseason in 2012, I believe the consequence becomes that the Phillies must find ways to upgrade their offense, and that may mean cutting the budget on their pitching.
If the Phillies were to pursue offensive oriented guys like Josh Hamilton, David Wright or Kevin Youkilis, they'll need to fill out their rotation with cheaper players.
You can pencil in three guys for certain: Roy Halladay, Cliff Lee and Vance Worley.
After those three, it's anyone's guess. Kyle Kendrick is under contract, but I get the feeling that he's better suited for the bullpen. Trevor May, the Phillies' top pitching prospect, may be knocking on the door. A few under-the-radar prospects, like Austin Hyatt and Tyler Cloyd, could make some noise.
The Phillies could also explore the free-agent market for second-tier pitchers, and one guy to keep an eye on may be none other than Joe Blanton, who has pitched extremely well this season.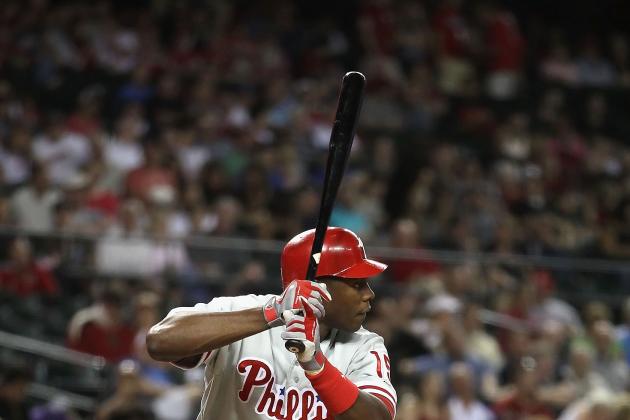 Christian Petersen/Getty Images

If the Phillies miss the postseason, and obviously dependent upon any personnel moves they make during the offseason, John Mayberry Jr. may get another shot at playing everyday.
The out-of-options outfielder flopped out of the starting gate, but has picked things up at the plate recently. One would think that a contending team would have to make a difficult decision about a guy like Mayberry, but if the Phillies miss the postseason, what's the risk in letting him play every day?
He'll be inexpensive next season and certainly has some potential. That's not to say that he won't have some competition, however.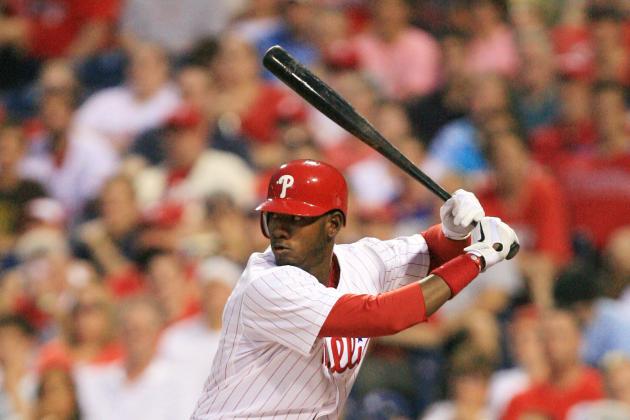 Hunter Martin/Getty Images

Domonic Brown is struggling in Triple-A right now, but to be fair, there's nothing left for the guy at that level. The truth of the matter is that the Phillies optioned him because of a roster crunch and belief that John Mayberry Jr. could play every day.
Come 2013, all of that will change, especially if the Phillies miss the postseason.
Should that be the case, the Phillies should give Brown a chance to play everyday at the MLB level, and that opportunity could come early if they're out of it this season.
At some point, Brown is going to have to play a big role for this club. He's the future of this offense right now.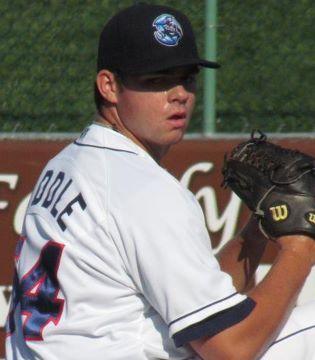 http://1.bp.blogspot.com/-H_6pp-d3lC4/T1hCDQ0RyiI/AAAAAAAAD-A/WLbVpq9cDtU/s1600/JesseBiddlePhoulBallz.jpg
Given the state of their farm system right now, I wouldn't expect many big name players coming to Philadelphia at the trade deadline this season, but that isn't to say that the club won't make a move or two.
The Phillies do still have some prospects to deal and could upgrade the lineup through a trade if the right deal arises, but it would like be a small move for a role player.
If the Phillies miss the postseason, things change entirely. The club will have a lot of holes to fill in the offseason, with guys like Cole Hamels, Shane Victorino and Joe Blanton facing free agency and the front office having a limited amount of money to spend.
It wouldn't surprise me to see the Phillies make a savvy trade for some offense (or pitching, depending on their course of action in free agency) to upgrade their club. They have to find a way to bring offense in.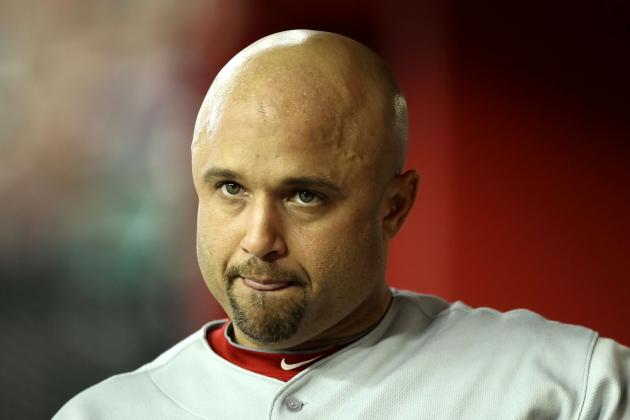 Christian Petersen/Getty Images

Anyone hoping for the Phillies to go into a full blown rebuilding mode is going to be disappointed. Regardless of what happens in 2012, this isn't a team that has to rebuild.
If they're out of it before the trade deadline, sure, they'll go into a quasi-rebuilding mode. Moving guys like Cole Hamels, Joe Blanton, Shane Victorino and Hunter Pence would land the Phillies plenty of nice prospects. That doesn't mean that they're cashing it in for 2013 and beyond, however.
More likely than not, the Phillies will keep things close throughout the season, bring some of those aforementioned guys back for next season (Pence is under team control) and add a couple of quality lineup pieces.
They'll also hope to be healthy.
This is a team whose lineup looks completely different with Ryan Howard and Chase Utley in the fold. Had those guys been in the lineup on Opening Day, we may not even have this conversation.
The Phillies will need to re-tool. They'll have holes at third base, in the outfield, and in the starting rotation. Unlike in years past, however, this is a big market club that acts like it, and the Phillies will fill those holes.