South Carolina Football: Why Expectations for the Gamecocks Are Soaring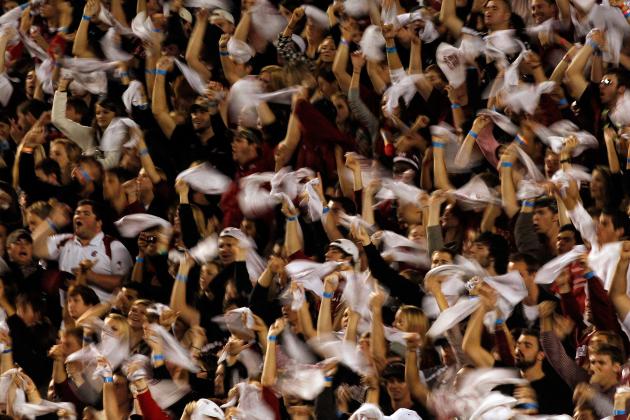 Streeter Lecka/Getty Images

Look! Up in the sky! It's a bird! It's a plane!
Nope. Chuck Testa. Well, actually it's the Gamecocks soaring expectations.
They have never been this high. The Gamecock coaches, players, recruits and fans all expect the Gamecocks to jump to unparalleled heights. It's amazing that a team for which becoming "bowl eligible" was the goal just 10 years ago is now shooting for division and conference titles.
It hasn't happened over night. This has been a long process, starting with the South Carolina's athletic director Eric Hyman, who has empowered the entire school to create a great sports environment.
Here are the 10 reasons why the Gamecocks are birds of flight this year.
Begin Slideshow

»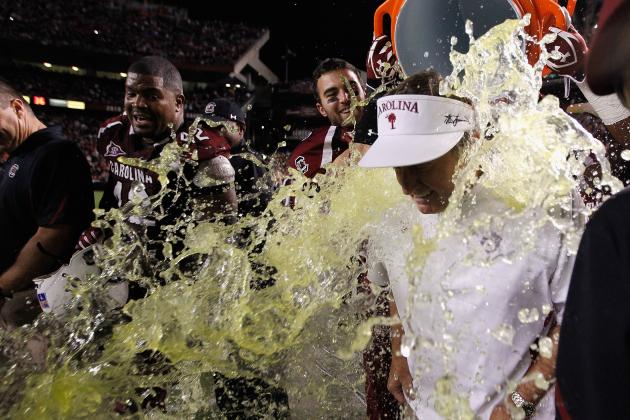 Streeter Lecka/Getty Images

33 wins in four years. That's a lot of wins for a program that has been mediocre.
With 20 wins in the last two years (including an 11-win season in 2011, first in program history), the Gamecocks are no longer expected to win five to seven games. An eight-win season would be disappointing.
Steve Spurrier has averaged almost eight wins a year since coming to South Carolina—a win total unheard of before his arrival.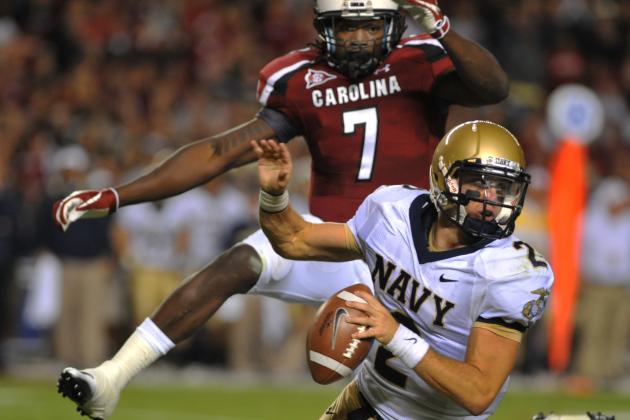 Al Messerschmidt/Getty Images

The beast is wearing garnet and black.
Jadeveon Clowney was the first consensus overall number-one recruit in the country to commit to South Carolina.
He has quite a bit of hype coming into his second year. Combine him with the ultra-talented Devin Taylor, and the Gamecocks have the best one-two punch of pass rushers in college football. It's barely even debatable.
His presence has opened the door for other top recruits. It is no longer strange to come to South Carolina.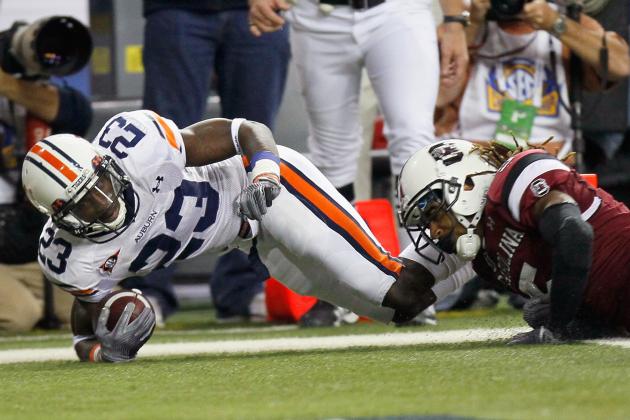 Kevin C. Cox/Getty Images

Even though the Gamecocks got crushed by Auburn and the inhuman Cam Newton, the SEC championship game of 2010 was a huge milestone for the program.
Winning the SEC East was an incredible feat for a program that before had never really come close. Now, no one can say the Gamecocks have never made it to the championship game.
It's been done!
As an aside, one cannot understate the value of the South Carolina baseball team's back-to-back national championships. It killed (destroyed, actually) the "chicken curse," alleviating the fans of that superstition.
Now we know championships can be won at South Carolina.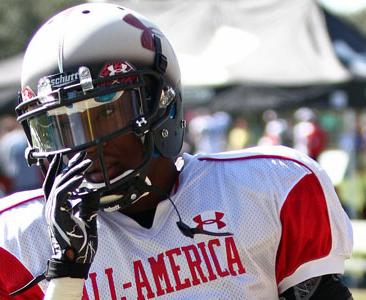 From FOX Sports
South Carolina has become one of the best recruiting (and player evaluating) schools in the country. They are constantly in the top 25 (even sometimes the top 10).
The Gamecocks are owning South Carolina recruiting right now, and they are stealing players out of Georgia's and Florida's back yard. They are still hot, and just grabbed one of the best quarterback prospects in the country. They are already close to a top-10 class in 2013.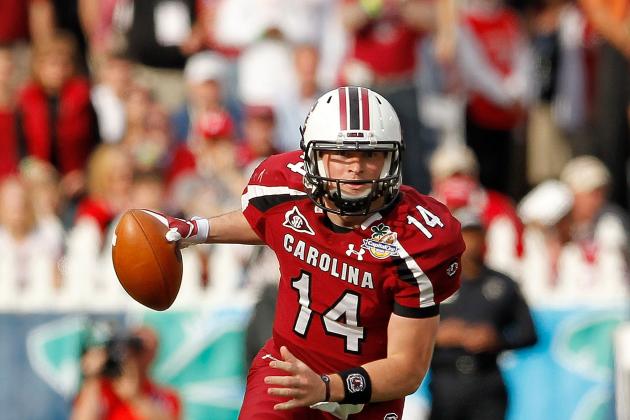 Mike Ehrmann/Getty Images

Connor Shaw is the consistent, easily coachable quarterback for which Gamecock fans have yearned.
He's quick, agile, and has an incredible arm. He gives the Gamecocks a legitimate dual threat as a quarterback and a leader. He could do great things for this program.
He's already an All-SEC type player.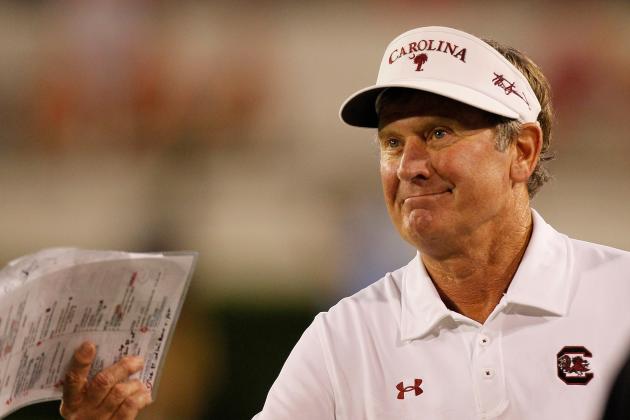 Kevin C. Cox/Getty Images

The Gamecocks are consistently televised and talked about.
I was watching ESPN's coverage of college football, and in the background, there was a Gamecock helmet, right between that of the Michigan Wolverines and Ohio State Buckeyes.
Years ago, this never would have happened.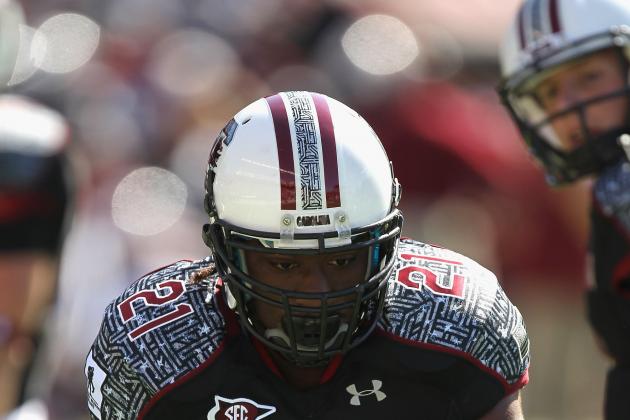 Streeter Lecka/Getty Images

Lattimore is another top-10 candidate, and his knee has come a long way during rehab.
He's been a true leader, and an important part of the team on and off the field. He helped the running backs last year as a "coach" of sorts.
As long as he is around the program, there will be hope.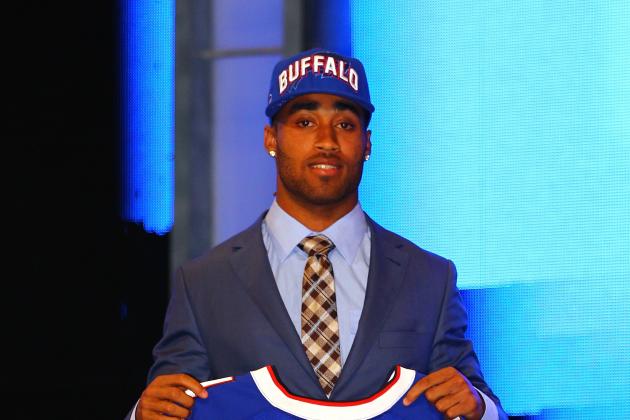 Al Bello/Getty Images

Two first-round draft picks came out of South Carolina in 2012. Stephon Gilmore to Buffalo, and Melvin Ingram to San Diego.
The draft picks will keep coming.
Devin Taylor and Marcus Lattimore could be first-round picks next year, with Jadeveon Clowney and Brandon Shell not far behind.
It's a great time to be a Gamecock if you have NFL aspirations.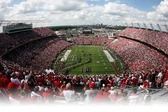 Spurrier recently said that one of the reasons why the Gamecocks have done so well with recruiting is due to the fact that the Gamecocks' facilities are top notch.
It's true. With Spurrier at the helm, they've improved every aspect of football program. They have an amazing weight room, fantastic educational resources, and an awesome stadium.
It's impressive.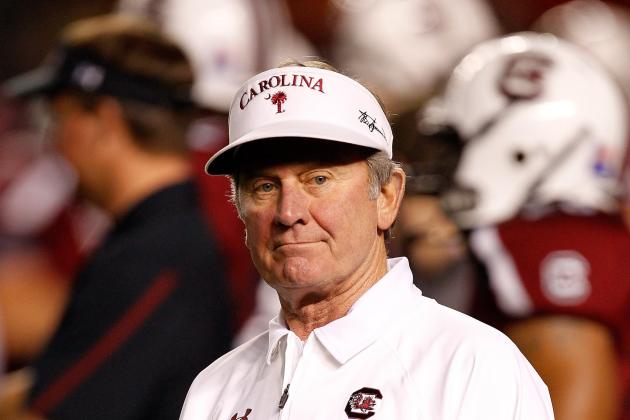 Streeter Lecka/Getty Images

Steve Spurrier is proving why he is one of the greatest coaches of all time. He is the main reason for the Gamecocks confidence and high expectations.
"In Spurrier we trust" is more than just a slogan.
It's a reality.