Formula 1 Spanish Grand Prix: Preview, Thoughts and Predictions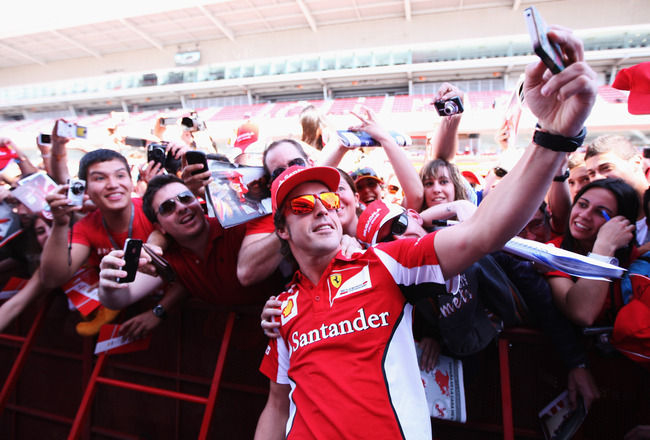 Mark Thompson/Getty Images
The fifth race of what has so far been the most closely-fought season for a long time takes place at the Circuit de Catalunya, near Barcelona in Spain.

Sebastian Vettel leads the Drivers' Championship on 53 points, four ahead of Lewis Hamilton in second. Mark Webber is a single point further back and fourth is shared by Jenson Button and Fernando Alonso.

Every driver, with the exception of those at the "new teams" (Caterham, Marussia, HRT), has scored at least two points, but only three men have scored in every race so far.

The three-day test at Mugello at the start of May provided an opportunity for the teams to try out upgrades and updates, so we may see some movement up and down the order.

But Mugello is a very different track to Catalunya, and the weather was somewhat different. Even the teams won't know for sure how their changes will shake out as the weekend progresses.

For the first time this year, the tyres will be two softness levels apart. Pirelli have elected to bring the soft (yellow-marked) and hard (silver) compounds.
Weather Forecast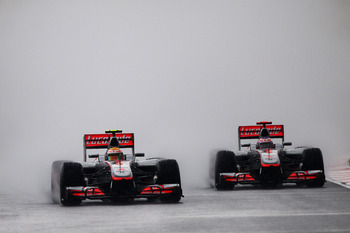 Rain in Spain? Probably not.
Clive Mason/Getty Images
International weather website Accuweather is predicting a warm and dry weekend, with increased cloud cover and a small chance of a rain on Sunday.

Weather Online's forecast says much the same, although perhaps giving the rain more chance of falling.

Spanish website El Tiempo indicates we'll have a full weekend of dry running, without a spot of rain.

BBC Weather suggests the rain will arrive, but only on Sunday night.

Taking the forecasts together, one thing that looks certain is that track temperatures will likely be slightly higher on Friday and Saturday, with increased cloud cover causing a small drop for the race on Sunday.

Rain looks unlikely, but at this stage it's too early to say for sure. Certainties will improve as we get closer to the race.
Circuit De Catalunya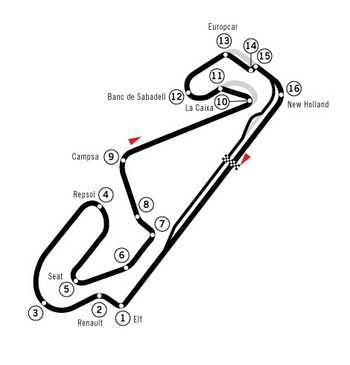 Circuit de Catalunya, near Barcelona (image public domain)
The Circuit de Catalunya has hosted the Spanish Grand Prix every year since 1991, and is one of an ever-shrinking number of "organic" racetracks remaining on the calendar.

Such tracks are normally easy to spot—the corners have names.

Untouched by the hand of Hermann Tilke (the closest he ever got was designing and building the main grandstand), the circuit features corners of every variety and two straights of a reasonable length.

After a long run down from the start-finish line, the first corner is the primary overtaking point of the track. Turns 1 and 2 form a broad, fast right-left chicane leading immediately into the long, very quick right-hander of Turn 3.

A short straight follows before braking for Turn 4, a slower, 180-degree right which opens on the exit to ease the run downhill into the tight left-hander for Turn 5.

Turn 6 is a barely-there left-hand jink before the tricky combination left-right of Turns 7 and 8. It's easy to run a little bit wide out of Turn 7 onto the kerbs of Turn 8, but drivers can usually get away with it.

A short straight follows before the fast right-hand sweep of Turn 9 onto another, longer straight. Next up is the slow left of Turn 10.

The braking zone into Turn 10 may see some overtaking, but only with assistance from worn tyres or someone running wide out of Turn 9.

Turn 11 is a small left-handed kink before the 180-degree right-hander of Turn 12.

Turn 13 is an abrupt right-hander, followed by a tight chicane forming Turns 14 and 15. The DRS detection point will be here, just after the exit of 15.

The final corner—a fast, sweeping right (Turn 16)—takes most of the blame for the lack of overtaking normally seen at Catalunya, as it's difficult to follow another car through, despite the changes made in 2007 to the preceding corners.

It leads onto the long pit straight, with the DRS activation point coming right at the exit of the corner. If a car can be close behind another here, overtaking is a real possibility into the first corner.

The pit entry is just before Turn 16, the exit just before Turn 1.
It Should Be a Close Race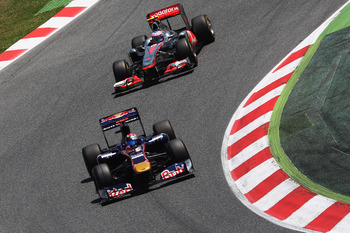 Mark Thompson/Getty Images
Catalunya is used extensively for testing, and the teams know absolutely every inch of the circuit. Almost unchanged in the two decades since it first hosted the Spanish Grand Prix, no track has seen more running in recent years.

Every team except HRT and Marussia (who didn't attend) ran numerous race and qualifying simulations back in February, and they'll enter the weekend with a much greater understanding of the circuit—and crucially, how the tyres will behave—than they usually do.

With everyone knowing so much, it should result in fewer surprises (such as McLaren's unusually poor tyre management in Bahrain), and in theory the teams should be even closer in terms of overall pace than they have been so far this season.

Theory doesn't always translate into reality, but on this occasion I think it will—especially in the midfield.
Should Be a Good Race, Then?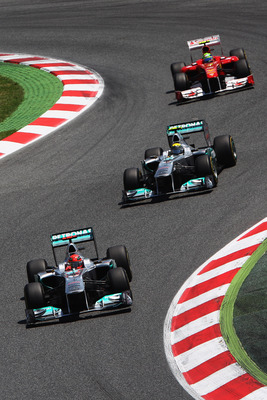 Mark Thompson/Getty Images
Er, well...

Spain is good at a lot of things. It's produced some of the world's most renowned artists—Pablo Picasso, Francisco Goya and Salvador Dali. Some exceptional sportsmen—Rafael Nadal, Andres Iniesta and Seve Ballesteros.

In the world of business, Spain boasts the likes of Santander and Telefónica. The football team won the last World Cup and are widely considered to be one of the finest squads of all time.

It's a world leader in tourism, spawned one of the most widely-spoken languages on the planet and influenced the culture and development of countless nations.

Even in the world of motorsports, we can point to the likes of Jorge Lorenzo on motorcycles and Carlos Sainz in rallying. SEAT and Gas Gas have seen success as manufacturers in World Touring Cars and trials, respectively.

But with the exception of Fernando Alonso, the country just isn't very good at Formula 1. If there's only one race per season which will make even the most dedicated fan curl up and go to sleep, it'll almost certainly be in Spain. Overtaking tends to be in short supply.

So the one thing we can never do is predict with any certainty that a Spanish Grand Prix will be fun to watch.

That said, 2011's race was actually quite a belter compared to previous years, if the statistics are to be believed. There were apparently 51 overtaking moves last year, according to Mercedes—57 percent DRS assisted. The season average was 43.

I still don't think it was a particularly good race, and I remember Lewis Hamilton being totally unable to get close to Sebastian Vettel out of Turn 16—and therefore being unable to overtake despite having the quicker car at the time.

I thought that was the story all the way down the field.

However, as I lack perfect recollection of that weekend, I will place my trust in the figures provided by Mercedes and say it was a passable bit of entertainment.

But whatever the statistics say, I can't see the 2012 race being a classic. A long DRS zone will help, but the fundamental issue with overtaking at the Spanish track remains.
What Issue Is That?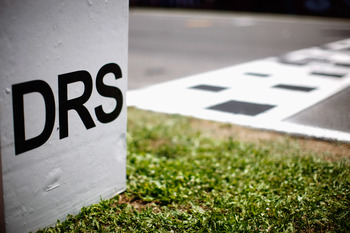 Help?
Mark Thompson/Getty Images
Catalunya's problem is that it was designed more than 20 years ago, for the cars of the early 1990s. While the cars have changed substantially, the track has not.

Modern cars rely very heavily on aerodynamic grip and punch a large "hole" in the air as they move through it. The faster they're moving, the larger the hole.

The hole the car leaves behind through a corner is what is known in F1 as turbulent or dirty air. Dirty air doesn't run as optimally over the surfaces of the car as clean air does, reducing the downforce generated by the car.

And less downforce means the car doesn't stick to the road as well, so must take the corner a little bit slower. The issue affects the front end more than the rear, meaning the chasing car suffers from noticeable understeer.

This problem raises its head very obviously at Catalunya, perhaps more than anywhere else.

The circuit only has one noteworthy straight, the very long pit straight. The corner which leads onto it is taken at mid to high speed, placing huge reliance on aerodynamic grip.

A car following another through this corner has to contend with the dirty air mentioned above. This means that a chasing car won't be as close to the car in front when they exit the corner and get onto the pit straight.

At this point, the turbulent air becomes a positive for the chasing car—a slipstream. In order to take advantage of it, he needs to be close enough.

But after losing time through the final corner, he'll usually be too far back—even with the help of DRS. The Hamilton-Vettel battle of 2011 was a perfect example.

If you're a fan of tactical fights and races being decided in the pits, you'll still get some enjoyment from the race. But if it's overtaking you're after, this may not be the place for you.
Who's Looking Good for Pole?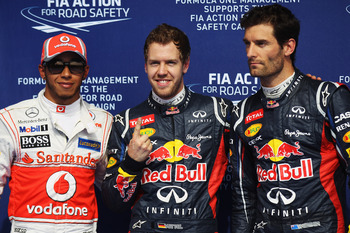 Mark Thompson/Getty Images
The Circuit de Catalunya tests the cars to the limit. The mixture of fast, medium and slow corners means that if you want to win here, you need a machine that works well everywhere.

McLaren have a very good all-around package, and should be very strong. Red Bull made a shaky start by their standards, but are back at the front. Those two teams will certainly be in the battle for the front row.

Two others might be. Lotus have plenty of raw pace, but don't seem able to find the same consistency over a single lap as the two teams mentioned above. And Mercedes have shown great qualifying pace, but admit the circuit doesn't suit their car.

So as much as a quiet corner of my mind is telling me to have a punt on Raikkonen, I'm more inclined to go for a McLaren or Red Bull. In qualifying, that means Lewis Hamilton or Sebastian Vettel.

And I think Hamilton will have the edge on Saturday.
The Midfield Battle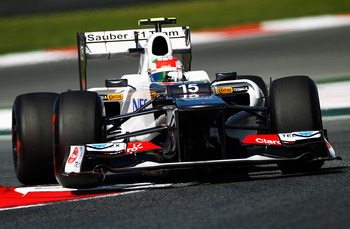 Paul Gilham/Getty Images
The midfield in 2012 are much closer than the midfield has been for a long time.

Sauber and Williams in particular have shown a lot of speed and may find their cars perform well around Catalunya. Strong points finishes for both teams are likely if they can get their cars to the finish.
Toro Rosso will probably be a bit further behind, but Force India look better than they were early in the year and should be among the points.

Another midfield name (strange to say, but it's true at the moment) to watch for is Ferrari. The Italian team tried out some of their new upgrades during the test at Mugello, and more will be changed on the car this weekend.

While they're highly unlikely to be in a position to win, Fernando Alonso could be a dark prancing horse.

But realistically, I can see them using the Spanish weekend to further test and observe their new parts and updates and hope to take home a few points.
What About the Race Winner?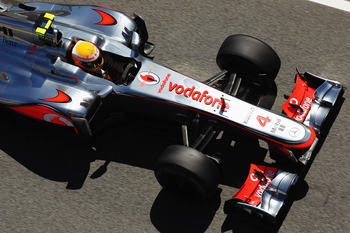 Mark Thompson/Getty Images
Part of what's made 2012 such a good season has been that good qualifying pace doesn't always translate to good race pace. But in Spain, I think it will.
Mercedes will be somewhere near the front, but race-winning pace will be beyond them this weekend.
McLaren and Red Bull should remain strong, and over a long distance the Lotus appears to be a very good car, so a three-team battle is a strong possibility.

The black-and-gold car usually set the pace in testing at Catalunya, and while that doesn't mean a great deal, it was notable good on its tyres as well.

What may catch them out is qualifying. At a circuit where overtaking opportunities are at a premium, you really need to start near the front. If a Lotus can get onto the second row—or get a blistering start—there'll certainly be a chance.

If not, traffic may prove too heavy. As much as that corner of my mind is again telling me to go with a Lotus, I don't totally trust their qualifying pace.

For that reason, I'll again pick from the McLarens or Red Bulls—and I'll go with the same driver I picked for pole. A fifth different winner in five races would have sounded quite silly at this point last year, but 2012 could well deliver it.
I think Hamilton will be the man on the top step on Sunday afternoon.
Keep Reading