Da'Quan Bowers' Achilles Injury Forces Michael Bennett to Step Up Now
May 10, 2012

Peter Aiken/Getty Images
Tampa Bay defensive end Da'Quan Bowers suffered a torn Achilles during the team's offseason workout program, the Buccaneers announced Thursday.
Bowers was slated to share time with Michael Bennett as the starting left end in 2012. Bowers' injury immediately thrusts Bennett solely into that starting role, and also forced the team to alter another transaction it had made.
To make room to sign wide receiver Tiquan Underwood, Tampa Bay cut Myles Wade shortly after the announcement on Bowers (via The Ledger). Tampa Bay changed course and added Wade back to the roster and cut quarterback Jordan Jefferson instead.
Now that the roster shenanigans have been settled and the depth chart addressed, where does this leave the Bucs?
Tampa Bay finished dead last in the NFL in sacks with 23 last season. While Bowers only had one-and-a-half sacks last season, he did lead the country with 15.5 sacks in 2010, his final season at Clemson. Had he not had offseason surgery on his left knee prior to the draft, Bowers would have been a first-round pick and would have likely produced far better numbers during his rookie season.
The 2012 season was supposed to be the continuation from his 2010 season at Clemson. The 2012 season was supposed to be where the Buccaneers got a glimpse of just how Bowers could affect the team's pass rush.
Since Achilles injuries can sometimes take up to a year to rehabilitate, the Buccaneers will look to Bennett to provide that pass rush on the opposite side of defensive end Adrian Clayborn.
Bennett provided four sacks last year—two in the final three weeks of the season. It was his best year to date, and Bennett still has many useful years left.
But, he hadn't shown the team exciting flashes of potential like Bowers did. Bennett's upside was overshadowed by Bowers, but that's a moot point now.
George Johnson and Daniel Te'o-Nesheim remain with the team at defensive end, but the Bowers injury makes the unit incredibly thin, which is the worst part of this injury news. It wouldn't be surprising to see general manager Mark Dominik take a look around the free-agent pool to see if he could wrangle up some help at defensive end.
The extent of Bowers' injury hasn't been released yet, but surgery is scheduled for Friday. Bowers sent out a tweet Thursday saying he's be back this season.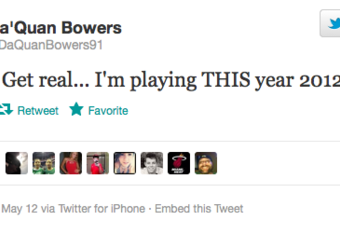 With all the injuries that have plagued Tampa Bay's defensive line in recent years, it should be easy to understand why some fans won't be terribly enthusiastic to believe Bowers' optimism.