Buffalo Bills Will Have to Earn Respect the Old-Fashioned Way in 2012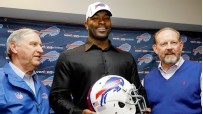 The Buffalo Bills are finding it difficult to win much national respect. While most football experts will concede that the Bills are going to be better, and have improved, they are not willing to concede anything yet to Buffalo. Instead, the experts act like they were all born in Missouri, the "Show Me State", where seeing is believing.
You might see some respected analysts giving the Bills credit for their positive offseason, but those tend to be too few and far between compared to the reality of how much the Bills have actually improved. Right after the 2012 NFL Draft had concluded, NFL Network aired their show Path to the Draft, and analyst Michael Lombardi said that the Bills had the best offseason of any NFL team and Lombardi also gave their draft an "A" grade.
He stands in the minority, as many people will tell you that the Bills will struggle to make the playoffs. So that brings us to our title. The Bills have to understand that the only way that they are going to earn more respect around the NFL is to roll up their sleeves and prove it to everybody.
Begin Slideshow

»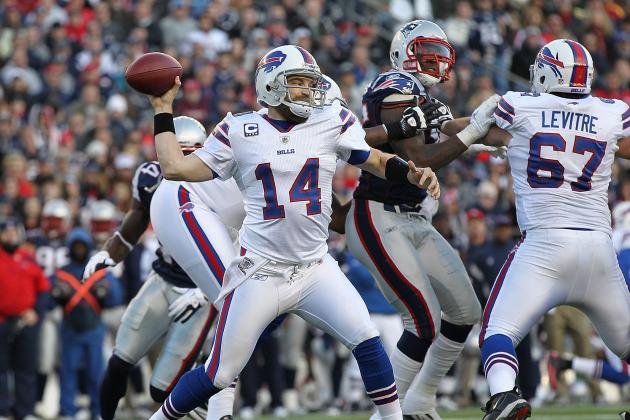 Jim Rogash/Getty Images

To give you an idea of how the Bills are perceived nationally, we are going to take a broad-brush to the world of NFL Power Rankings, and see what the greatest and latest polls show from around the country.
In the latest NFL 2012 power rankings conducted by ESPN, Post-Draft edition, the Bills were ranked at No. 23, which meant that their rank was unchanged from what it had been prior to the draft. So apparently a good draft class doesn't make any impact. Either that or ESPN is still clueless. I digress.
Walter Football moved the Bills up from No. 15 to No. 11 this past week, as he liked their draft class. You can find their power rankings list right here.
The 49ers Press Democrat.com power rankings have the Bills all the way down to No. 25. They have the 49ers at No. 4 by the way, so you can see that they aren't too biased. They are not fans of Ryan Fitzpatrick by the way. Guess Alex Smith must be light years better.
SB Nation has the Bills at No. 24 in their power rankings. They aren't sure if the Bills are going to break out or break down. Real comedians there.
Pete Prisco of CBS Sports has moved the Bills up from No. 26 to No. 18 after the draft, but used a conditional to state that if things broke right, the Bills could become a .500 team. Ugh.
USA Today came out with its power rankings, and they have the Bills moving up from No. 25 to No. 22. They also have a general public option that they refer to as "Everybody," and they have the Bills at No. 29. That is a good way to see what the country is thinking.
As you can see from the overall numbers, the Bills are generally perceived to be ranked in the 20's, and as such, would not qualify for the playoffs again.
That makes the Bills an underdog in 2012, and if teams aren't respecting the Bills, then that bodes well for the Bills' chances of catching teams by surprise.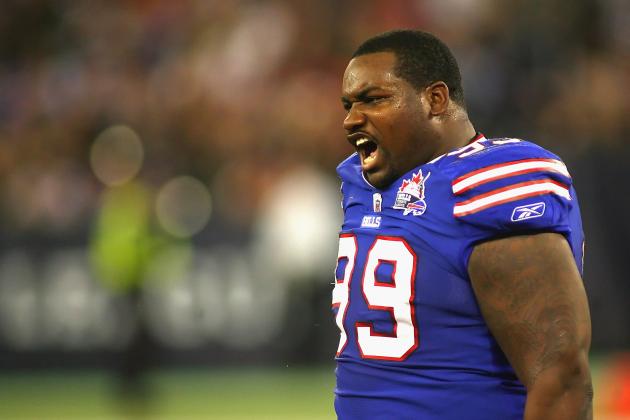 Rick Stewart/Getty Images

The current Bills regime is led by General Manager Buddy Nix and head coach Chan Gailey. Both of them have deep roots tied to football in the South. As a result, the duo has developed many contacts over the years all over the Southern schools, but specifically in the SEC and the ACC.
Chan Gailey was the head coach of Georgia Tech, and he attempted to recruit and coached against the players that he sees around the NFL. The Bills defensive coordinator is Dave Wannstedt, and he had recently been the head coach of the Pittsburgh Panthers, which lends another voice to recent college talent.
It is not by accident that the Bills last three first-round draft picks have come from Clemson, Alabama and South Carolina. The SEC and ACC conferences are heavily represented in the Bills last three draft classes under Nix.
ACC picks 2010 - present: C.J. Spiller (2010), Ed Wang (2010), Da'Norris Searcy (2011), Johnny White (2011), Chris Hairston (2011), T.J. Graham (2012), Nigel Bradham (2012) and Zebrie Sanders (2012).
SEC picks 2010 - present: Marcell Dareus (2011), Kelvin Sheppard (2011), Chris White (2011), Stephon Gilmore (2012), Cordy Glenn (2012) and Ron Brooks (2012).
Gailey obviously coached in the ACC, so he is comfortable with that conference and they know that the players coming out of these programs have been exposed to high-pressure games in front of large crowds and national audiences.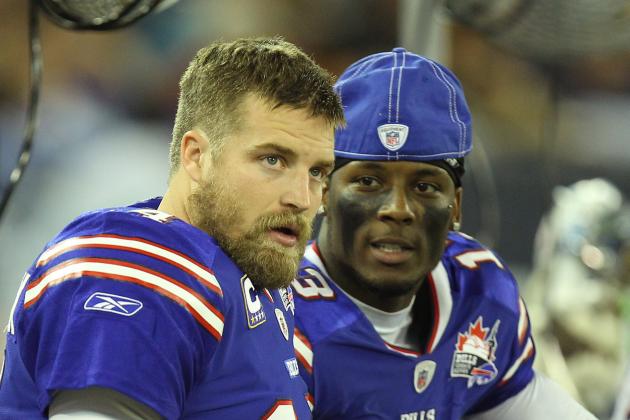 Tom Szczerbowski/Getty Images

For too many years, the Bills would let their best young players play out their rookie contract and then move on to greener pastures when they became a free agent. It was especially true with members of the secondary, as the Bills lost players like Antoine Winfield and Nate Clements before they hit their prime.
The Bills wanted to retain Paul Posluszny when he hit free agency in 2011, but the Jacksonville Jaguars made such an outlandish offer that the Bills had no chance of meeting what they wanted to pay.
But there is enough track record of evidence that the Bills are doing a much better job of going out of their way to retain their own free agents. It started with Kyle Williams, and then Ryan Fitzpatrick signed a big deal in 2011.
Then it was Stevie Johnson, followed by Scott Chandler, Kirk Morrison and Bryan Scott. Then last week, Buddy Nix kept his word and took care of Fred Jackson to reward him for his production. Next up for the Bills is to lock up Andy Levitre, and so it goes.
Trust me, the rest of the NFL is paying attention. If players see that an organization will try to retain the better players and pay them what they are worth, that is attractive to potential free agents.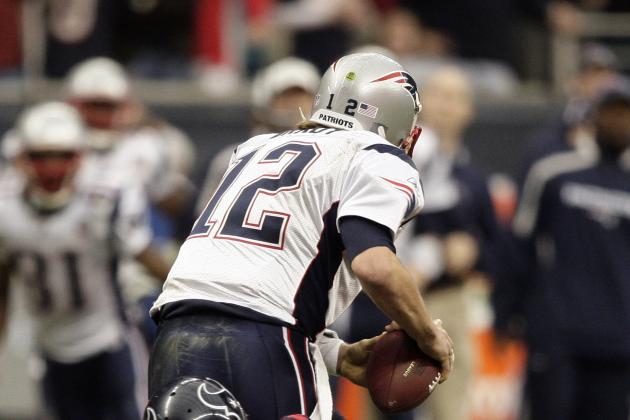 Bob Levey/Getty Images

It seemed to many people around the NFL that the Bills overpaid to land Mario Williams, but whenever Williams sacks Tom Brady (see photo), Bills fans won't be thinking about how much money it took to put him in a Bills jersey.
The perception is changing around the league that Buffalo is and will be an attractive place for players to come and to raise their families. That was an important consideration for Williams, and it helps the perception that quality players want to come to Buffalo to play.
What we are really talking about here is image and perception. The Bills will only be on a nationally televised game once in 2012, and that will be a Thursday night game on the NFL Network against the Miami Dolphins in Week 11 on Nov. 15.
A strong showing by the Bills in that game, especially a dominating game against rookie QB Ryan Tannehill, would go a long way towards helping form a better national perception about the team.
Winning makes everything better. The one thing the Bills can do to help change the way that people feel about them is to come up with a 10- or 11-win season. That would fast-forward the change in attitude about the team.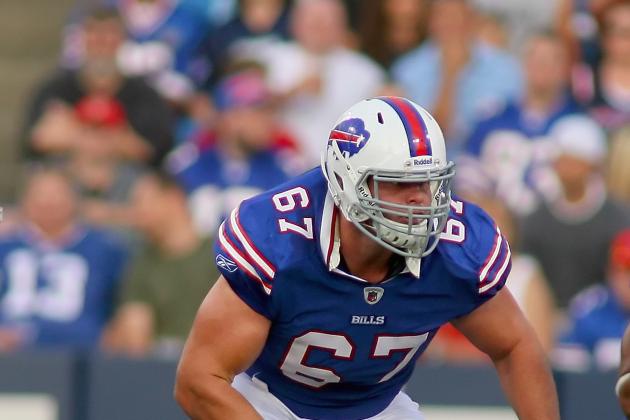 Rick Stewart/Getty Images

In looking at the Bills schedule for 2012, let's break it down on a monthly basis.
September games: Week 1 at New York Jets, Week 2 vs. Kansas City, Week 3 at Cleveland and Week 4 vs. New England.
As for the September games, the Bills have two AFC East rival games, and two other games against AFC opponents outside of the East. The Bills open on the road against the New York Jets, and I think that this game is huge for Buffalo.
The Bills have to pass the Jets if they want a realistic shot at the playoffs, and a win in the opener would make a huge statement that the Bills are taking the next step forward.
The Bills thrashed the Chiefs in Kansas City last year in the season opener, 41-7. The Bills should beat them again, as well as the Browns. That leaves the two AFC East games to determine what kind of a month they will have. A record of 2-2, or at .500 really doesn't cut it. They need to be at least 3-1.
October games: Week 5 at San Francisco, Week 6 at Arizona, Week 7 vs. Tennessee and Week 8 is the Bills' bye week.
Two road games in consecutive weeks on the West Coast. It will be interesting to see if the Bills stay out west for the two games, or if they decide to fly back and forth both times. The 49ers stayed in the East Coast for a two-week stretch in 2011, and that worked out pretty well for them.
The 49ers will obviously be a stiff test. The Bills defense will get a close look at a top-notch NFL defense and see how well they match up. The Bills will have to contain Chris Johnson if they have any hope at beating the Titans.
The young secondary will get a big test against Larry Fitzgerald and Michael Floyd. If the Bills can come away with a 2-1 record in October, that would be considered a moral victory heading into the bye week.
November games: Week 9 at Houston, Week 10 at New England, Week 11 vs. Miami on Thursday Night Football and Week 12 at Indianapolis.
Going on the road to face two of the playoff teams out of the AFC last year in consecutive weeks will be a difficult test for the Bills. The Bills face two of the three top rookie QB's in November, when they face Andrew Luck and Ryan Tannehill. If the Bills don't win both of those games, that would be a disappointment. Figure a 2-2 record for November.
December games: Week 13 vs. Jacksonville, Week 14 vs. St. Louis, Week 15 vs. Seattle (in Toronto), Week 16 at Miami and Week 17 vs. New York Jets.
December will be the make or break month for the Bills playoff chances. They have three straight home games to open up the month, and four out of five are home contests this month.
The first four are all winnable, so if the Bills get on a roll, they could conceivably close out the year with a 5-0 mark in December, which would have to be a major boost for their playoff chances.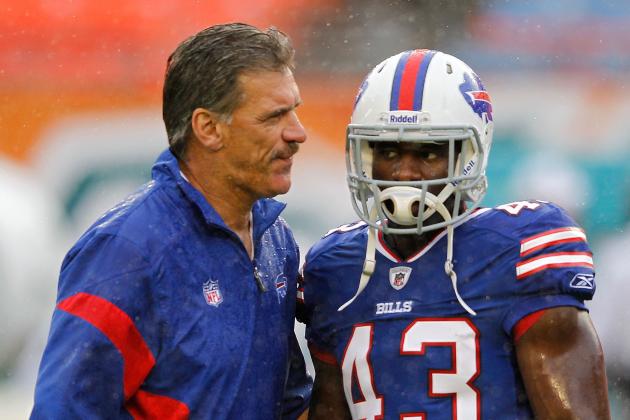 Mike Ehrmann/Getty Images

The Bills promoted Dave Wannstedt to defensive coordinator for the 2012 season, and gave him a few new toys to maximize the impact that the 4-3 defense was designed to create.
The defensive line was strengthened with the additions of free agents Mario Williams and Mark Anderson.
The linebacking unit was strengthened by the signing of Kirk Morrison and Bryan Scott and the drafting of Nigel Bradham and Tank Carder.
The secondary was strengthened by the drafting of Stephon Gilmore and Ron Brooks.
Three Bills rookies got a chance to see what it is like to be starting in the NFL on a weekly basis in Marcell Dareus, Kelvin Sheppard and Aaron Williams.
As much as the Bills defense will be helped out by the free-agent signings and draft picks, the other key factor is that the Bills should be getting all of these defensive players back in full health for 2012: Shawne Merriman, Kyle Williams and Terrence McGee.
Finally, you add in the younger players that have gained some experience due to all the injuries and are ready to contribute more, like Torrell Troup, Alex Carrington, Arthur Moats, Kellen Heard, Da'Norris Searcy and Justin Rogers.
Wannstedt is not going to suffer from a shortage of athletic talented players that he can plug into his schemes. Whether they can stay healthy for the majority of the 2012 season is a question we can't answer until sometime further down the road.
But if you were to ask Wannstedt if he is happy with who he has at his disposal, I would have to imagine he is delighted to have all that talent to work with.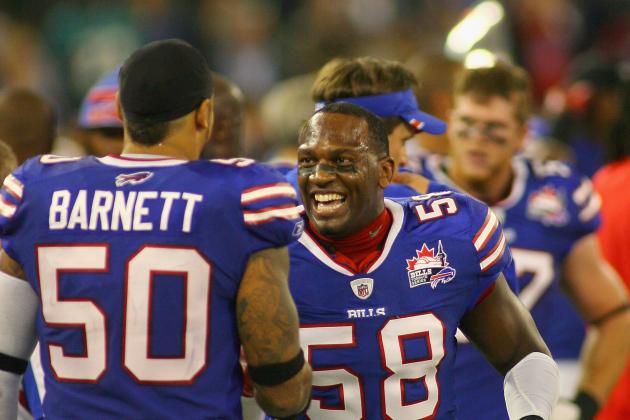 Rick Stewart/Getty Images

The Bills were able to address their concerns at cornerback, tackle and speed at wide receiver with the first three picks of the draft. From that point forward, the Bills could just sit back and grab the best player available on their draft board and keep adding value and depth to the roster wherever they pleased.
Instead of relying on veterans like Chris Kelsay and Shawne Merriman to start for the Bills defense in 2012, they can allow those veterans to come in off the bench and take on specific roles. That will keep them fresher, less worn down as the season progresses, and hopefully keeps them injury free all at the same time.
The Bills saw the benefits of depth along the offensive line last year, as they were able to throw Chad Rinehart and Chris Hairston into the fire in 2011 and they performed better than expected.
A similar deal exists on the offensive line this year, as you basically have everybody returning except for Demetress Bell. Bell was substituted with the two rookie tackle draft picks in Cordy Glenn and Zebrie Sanders.
Then the Bills added Mark Asper in the sixth round, who is supposed to be able to be a swing guard and center type. If somebody does go down due to injury, the drop off in talent won't be as severe, meaning that the Bills can be more competitive for the entire 16-game schedule.
Looking at the roster, the only position in my mind that lacks proven substantial depth is at quarterback, but Buddy Nix stated that they will bring in a veteran to add to the mix.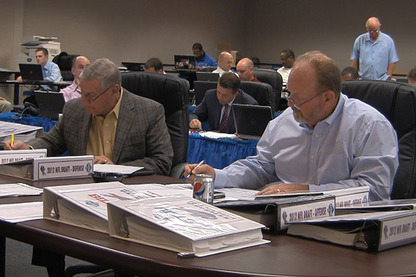 Buddy Nix has been about as honest and up front about his draft intentions as a general manager could possibly be.
He said that he would like to draft a couple cornerbacks and a couple tackles. He said he wanted to draft a wide receiver with speed, he wanted to add depth to the linebacking unit, and he had no plans to draft a tight end. Everything Nix stated up front to Bills fans before the draft came true.
The only thing that he wasn't able to land was a quarterback, but it wasn't because they didn't want one. They just didn't want to reach for one, and things just didn't fall right for them in that regard.
Nix had promised Fred Jackson that he would take care of him financially, and Nix stayed true to his word. That speaks volumes about what is going on at One Bills Drive and gives great credibility to the organization from ownership, to the front office, to the players, to the agents and to the fans.
The main thing is that Nix continues to draft one solid draft class after another. The influx of talent will continue to keep the Bills veterans on their toes at training camp, and keep for a high level of competition.
From the moves in free agency, to the ability to re-sign free agents, to conducting a solid draft class and adding key depth to the team, Nix has built as solid a team in Buffalo that I can recall over the past 10 years.
Photo courtesy of Buffalo Bills.com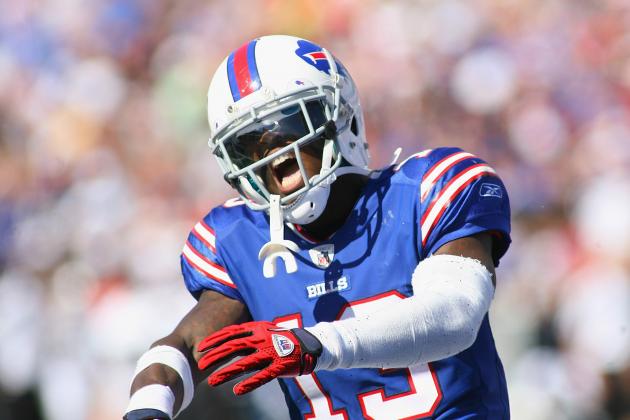 Rick Stewart/Getty Images

Although the Bills 2011 season didn't end the way it began, the positive start gave the Bills players the knowledge that with a full squad, they can compete with New England, Philadelphia, New York Giants, and Oakland. In 2010, the Bills took Pittsburgh and Baltimore to overtime.
These examples are important, because the Bills as a team needed to learn how to win. They have witnessed that they can extend any NFL contender to the fourth quarter, and now they have to learn how to finish off what they started.
That is why adding players from organizations that went to the playoffs last year in Mario Williams and Mark Anderson is important. It is also why it was important to add guys like Nick Barnett and Shawne Merriman as well.
They have that playoff experience knowledge that will come in handy down the road, when the veteran leaders need to step up and assert themselves.
If the Bills can duplicate their fast start in 2012, they will have learned from last year, and will be able to know how to cope with more national attention.
With all of the additional talent on defense this year, I would be very surprised if the Bills went on any kind of a prolonged losing streak. I just don't think the defense will allow that to happen. But I know the Missouri football fans will demand to see it first.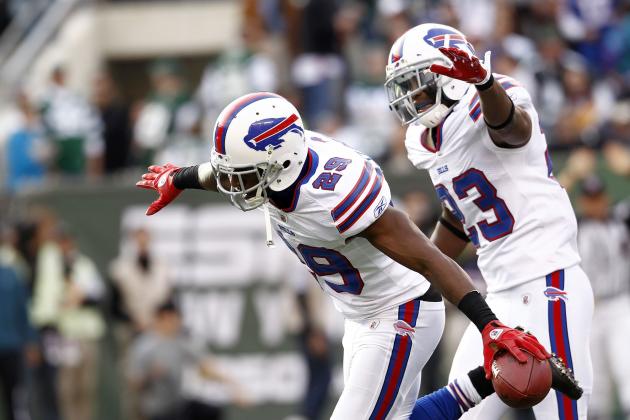 Jeff Zelevansky/Getty Images

It probably surprised some Bills fans to see that Drayton Florence was released by the team after the draft. But that is what will be happening with more regularity. The final roster choices will be more difficult when you keep adding more talent to the roster.
There will be more veterans following Florence out of town this year, some due to the shift from the 3-4 to the 4-3, and others because the Bills are going with a younger and less expensive player.
I expect to see a number of Bills veterans that are released along the defensive line, and there are just too many wide receivers to carry.
If both T.J. Graham and Marcus Easley are able to start the 2012 regular season, the Bills will have to release at least one receiver that began the year with the Bills in 2011, and that is accounting for Roscoe Parrish leaving as well.
If you keep seeing reports that the Bills are being viewed as a sleeper team, or a dark horse pick, that is fine. It is because they still have to prove that they can play winning football for an entire season.
I think that time is fast approaching, so let the experts say what they want. The Bills team is poised to take the next step forward.