Fantasy WWE: Monday Night Raw (5/7)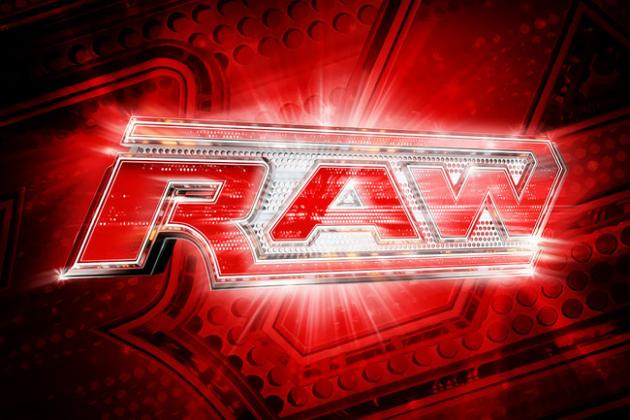 Hey, Bleacher Report! This is the posting of this past Monday's episode of Monday Night Raw. As the name implies, this is "Fantasy Raw." By no means will any of this ever happen—it's just a continuation of the Fantasy WWE Series.
The ratings war started a few weeks back, so please leave a comment with a rating from 1 (hated it) to 10 (loved it). Please give us some feedback. It will only help us.
Writer's Note: Just to show you guys that I read and value your comments, I've recently begun implementing match times into my matches and now I am going to post my Raw roster every week.
Raw's Roster:
1. Randy Orton
2. Seth Rollins
3. Mark Henry
4. Sheamus
5. Wade Barrett
6. Rey Mysterio
7. Undertaker
8. Alex Riley
9. Drew McIntyre
10. R-Truth
11. John Morrison
12. Justin Gabriel
13. Vladimir Kozlov
14. Rob Van Dam
15. Shelton Benjamin
16. Kane
17. Chris Masters
18. Joe Hennig
19. David Otunga
20. Mason Ryan
21. Great Khali
22. Kassius Ohno
23. Abraham Washington
24. William Regal
25. Booker T
26. Layla
27. Beth Phoenix
28. Alicia Fox
29. Kelly Kelly
30. Rosa Mendes
31. Tamina Snuka
32. Tiffany
33. Hart Dynasty (Tyson Kidd and DH Smith w/Natalya)
34. Dudley Boyz (D-Von and Bubba Ray Dudley)
35. Harris and Rotundo (Husky Harris and Bo Rotundo)
36. The Cólons (Primo and Epico w/Rosa)
37. The Usos (Jimmy and Jey Uso w/Tamina)
This is just one week after Backlash, which you can view here. What's going to happen with corrupted Vince McMahon running the show? Not to mention that the World Heavyweight Championship will be on the line when Sheamus, Seth Rollins and Kassius Ohno fight in a Lumberjack Match. I guess there's only one way to find out all of the other surprises.
Let's get to Raw!
Begin Slideshow

»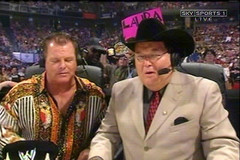 JR: "Welcome Everybody! Raw is live from Greensboro, N.C., and tonight is sure to be an excellent show as we are going to see the World Heavyweight Championship defended on WWE's Raw!"
Jerry Lawler: "And no surprise, Vince McMahon has turned this show into a corrupt place where everybody must be McMahon's puppet. The man's an absolute genius if you ask me."
JR: "Yes King, there's no doubt he's smart, but the man uses his power and intelligence for all of the wrong reasons. And I've just gotten word that COO Triple H will be in the building tonight!"
We cut backstage to the garage, where McMahon is standing with the Usos and Kassius Ohno, all getting mentally prepared for the soon-to-be arriving boss.
Vince McMahon: "Jim, Jey, you two will assist him out of the limo. Kassius, you give my daughter Stephanie a hand, if she chooses to come here."
A black limousine pulls up. Vince McMahon moves toward it to welcome his boss, but instead Ted DiBiase comes out. This gets a great cheer from the crowd.
DiBiase: "How's it going boss? I'm the newest Raw superstar and I just wanted to say..."
McMahon: "How about you shut up and get in the locker room, because tonight you'll have a match."
DiBiase loses the smile from his face and looks pretty surprised, regardless he leaves the parking garage.
McMahon: "Okay, now we..."
Drew McIntyre comes walking over and gives Vince a pat on the back: "Vince, why are you crowning a new No. 1 contender for the European Championship. Where's my rematch clause?"
McMahon: "Yes, yes, rematch clause, tonight, whatever. Now leave!"
McIntyre walks away. We cut back to the ring.
JR: "Well, it looks like Vince McMahon is a little paranoid today. I wonder why Triple H is officially coming to Raw tonight."
Jerry Lawler: "You can't tell? He's going to be canned. I have a feeling about this."
JR: "I can't say that you are wrong, I have a similar feeling, but we definitely won't know until tonight."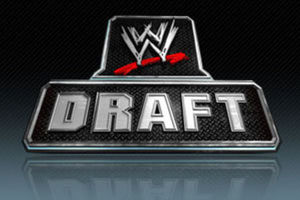 JR: "I've just received word from backstage that Raw's newest superstar will be coming out right now. And if what happened before is true, the newest superstar will be Ted DiBiase."
Jerry Lawler: "And I'm excited. So far these picks have been game-changers. Justin Gabriel already has his sights set on the Euro/U.S. Championship, John Morrison has fought hard and the Usos have forged an alliance with Raw GM Vince McMahon. This draft just looks better and better for Raw. JR, how would you feel if DiBiase was the pick?"
JR: "To be honest, King, I'd be ecstatic. He'd be the first bonafide main-eventer to be drafted so far and was featured on one of the rising tag teams in the business, Fortunate Americans."
Jerry Lawler: "That's Smackdown and this is Raw. We don't care about their tag team because we know that in terms of superstars, Raw was, is and will always feature the best."
JR: "I believe that Raw has good talent. But regardless, let's see who it is!"
Lillian Garcia: "Introducing Raw's Newest Superstar, Ted DiBiase!"
DiBiase's entrance elicits a huge pop from the crowd. He comes out and asks Lillian Garcia for a microphone. She gives it to him and leaves the ring.
DiBiase: "Wow, what a surreal moment! I am on WWE's flagship show, where history has been made time and time again. I'm fighting for the same brand where my father managed superstars since 1993. Raw Universe, I want to show you guys that I'm a great wrestler, and I want to gain your respect. If anyone wants to fight me, I'm fine with that. Any guy backstage can come down here and take me on. I know that Vince McMahon wants me to fight tonight and I'm ready for whomever he wants me to fight."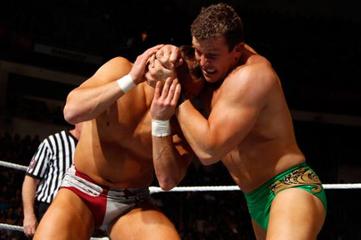 Fire shoots from the turnbuckle, which startles Ted DiBiase. Kane walks down to the ring, his first appearance since his loss at Wrestlemania 28. His mask is gone and his face is covered in noticeable scars.
The two stare in the ring, but Kane decides to start the action with a huge right to the temple. The assumed squash has now begun. Kane picks up DiBiase and starts piling on right after left after right. DiBiase hits the ground with a thud. The cover: 1…kick out!
DiBiase gets up and dodges a potential clothesline from the Big Red Machine. He rebounds with a running dropkick that almost causes Kane to lose his balance and fall over the top rope.
DiBiase gets up and Irish-whips Kane to the opposite rope and attacks him with a running neckbreaker. The cover: 1…2...kick out!
JR: "DiBiase is defying the odds tonight. He's gotten some decent moves onto Kane even though the odds are against him."
DiBiase goes to the second turnbuckle and lands a cross-body blow on Kane as he lies on the ground. DiBiase is somewhat slow to get up, only rising a few seconds before the Big Red Machine. He goes for a clothesline, but Kane ducks and "catches" him, so to speak, and hits the sidewalk slam.
Kane waits for him to get up and then he hits a big boot, which sends DiBiase into a world of pain. DiBiase, writhing in pain after that big boot, has a cut on his head. Kane picks DiBiase back to his feet and Irish-whips him into the turnbuckle, head first.
We now see that DiBiase is genuinely bleeding, with his nose drawing blood first.
JR: "DiBiase might've broken his nose! And in his first match, too."
Kane takes DiBiase to the second turnbuckle and hits a backdrop suplex. Kane takes a while to move over for the cover: 1…2.,.kick out!
DiBiase gets up slowly and when he realizes where he is, Kane puts him in the choke-slam position. DiBiase, however, lands a right foot to the gut of Kane and then rebounds with a clothesline.
DiBiase finally has some significant time to recuperate, trying to catch his breath and strategize. Kane gets to one knee and before he even gets up, DiBiase puts Kane in a Half Nelson. Kane begins to lose some energy, slowly blacking out. He starts swinging his arm, trying to get just a finger on the rope but he can't do it.
He goes to tap out, but then uses his right elbow to knock DiBiase back. He does it again and DiBiase loses all applied pressure. Kane gets up only to be eaten by a running elbow to the head. He hits the ground and very, very slowly gets back up.
JR: "DiBiase really is holding his own at this point. He reversed a choke-slam and has not given up yet."
Jerry Lawler: "And this persistence makes me think that he'll soon be one of the more valuable stars in this brand."
DiBiase stomps on Kane for a little bit, able to land a few in. Then he gets ready for his finisher Dream Street. He goes to hit it, but Kane gets his hand on the neck of DiBiase.
JR: "Oh no! The choke-slam's coming. Nothing can stop Kane now."
Instead, he uses the choke to gain leverage on DiBiase and get him to the turnbuckle. He then hits a running big boot on DiBiase.
Jerry Lawler: "The tombstone puts most people out of the match and I really don't think that DiBiase should be an exception to this."
Kane starts taunting and the entire crowd knows what's coming next. DiBiase gets to his feet, looks around, nobody's there. He turns around to see Kane. The Big Red Machine lifts DiBiase upside down and hits the Tombstone Piledriver. The cover: 1…2…3! Kane stands in victory as Ted DiBiase slowly gets up.
"Here is your winner, Kane!" (Time of Match: 9:19)
JR: "Well, he didn't win but it was the best damn performance any newcomer has had this year on his debut. The man has a lot of potential and a very bright future."
Jerry Lawler: "And the crowd really gets behind him. His addition was sorely needed by the Raw locker room and the fans love him. Should be interesting to see how he does with other competition."
JR: "And speaking of the Raw locker room, we've been realizing how divided it has been this past year, first when the Empire Alliance began to take over Monday Night Raw and now Vince McMahon is creating utter chaos."
Jerry Lawler: "And it doesn't look like McMahon is going to get another chance. Here's a clip from just minutes ago."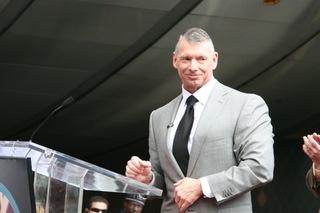 We cut to a backstage clip. The Usos, Kassius Ohno and Vince McMahon are standing there waiting. Just then a big black stretch limousine came up and out comes Triple H, without his daughter Stephanie.
McMahon nervously asks: "How's my daughter?"
HHH: "Stephanie's fine, but she's not here because this is business, not family."
Vince McMahon throat clears and he becomes very nervous.
Triple H starts walking by and sees the Usos trying to help him walk over.
HHH: "Did they cut Rikishi in half and make you two? Besides, I can walk in myself. I'm not like your incompetent general manager."
Triple H continues to walk away. We see Vince McMahon have a look of fear on his face.
Jerry Lawler: "Well it looks like I might be right. Vince McMahon cannot be feeling good after that message that Triple H gave."
JR: "And one could only hope that his replacement is a more just and less corrupt leader of the Red Brand. And it looks like Justin Gabriel is being interviewed backstage. More on that now."
We now cut backstage where Todd Grisham is standing by.
Grisham: "Thanks, JR. I'm here with new European Championship No. 1 contender Justin Gabriel. So, what do you think of Raw so far?"
Gabriel: "I know a lot of people complain about general manager Vince McMahon and I didn't like him at first when he made me fight on my debut night, and my job was on the line. I guess he doesn't realize that jobs don't grow on trees, especially in this economy. But in the past two weeks, I've gotten the opportunities that I deserve and that's all that matters."
Grisham: "Regarding your European Championship No. 1 Contender's Match, what was going through your head?"
Gabriel: "Well, I was called to Vince's office before the show and he told me that I was getting a shot at the No. 1 contender. I was completely shocked, thanked him, and ran out of the office before he could change his mind. I had a feeling that Ryan would want a piece of me if I won the match and he did. Not much more to say there."
Grisham: "When are you going to challenge him?"
Gabriel: "I've been thinking of challenging him on May 28th."
Grisham: "Sorry to interrupt, but that is a three-hour show, is it not?"
Gabriel: "Well, that part's not a big deal. I asked Vince and he said I could fight him then, or at the next pay-per-view, and I chose May 28. I'm not waiting until Vengeance to take my title back."
Grisham: "Hopefully your next few weeks on Raw are as good as the first. Thanks for your time."
Gabriel: "No problem, thanks for having me."
We cut to commercial break.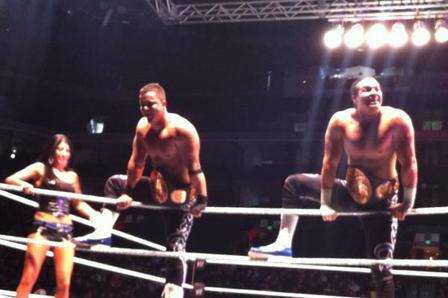 We return to ringside where Bo Rotundo and Husky Harris have entered. Next come Primo and Epico with Rosa Mendes.
The match starts with Husky Harris and Primo in the ring. Husky goes for a proto-plex immediately, but Primo moves out of it and instead hits an arm-breaker. He hits a running leg drop on a downed Harris. The cover: 1…2...kick out!
Primo tags in Epico and they do their jump in/jump out tag. Epico immediately goes for a moonsault from the top rope. He covers Harris: 1…2...kick out!
Epico goes for a leg drop from the top turnbuckle, but Harris rolls out of the way and makes his way to Rotundo. He makes the hot tag and Rotundo tries to clean house. He lands a big boot on Primo and when Epico gets up, he is hit by a hammer suplex. The cover: 1…2...kick out!
Epico decides to keep fighting, withstanding another big boot. Rotundo covers him: 1…2…kick out!
Epico finally gets up and uses enough effort to tag out. Primo jumps in and ducks under an attempted big boot, responding with a trip from behind. Primo runs to the ropes and bounces off the top, hitting a DDT as Rotundo gets up.
JR: "What timing! That was a complete veteran move and he was able to hit it."
Jerry Lawler: "And the tag champions have been a force to be reckoned with the past few months. Those belts must really be helping their confidence."
Primo goes for a face-buster on Rotundo, but IRS's son pushes Primo out of the way and responds with a running big boot. He tags in Husky Harris who tries taking out Primo and Epico.
He hits a choke bomb on Primo and runs into the rope in an attempt to knock Epico out of the ring, but it fails miserably because Epico lowers the ropes and Harris flings out of the ring.
The count begins. At the count of four, Epico gets out and hits a face-buster, but at the count of eight, he decides to roll Harris back into the ring. Primo goes for his finisher (backstabber), and hits it. The count: 1…2…3!
"Here are your winners, Primo and Epico!" (Time of Match: 5:11)
The two of them celebrate and leave the ring to a pretty decent reaction from the crowd while Bo Rotundo stares at his brother angrily. They walk out while arguing.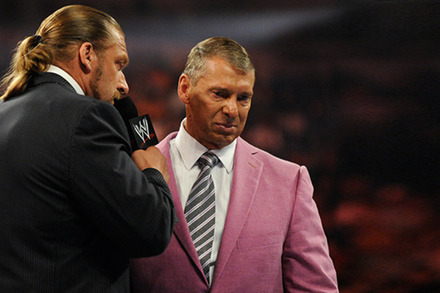 We're still at the ring and Triple H's theme goes off. Time to play the game.
He makes it down to the ring and after all of the pops that came with it, he takes a microphone and silences the crowd.
HHH: "Hey Greenboro! Great to be here in the good Carolina."
This gets a good pop from the crowd.
HHH: "I'm here because I have received a lot of complaints from anonymous Raw superstars. As you all may very well know, I've been more frank recently, and that's not going to end today. The subject of all of these complaints is the justness of Vince McMahon. He's been screwing people out of title shots and has been picking favorites. But why am I telling you all of this? Vince, get down here!"
This gets a huge pop from the crowd.
Vince McMahon walks out and he looks very apologetic.
Vince: "Listen, Hunter. I know that I got a little bit ahead of myself, but think of all the success I've had. I made The Rock the most electrifying man in sports entertainment. [WHAT?!] I made the Montreal Screwjob a thing! [WHAT?] Superstars such as John Cena, Kurt Angle, Brock Lesnar and even you have become prominent figures under my regime."
Vince: "I'm begging you, give me another chance."
HHH: "You of all people should know that when my mind is made up, there's no turning back."
The crowd chants: "Na, na, na, na! Na, na, na, na! Hey! Hey! Hey! Goodbye!"
Vince: "Just give me a few weeks. I'll put Raw at its highest popularity it's been in years. "
Triple H: "How are you going to do that? As of now you've done nothing but put Raw in shambles."
Vince: "Fairness, surprise, success, that's what I promise."
HHH: "You are positive that you can pull that off in just a few weeks."
Vince: "Definitely, Hunter. Just give me a second chance."
HHH: "Well, today's your lucky day. You have to impress me and the WWE Universe and provide fairness, surprise and success. And I almost forgot, you have one month to do it."
Vince: "Now isn't that just a tad unreasonable? Could you give me two?"
HHH: "Don't worry about time. Time moves really slowly at your age."
This gets a few cheers from the crowd and the North Carolina crowd is cheery.
HHH: "You have four weeks. Show me a good product or you're fired! Later, Dad."
Vince walks out and the whole crowd cheers as we cut to commercial break.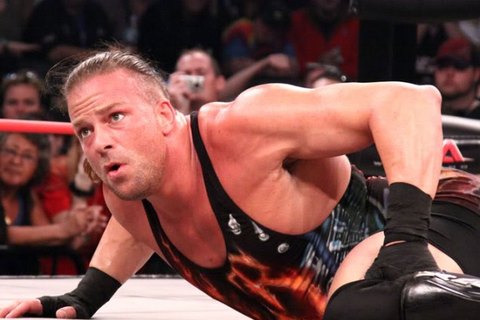 We come back from commercial and Rob Van Dam has already entered the ring. Next comes Alex Riley, who actually gets a little pop. Shelton Benjamin comes out after as a special guest announcer.
JR: "Pleasure to have you here, Shelton."
Shelton: "Great to be here, JR."
Jerry Lawler: "It's well known that you have a problem with Alex Riley."
Shelton: "That's right. He thinks he can walk in after NXT and deem respect. It took me years in the independent promotions and over a year here until I was even considered worthy of championship shots or respect."
JR: "But haven't times changed just a little bit? Think of Sheamus. He came in and within two years, he's world champion."
Shelton: "It's been eight years. If Sheamus and Riley get respect from doing that, then I deserve much more than what I have now."
Jerry Lawler: "I see what you're saying, but didn't you get a title shot at the Royal Rumble for no reason?"
Shelton: "I had to win a match for that."
Jerry Lawler: "And Sheamus had to do the same, and so does Alex Riley."
Shelton remains silent for the rest of the match.
In between all of this conversation, the two have locked arms in the ring and Alex Riley has won their test of strength. He bounces off the rope and hits a clothesline like he's a heat-seeking missile.
Riley waits for Van Dam to get up and then hits an Atomic Drop. Before Rob Van Dam falls down, he uses a good amount of energy and strategy and lands a spinning kick on Riley.
Riley gets up first and situates Van Dam at the turnbuckle. Riley delivers 10 senseless rights, each more well received than the next. Riley then pushes Van Dam to the ground (a pretty easy task as Van Dam has gained major fatigue).
Riley stands on the top turnbuckle and goes for a diving cross-body, but Van Dam gets his knees in and puts Riley's torso in a lot of pain.
JR: "A veteran move by Van Dam, I've seen matches end just like that."
Riley slowly gets up and eats a dropkick to the face. Then Van Dam hits Rolling Thunder. The cover: 1…2…kick out!
Jerry Lawler: "Riley survives after Van Dam's acrobatic signature."
Van Dam hops to the top turnbuckle and looks to go for the Five Star Frog Splash, but Riley rolls out of the way before Van Dam jumps. Van Dam instead goes for a dropkick from the top rope. Alex Riley tries to stiff him and prevent the move, but Van Dam's jump comes with so much force that Riley falls back. Van Dam covers: 1…2…rope break!
Van Dam gets back up and goes for a running bulldog, but Riley suddenly gains enough control to land a spear. He has ample time to recuperate and gets up first. When Van Dam gets up, he goes for a few rights, followed by a clothesline. When Van Dam is back up, Riley hits his finishing spine-buster. The cover: 1…2…3!
"Here is your winner, Alex Riley!" (Time of Match: 4:43)
Riley gets up and goes to shake his hand. Rob Van Dam slowly gets up and shakes his hand back. Shelton Benjamin gets up from the announce table.
Benjamin: "He doesn't deserve a handshake. Rob, you're a former ECW and WWE champion, and you have won Money in the Bank, the Intercontinental Championship and the European Championship. He defeated the Miz. He doesn't earn your respect."
This gets a huge pop from his hometown crowd.
Van Dam shakes his hand anyway and says (although muffled): "You're gonna be good, kid."
Riley celebrates and leaves the ring.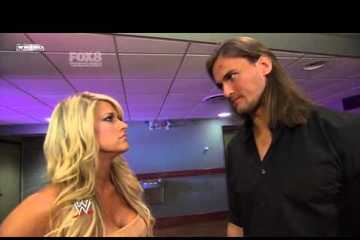 We cut backstage to Vince McMahon's office where he's doing work.
JR: "This just took place minutes ago. Let's take a look."
Vince McMahon is in his office on his cell phone.
Vince: "I can't believe it either. Four weeks is not enough time to do anything. Whatever, I'll talk to you later."
Vince: "Come in."
Kelly: "Vince, I just lost my title two weeks ago, and I think that I deserve a shot at the Wom..."
Vince: "Stop there. I know what you're going to say and I have to decline. That would be 'unjust' of me to just give you a title shot. Tonight, I'll put you in a Seven Diva Battle Royal with the winner being crowned the No. 1 contender to Beth Phoenix's women's championship. Consider yourself lucky and leave before I change my mind."
Kelly: "Thanks! That's all I wanted!"
Kelly Kelly leaves and walks by Drew McIntyre.
McIntyre: "Vince, I just wanted to say that I think you're doing a great job with everything right now. I know Triple H is a little angry, but I think that's partially because you have Mason Ryan running the show as European Championship. The solution's pretty simple, give me my rematch tonight so I can take the belt back."
Vince: "Thanks, Drew, I've always thought you were born to succeed, ever since I declared you the Chosen One. I'll allow you a title shot tonight, but one day I hope to receive some favor back. Plus, how could I not give you a title shot? You were just love torn and had to defend your title. That's just really untimely and unfortunate."
McIntyre: "I knew you'd see things my way."
Vince: "But get ready, your match is next."
McIntyre leaves the room with a smile on his face as Vince goes back on his phone.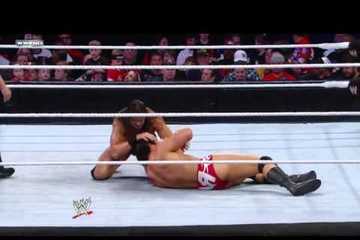 We come back and Mason Ryan is in the ring with his European Championship and William Regal. Drew McIntyre comes in with Tiffany and looks much more focused, after the way he looked at Backlash.
McIntyre immediately tries to start the match by going for an elbow to Ryan, but the Welshman stiffens and negates McIntyre's jabs. Ryan goes for a proto-plex and hits it. He starts stomping on McIntyre until the referee pulls him off.
Ryan waits for McIntyre to get up and hits a running knee to McIntyre's upper torso. McIntyre falls to ground and Ryan continues his beatdown. The cover: 1...kick out!
Ryan waits for McIntyre to get up and then goes for a backdrop suplex. Ryan then locks in an Olympic Lock. McIntyre inches closer and closer to the rope and finally does make it there.
Ryan Irish-whips McIntyre into the turnbuckle and hits a running clothesline on him. McIntyre hits the ground hard. Ryan tries to stomp on McIntyre's leg, but he trips Ryan and rolls him up: 1...2...kick out!
McIntyre surprisingly gets up first and hits a dropkick on Ryan that knocks him out of the ring. Then McIntyre makes a fatal flaw. He tries to land a dive from inside of the ring but fails miserably when Ryan catches him and hits a world's strongest slam-type maneuver.
The count hits five when McIntyre gets up. At six Ryan hits his Mason Bomb and he rolls back in the ring. 8……….9……….10!
"Here is your winner and still European Champion, Mason Ryan!" (Time of Match: 5:12)
Mason Ryan and William Regal celebrate together while Drew McIntyre is in complete shock. Tiffany walks over to him and they walk out together.
JR: "Mason Ryan proves to be the top champion. As of now, there's nobody able to stop him."
Jerry Lawler: "That might be a little premature."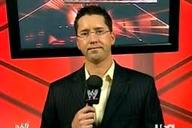 We cut backstage to Todd Grisham, who is standing around.
Grisham: "Hi, I have DH Smith and Tyson Kidd here with me. DH, what happened to you two at Backlash?"
DH: "Hey, Todd. At Backlash, we were bested by Primo and Epico because of a low blow that shocked us."
Grisham: "And what's going to happen here?"
Tyson: "We don't like dealing with Mr. McMahon right now. He's under a lot of pressure, so in four weeks we will talk to him again, or whoever is the new Raw GM."
Grisham: "Do you think that you'll be able to get another title shot?"
DH: "I frankly believe that the Hart Dynasty is the best tag team on Raw. We've beaten the Dudleyz, Bo and Husky. All we have left is Epico and Primo, and as of now nobody can take them out."
Grisham: "What about the Usos?"
DH: "They have been very disappointing. I was hoping for some good second generation tag-team action (me being third generation), but then they sold out to Mr. McMahon. We tend to not fight with them."
Grisham: "Thanks for your time."
Tyson: "No problem, Todd."
Lillian Garcia: "This next match is a Diva's Battle Royal and the winner will get an opportunity at the Women's Championship!"
Kelly Kelly comes to the ring first for a good pop. Tamina enters to a lot of boos after she helped the Usos last week in taking out new World Heavyweight Champion Seth Rollins. Beth Phoenix comes out next. Rosa Mendes gets a pretty standard reaction for a face. Next is Alicia Fox, who gets no reaction.
Tiffany is the next one out and she gets barraged by boos. Next is Layla, who gets a pretty bad reaction after what she did to Shelton Benjamin. The last on out is Kaitlyn, who comes out for almost no reaction, even though she's a heel.
All seven divas are standing in the ring, Tamina starts off by going for a running spinning kick and hits Rosa Mendes in the head. Mendes falls to the ground and while down, Kelly Kelly rolls her out of the ring via the bottom rope.
Tiffany goes for an enzuigiri on Layla, but she catches her in the act, lets her stand on the ground to recuperate, and then Irish-whips her over the top rope. Eliminated: Tiffany (via Layla)
Alicia Fox and Kaitlyn are exchanging rights, with Fox gaining the upper hand and isolating Kaitlyn by securing her at the turnbuckle. Fox goes for a clothesline on Kaitlyn, but she ducks and jumps back up, catapulting Fox over the top turnbuckle and out of the match. Eliminated: Fox (via Kaitlyn)
Kelly Kelly then attacks Kaitlyn and hits K2. Kaitlyn falls to the ground but not out of the ring. Kelly goes for a running DDT on Tamina and hits it. For once, Kelly Kelly gets a stadium-wide pop. She goes for a running leg drop, but Tamina rolls out of the way.
Tamina gets up first and goes for Kaitlyn. He knocks her over the top rope but not out of the ring. Tamina goes for a running boot to the upper torso of Kaitlyn and hits it, but Kaitlyn uses every ounce of her body to stay on the rope.
Tamina then decides to go to the top turnbuckle. She thinks of jumping off and drop-kicking Kaitlyn out of the match, but instead conservatively uses Jimmy Snuka's finisher on Kelly Kelly, who is finally getting up.
Kelly is able to move her body from harm's way and takes a severely beaten Tamina and throw her over the top rope. Eliminated: Tamina (via Kelly Kelly)
Meanwhile, Kaitlyn is finally able to recuperate from that running big boot that she received. She finally gets her feet back into the ring, only to be clotheslined by Kelly Kelly over the top rope and out of the match. Eliminated: Kaitlyn (via Kelly Kelly).
We're now down to Kelly Kelly and Layla. Outside of the ring, Rosa Mendes is still standing for some reason. She slides back into the ring and goes to backstab Kelly Kelly over the top rope, but instead Kelly Kelly uses a terrific duck to prevent this from taking place.
Layla goes for a Lou Thesz press, trying to be much more conservative now that she is on the brink of elimination. Most of the crowd gets behind her because of their undying dislike of Kelly Kelly (and similar to John Cena, her only cheers are coming from little kids). Layla covers Kelly Kelly in the center of the ring: 1…2...kick out!
Layla gets up and hits a dropkick on Kelly Kelly. When K2 gets back to her feet, Layla hits a running bulldog. The cover: 1…2...kick out!
JR: "These two are using all of their power to become No. 1 contender to the women's championship."
Jerry Lawler: "And this passion toward the title really makes me feel for these women"
Layla pushes Kelly Kelly into the corner and goes for her finisher Faceless Facelift, but Kelly elbows Layla out of the way and rebounds with a dropkick. She covers Layla: 1…2...kick out!
When Layla gets up, Kelly Kelly tries to go for a clothesline and hits it, but she lands somewhat awkwardly and falls. She gets up first and then hits a running leg drop: 1…2…kick out!
Layla gets back to her feet but is pushed into the corner by Kelly Kelly. The two are exchanging rights until Kelly has the upper hand and she hits K2 for a terrible stadium-wide reaction.
JR: "This might just be it. Kelly Kelly really gave it all in this match, she eliminated three of her six opponents."
Jerry Lawler: "And I'm beginning to think that she could win back her women's championship."
She covers Layla: 1…2…rope break! This gets a good reaction from the crowd, as Layla is an honorary face in this match against Kelly Kelly.
Kelly Kelly gets up and heads to the top turnbuckle. Before she jumps, Layla gets up and walks over. She takes Kelly Kelly and hits a massive face-buster that gets a massive cheer from the crowd.
JR: "Well, talk about a rebound! Layla now has the upper edge in this one and I'm beginning to think that these two could both give Beth a run for her money."
We cut to Beth Phoenix watching backstage (Layla is still recuperating while Kelly is basically knocked out). She has an angry look on her face.
The cover: 1…2…3!
"Here is your winner: Layla!" (Time of Match: 10:12)
Beth Phoenix comes down to the ring with a microphone.
Beth: "You will not be getting your hands on my title ever again! Just try to keep your 'pretty little face' intact when you decide to fight me, because if you want to go all out, you're not gonna last."
Beth drops the microphone and leaves the ring. Layla continues to celebrate and the crowd is still pretty cheery.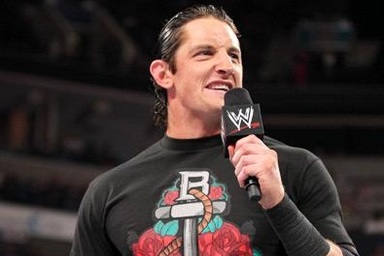 Wade Barrett comes down to the ring with a microphone and steel chair in his hands.
Barrett: "Love me or hate me, I am the best that Raw has to offer. Why did I hit Rey Mysterio? I'm supposed to be 'the good Brit,' 'the problem solver,' 'the reliable one,' 'the leader.' Wrong, I am who I want to be and I don't care what you filthy ignorant people think."
This gets a terrible reaction.
Barrett: "Rey Mysterio had it coming. He comes to Raw with the World Heavyweight Championship. He won one pay-per-view match and he is still loved by all of you guys. You know what that teaches guys like me? It teaches me that you dumb fans know nothing about wrestling. If I flung around like a Mexican jumping bean, would I be as well-liked? I could only hope not, but I know that it's true."
Another terrible reaction heads Barrett's way.
Barrett: "Rey, I'm teaching you and the locker room a lesson. You stay out of my way or I'll see to it that you are no longer near me. There should be nothing separating me from a title shot. I'll take you tonight if you want."
Suddenly a big pop comes from one corner of the arena. Rey Mysterio quietly tries to jump Barrett from behind, but Barrett turns and reacts in time by nailing Mysterio in the head with a steel chair.
Barrett then takes the steel chair and puts Mysterio's face on it (he's lying with his front on the ground and his face on the chair). Barrett hits a double-leg drop on Mysterio's upper body (head, neck, back) and you hear a loud yell. Mysterio rolls over in pain and part of his mask is very deep red.
JR: "Barrett's made Mysterio draw blood!!"
Jerry Lawler: "I guess he really meant it when he said to get out of his way."
Barrett picks the mic back up: "Maybe now you'll get out of my way."
Barrett walks out of the ring to terrible heat from the crowd.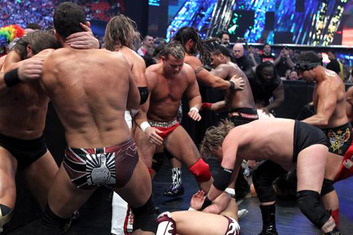 Seth Rollins comes out first for the main event for a decent pop. Kassius Ohno gets an absolutely horrible reaction and Sheamus gets a pretty bad reaction as well.
Then the lumberjacks come out. The lumberjacks are: Mark Henry, Wade Barrett, Alex Riley, Drew McIntyre, R-Truth, John Morrison, Justin Gabriel, Rob Van Dam, Shelton Benjamin, Kane, Joe Hennig, Ted DiBiase, David Otunga, Mason Ryan, Great Khali, Abraham Washington, Booker T, William Regal, Tyson Kidd, DH Smith, D-Von Dudley, Bubba Ray Dudley, Husky Harris, Bo Rotundo, Primo, Epico, Jimmy Uso and Jey Uso.
Sheamus and Seth Rollins start exchanging rights immediately (basically as soon as the bell rings). Kassius Ohno runs in and tries to hit a bulldog on Sheamus. This gets a bad reaction. Ohno then tries to hit a running elbow to the face of Rollins, but the RoH stud ducks and rebounds with a dropkick.
Sheamus goes for a hammer suplex on Kassius Ohno and hits it. Seth Rollins then adds insult to Ohno's injury by hitting a running leg drop on him. Sheamus goes for the cover, but Rollins jumps on the pin to stop it.
Sheamus locks eyes with Rollins. The two are still staring until Sheamus tries to get some offense in with a right. The two exchange rights for a little bit until Ohno gets to his feet and Irish-whips Rollins over the top rope.
Outside of the ring, Jimmy Uso and Jey Uso try to take out Seth Rollins and do accomplish a lot. They hit a tag-team finisher (it's a backdrop suplex, but the other Uso jumps off the top rope— in this case the barricade—and hits an elbow drop to knock down the opponent).
Rollins's head collides with the ground with a loud thud and he looks to have a concussion. In the middle of the ring Ohno and Sheamus are exchanging rights, with Ohno getting a vicious elbow to the back of Sheamus's head.
JR: "It looks like Vince McMahon's corruptness might have done well. His federation is taking down all of the combatants in this match."
Ohno hits a Hangman's Elbow on Sheamus and it knocks him to the ground. Sheamus prevents Ohno from getting the pin and the title by rolling out of the ring. People try to attack Sheamus, but he is able to beat them off. Morrison is unable to stop Sheamus, as is Booker T and R Truth.
Sheamus looks to get back into the ring when somebody hits a running bulldog. It was Randy Orton in his street clothes. He hit an RKO on Sheamus from behind.
The Usos shift their focus to Sheamus, which allows Rollins to get into the ring. Ohno gets a spinning kick to knock down Rollins and goes for a diving elbow from the top turnbuckle. He hits it and covers Rollins.
JR: "That's it! We're gonna have a new champion!"
The cover: 1…2…no! The referee stopped the pin because Ohno used the ropes to gain leverage on the pin. Orton gets in the ring and hits a suplex on Ohno. He then situates Ohno on the second rope and hits his signature DDT.
Rollins gets up and starts taunting Ohno. The former Chris Hero gets up and eats an Avada Kedavra, but on his way down to the ground, he rolls out of the ring. Mark Henry, Abraham Washington, Jey Uso and Jimmy Uso all protect Ohno from any outside attack.
Sheamus doesn't even come back to the ring, Orton starts punching him and actually gets an amazing pop by Irish whipping Sheamus into the deep pit where the Raw announce table used to be (in about 2003). Paramedics run out to check on Sheamus.
The match is basically a singles match at this point, with the two of them having fought to a stalemate. Ohno gets back into the ring and both sides are full of energy. Rollins goes for an enzuigiri and hits it. He looks for the cover but turns against it at the last minute.
Ohno gets up and falls victim to a flipping neck-breaker. He covers Ohno this time: 1…2…kick out!
JR: "These two are giving it all in the middle of the ring, and they are both putting on such a good effort. This, folks, is great wrestling."
Ohno gets up and reverses a Small Package Drive, runs off the rope and rebounds with his finishing Hangman's Elbow. The cover: 1…2…no! Randy Orton came in and stopped the pin.
Ohno tells Mark Henry to come into the ring with a steel chair. Mark Henry hands Ohno the chair. Rollins gets up and almost eats a straight hard whack to the forehead, but Rollins ducks, Ohno hits the ropes and the chair bounces back, hitting him in the face.
Rollins gets up and finishes off the match. First, he hits an Avada Kedavra that hits Ohno so hard that he spins around. During the spin Rollins hits the Small Package Driver.
JR: "This one's all over. The title has been retained! I don't believe it!"
The cover: 1…2…3!
"Here is your winner and still champion, Seth Rollins!" (Time of Match: 16:11)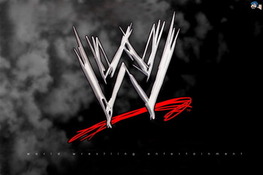 And that's our show! Tell me if you liked it by leaving a comment with a rating of the show (1 to 10). Just as a recap, this was the card:
Kane def. Ted DiBiase via pinfall
Primo and Epico def. Husky Harris and Bo Rotundo via pinfall
Alex Riley def. Rob Van Dam via pinfall
Mason Ryan def. Drew McIntyre via count-out
Layla def. 6 Other Divas in Battle Royal for No. 1 Contender to Women's Championship
Seth Rollins def. Kassius Ohno and Sheamus via pinfall in Lumberjack Match
Tune in tomorrow night for Monday Night Raw and on Thursdays at 7 p.m for episodes of Smackdown.
Please leave a comment and thanks for reading!