Why Gardner, Swisher Will Kick-Start Yankees' Sluggish Offense
May 8, 2012

Ed Zurga/Getty Images
Despite the Yankees' offensive outburst on Sunday, scoring 10 runs in a win over the Royals, last week was tough on the Bombers. In the six other games they played, the Yanks scored just 13 runs while dropping two out of three to the Orioles and splitting a four-game set against the Royals.
The Yankees' pitching troubles are well known, with the back end of the rotation struggling and Mariano Rivera going down for the year with a torn ACL. But the team's offense is supposed to perform, and it has not.
Robinson Cano and Mark Teixeira haven't been themselves, and Brett Gardner and Nick Swisher have missed time with injuries. Gardner hasn't played since April 17, and Swisher just returned on Sunday.
Swisher being back and Gardner's return (he will begin a rehab stint tonight and should be back in the lineup Thursday or Friday) should reinvigorate the Yankees' offense and help them overcome pitching weaknesses.
Nick already has seven home runs in 98 at-bats with a .975 OPS, including one in his first game back on Sunday. He's an important cog in the lineup; he is capable of driving in Alex Rodriguez, Robinson Cano and Mark Teixeira when hitting sixth, and extends the lineup when hitting second by pushing Curtis Granderson all the way down to the sixth spot.
With all due respect to Raul Ibanez and Andruw Jones, neither can hit nearly as well as Swisher.
Brett Gardner is even more valuable to the Yankee lineup.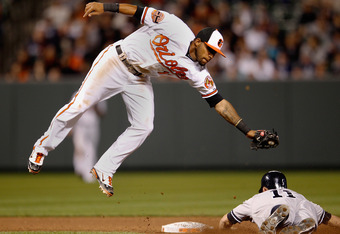 Rob Carr/Getty Images
From the ninth spot in the order, he bats in front of Derek Jeter, Curtis Granderson, Alex Rodriguez, Robinson Cano and Mark Teixeira. When he gets on base, he allows the Yankees' best hitters to get good pitches to hit (since the pitcher does not want to put anyone else on base), and he is a menace on the bases. He is more than capable of taking the pitcher's attention off of the batter.
He was off to a fast start this year, too, with nine hits and five walks in nine games before getting hurt.
With Gardner and Swisher out, the Yankees were played two out of Raul Ibanez, Andruw Jones, Laynce Nix, Eduardo Nunez and Dewayne Wise every night.
That allowed pitchers to pitch around the Yankees' best hitters, to an extent, because the batters coming up after them were not as dangerous as in the normal Yankee lineup.
With Swisher coming back and Gardner likely returning this week, the lineup will still be tested. The Yankees host the Rays tonight through Thursday, likely facing James Shields, Jeff Niemann and David Price, before the Mariners comes to town. The Mariners are likely to throw "King Felix" Hernandez, former Yankee Hector Noesi and Blake Beaven over the weekend.
However, even facing these tough pitchers, the Yankees' offense will put runs on the board.