NASCAR: It Might Be Time for Jeff Gordon To Call It Quits
May 14, 2012

Geoff Burke/Getty Images
Jeff Gordon is one of four current drivers for Hendrick Motorsports, Chevrolet and Dupont. The party has been together a long time, beginning on November 15, 1992, when Gordon's first start in NASCAR came on the last day of the season. He finished 31st that day, completing only 164 of 328 laps in the Hooters 500 at Atlanta Motor Speedway. 
Since then, no one has won more races than Gordon, who is currently third all time with 85 Cup Series wins. He also has four Cup Series championships, ranking him fourth in NASCAR history behind Dale Earnhardt and Richard Petty, who each have seven, and Jimmie Johnson's five.  
The problem in NASCAR, like life, is it's all about "what have you done for me lately." 
The success he experienced early in his career has waned considerably with time. Two thirds of his wins came in the first nine of his 19 seasons with HMS.
The decline has been steady, with only four wins since 2008. As his 20th season progresses, only three times has he been shut out from victory lane—1993 (his first full season in NASCAR), 2008 and 2010.
In a weird sense of foreshadowing, Gordon's last championship came in 2001, the same year that Johnson made his NASCAR debut with Hendrick and Lowe's in car number 48, owned by Gordon.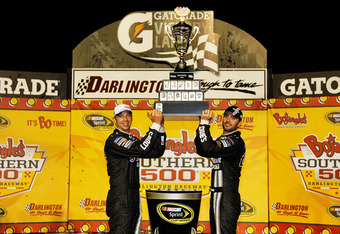 Todd Warshaw/Getty Images
Since joining Hendrick Motorsports, Johnson has 56 wins over 374 races—no one has won more races than Johnson, currently placing him eighth all time. His five consecutive championships between 2006 and 2010 is unmatched in the history of NASCAR.
For Gordon, it might be the added pressure of being a car owner, or the stresses of fatherhood that have slowed him down. Whatever it is, the results are slipping on the track.
Before Johnson joined the Hendrick stable of drivers, Gordon won 58 times in 296 races for a remarkable 19.6 winning percentage—better than Johnson's 14.9 percent. Gordon's average starting position before Johnson was 8.9, with his average finish at 11.6.
However, after Johnson, Gordon has only 27 wins in the last 372 races since 2002, and his average starting position has declined to 11.4, with his average finish dropping to 13.3.
Something has changed in Gordon.
Long gone are the battles he had with Dale Earnhardt that seemed to polarize fans to either love him or hate him. When he won his 77th race at the Aaron's 499 at Talladega in 2007, fans littered the track with debris to protest his surpassing of Earnhardt in career wins.
Since 2007, his victories have declined, just as his average starting and finishing positions have fallen. In 2007, Gordon won six races with an average finish of 7.3. After 11 races this season, he is currently 24th in points, with an average finish of 22.8—the worst in his career.
Since Hendrick went to four full-time drivers in the Cup series in 2002, the car with lowest finish in the final standings always seems to be on the verge of a driver change—and it has always been either the No. 5 or the No. 25 car.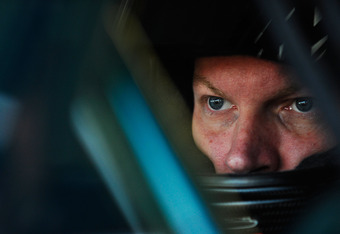 Rainier Ehrhardt/Getty Images
The No. 5 car has had five different drivers since 2002 while the No. 25, currently being driven by Dale Earnhardt, Jr. as No. 88, has had four.
With Earnhardt Jr currently third in points followed by Johnson fifth and Kasey Kahne 16th in his first year driving the No. 5 car, Gordon finds himself in the unenviable position of being the lowest ranked Hendrick driver. 
If he cannot turn things around then he might want to consider hanging up the fire suit and turning the No. 24 car over to another driver. Even though he has a lifetime contract with HMS, he should consider doing the right thing and stepping down. It might just save him the embarrassment of being replaced by Rick Hendrick. 
It would be a shame to see Gordon hang on as his driving ability continues to deteriorate. Before too long, he could end up like other former HMS drivers just trying to make the field.