Euro 2012: 10 People and 2 Factors Crucial for Spain's Victory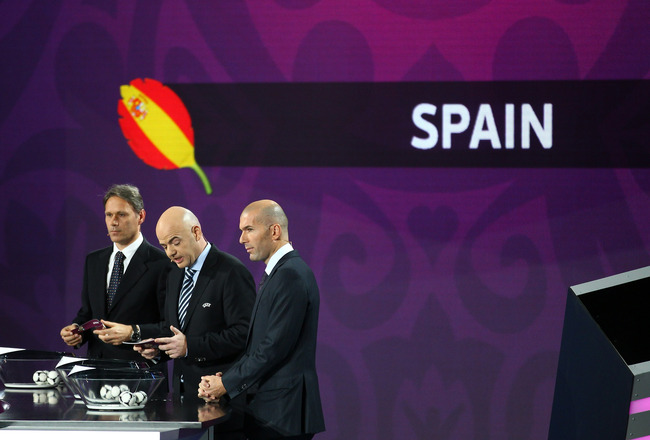 Spain in UEFA Euro 2012
Julian Finney/Getty Images
Vicente De Bosque, the manager of the Spanish National football team was interviewed by UEFA. The subject was about the possibilities of Spain in Euro 2012.
In the interview, Del Bosque warned that Spain should not be dormant during the match. He challenged Spain to look forward to 2012 instead of 2008.
While Spain should not dwell on past glories, there are ways for Spain to win Euro 2012. An invitation is extended to B/R readers to see who are the people and factors that could be involved.
1. Iker Casillas

Iker Casillas (Courtesy of PP New Channel)

In spite of his defects, Iker Casillas is one of the reasons why Spain will repeat its victory in Euro 2012. Casillas is one of the greatest goal keepers for Spain.
Casillas has 84 saves and 14 clean sheets during the 2011-2012 La Liga season. He is a natural leader who can inspire other players for the Spanish National football team to reinforce their defense and offense.
Luis Aragones, a former coach for Spain, praised Casillas for his style.
But Casillas is not the only solution for Spain.
2. 1-4-3-3 Formation

1-4-3-3 Formation (Courtesy of NSCAA)

The 1-4-3-3 formation is another way for Spain to win in Euro 2012 since it helps maintain possession against opponents. The formation would be as follows:
Iker Casillas would be the goalkeeper with Gerard Pique, Martin Montoya, Carles Puyol and Alberto Botia as defenders.
Andres Iniesta, Thiago Alcantara and Cesc Fabregas would be the midfielders. Fernando Torres, David Villa and Juan Mata would be the forwards.
While this is not a permanent list, it is a rough draft of what could be used as a formation.
3. Thiago Alcantara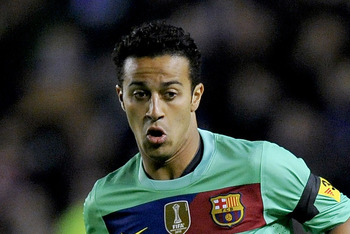 Thiago Alcantara
David Ramos/Getty Images
Thiago Alcantara is one of the youngest midfielders in the Spanish National football team. During the 2011-2012 La Liga season, his record was two goals, three assists and 24 shots within 27 matches.
Thiago Alcantara is an expert in pinpoint passing and free kicks. This will place opponents at Euro 2012 on the defensive and help Spain in its quest for a second consecutive Euro trophy.
4. Discipline, Tenacity and Persistence (The Inner Self)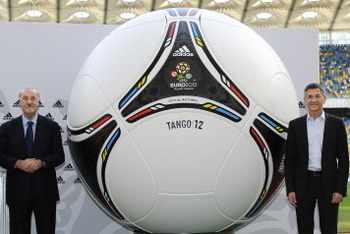 Euro 2012 Official Ball
Gary Prior/Getty Images
While the majority of people tend to doubt the inner side of a human being, attitude is a big thing. Spain has to maintain a high dosage of discipline, tenacity and an attitude of winning in the face of adversity.
Spain must reinforce its defense as well as offense without giving any opportunity to its rivals. It is the difference between winning and losing.
5. Gerard Pique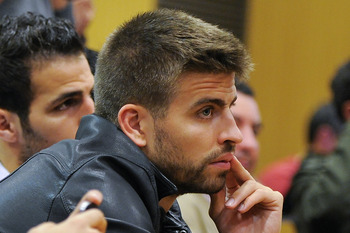 Gerard Pique
David Ramos/Getty Images
Gerard Pique is one of the expert defenders in FC Barcelona and Spain. He is able to deal with defense in all spheres of the field.
Pique is able to be dominant and dangerous in the field when defending. Pique is another asset in Spain's ambition to maintain its dominance in Euro 2012.
6. Cesc Fabregas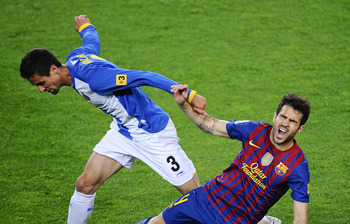 Cesc Fabregas
David Ramos/Getty Images
Cesc Fabregas managed nine goals, eight assists and 44 shots within 28 matches in the 2011-2012 La Liga season.
His experience with the English Premier League team of Arsenal along with FC Barcelona is helpful for Spain. Fabregas is able to assist teammates in scoring goals against opponents.
One example was when Fabregas assisted Andres Iniesta in scoring the goal that gave Spain the 2010 FIFA World Cup Championship.
7. Sergio Ramos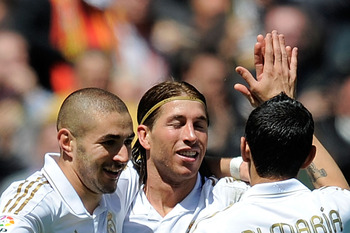 Sergio Ramos
Denis Doyle/Getty Images
Sergio Ramos is a defender who could attack menacingly from the right side of the field. Ramos is able to maintain the discipline and tenacity needed for a Spanish victory in Euro 2012.
Ramos was also one of the important defenders who helped Spain obtain victory in the 2010 FIFA World Cup. Ramos is also very quick when it comes to defense and moving forward in matches.
8. Fernando Torres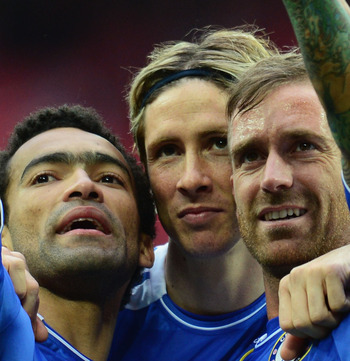 Fernando Torres
Shaun Botterill/Getty Images
9. Andres Iniesta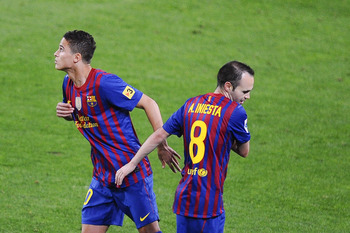 Andres Iniesta
David Ramos/Getty Images
Andres Iniesta is a versatile midfielder who is able to participate in teamwork. Iniesta was instrumental in scoring the goal that gave Spain the 2010 FIFA World Cup championship.
Xavi declared that Iniesta is a complete player in Spain. It's expected that he will have the role of a protagonist in Euro 2012.
10. Juan Mata

Juan Mata (Courtesy of Chelsea FC)

Juan Mata was instrumental in helping the Blues during the 2011-2012 Premier League season. He has participated in every FA Cup match and was able to score Chelsea's first goal in the Cup.
Mata was also instrumental in Chelsea obtaining a victory over the Tottenham Hotspur during the FA Cup. Mata declared in an interview with Chelsea FC about the need to persevere in the face of adversity.
It is this quality which can help Spain retain its title for Euro 2012.
11. Xavi Alonso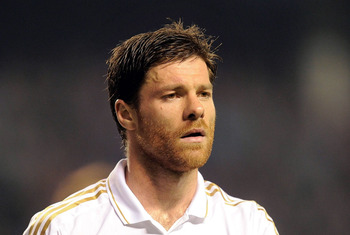 Xavi Alonso
Denis Doyle/Getty Images
Xabi Alonso is an expert in football in all fields. Alonso is able to execute shots that are powerful with a great vision during a match.
He is also able to score large distances such as 65 metres with free kicks.
12. Fernando Llorente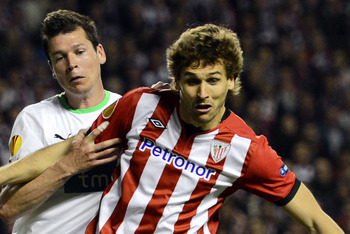 Fernando Llorente
Jasper Juinen/Getty Images
Fernando Llorente, a forward for Club Atletico Bilbao, left an impressive presence during the 2011-2012 La Liga season. He scored 17 goals, 78 shots and one assist within 31 matches.
Fernando Llorente and Club Atletico Bilbao are clubs that may be the future in La Liga.
Conclusion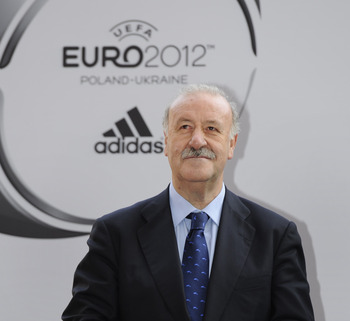 Del Bosque With UEFA Euro 2012 Advertisement In Background
Gary Prior/Getty Images
While it remains to be seen what will transpire, an attempt has been made to discuss what will help Spain win Euro 2012. The decision to select players and concepts were not easy and are based on a personal opinion.
There is no absolute on which player will help Spain win Euro 2012. My personal suggestion would be to watch Spain participate in Euro 2012.
I would like to thank the B/R readers for their time in looking at this slideshow. You can send comments or criticism of a constructive nature to be reviewed.
Until the next slideshow. Best wishes.
Keep Reading

Spain (National Football): Like this team?