FC Barcelona: Lionel Messi Breaks More Records & Deserves Ballon D'Or
May 7, 2012

Lionel Messi seems to give us something new to talk about every week.
The little Argentine broke more records on Saturday, as Messi lead Barcelona to a 4-0 victory over RCD Espanyol in the Catalan Derby.
Messi got his first in the 11th minute. It was a golazo as he curled a free kick from about 25 yards and into the back of the net.
Leo got goal number two on a questionable handball call against Cristian Gomez. Messi took the penalty and put it in the bottom right of the net while Espanyol goalkeeper Cristian Alvarez dived the opposite way.
Goal numero tres came ten minutes later as a fabulous pass from Adriano reached Messi, who beat Espanyol defender Victor Sanchez and hit a rolling curler past Alvarez.
Last but certainly not least, Messi hit his fourth goal via the penalty spot as Sergio Busquets was taken down inside the box. Messi slammed the ball to the low right of the net for his 50th goal in La Liga this season.
But it was after the goal that was the most special part, as Messi and the entire team went over to Pep Guardiola and hugged him. All of the Camp Nou was trying to hold back tears.
That moment was the most emotional moment in FC Barcelona's season.
While the night mainly belonged to Pep Guardiola as he said goodbye to the Camp Nou, Lionel Messi and his historic night took a bit of the spotlight away.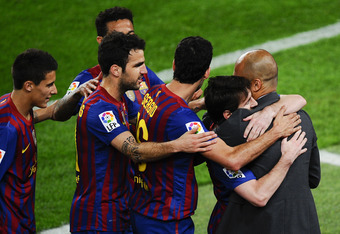 David Ramos/Getty Images
Besides, Pep wouldn't want it any other way—for his players to get the headlines.
Did I mention there's still one more game left for Messi to add to this record at Real Betis next Sunday?
While this season has been a bit disappointing for FC Barcelona, this is without question Lionel Messi's greatest season.
We are witnessing the player who will end up becoming the greatest footballer of all time.
And he only turns 25 this June.
In my opinion, Cristiano Ronaldo and Robin van Persie will undoubtedly join Lionel Messi as the three finalists for FIFA Ballon d'Or 2012.
The Ballon d'Or is given to the player who had the best calendar year—not necessarily to the best player overall. While Messi is undoubtedly the best player in the world, it doesn't mean it will automatically go to him.
The one advantage CR7 and RVP have over Messi is the opportunity to come up big in EURO 2012.
Real Madrid's Cristiano Ronaldo has had a phenomenal season, helping Real win their first Liga title since 2007-08. Arsenal's Robin Van Persie got his 30th goal of the Premier League season and is the Player of the Year in English football.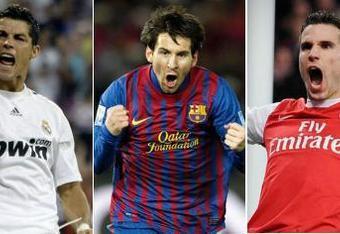 There are cases to be made against all three players as well.   
Messi did not lead Barcelona to the UEFA Champions League title or a Liga title this season, which will hurt his argument. Ronaldo did not have the record-making/setting season Messi has had and like Messi, did not lead his team to the CL title.
CR7 had a Liga-record breaking year last year but it cannot compare to the year Messi is having now because Leo is not only making/breaking Liga records, he's making/breaking historic football records.
Let's not forget Arsenal is on the verge of not qualifying for the Champions League for next season despite RVP's efforts, nor is he breaking major football records.
Once again, there are cases to be made for and against all three players.
But if the award is supposed to be given to the player who has performed the best over the previous calendar year, how can Ballon d'Or voters not select Lionel Messi—with all the records being broken and created by him this year as well as the wins he has led Barcelona to this season—for a fourth consecutive time when the award is given out next January?
Here is a quick breakdown of what Lionel Messi did on Saturday to add to his list of accomplishments this season:
Messi is the first player in Liga history with eight hat tricks in one season.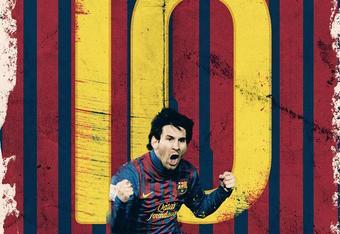 When Messi made his first goal, Leo made goal number 68 in the season, breaking Gerd Muller's record of 67 goals in one season (Bayern Munich, 1972-73).
When Messi made his second goal, he became the first player since Dudu Georgescu in 1976-77 to hit 47 goals; a mark he would surpass only ten minutes later.

Messi has contributed in 100 goals in all competitions for FC Barcelona this season: 72 goals and 28 assists.
Messi made a new world record for being the first football player ever to score 72 official goals for his club in a single season in the history of football. The only other player to have scored 70 goals in a first-division season was Archie Stark of Bethlehem Steel in the American Soccer League in 1924-25.
Messi has scored more goals on his own than 13 of the other 19 teams in La Liga have scored as a team. Only Real Madrid, Valencia, Málaga, Athletic Bilbao, Levante and Rayo Vallecano have out-goaled Messi.
Messi has scored more goals by himself than Liverpool has scored as a team this season.
Messi himself has outscored many teams in major European leagues. With his 50 goals in 36 games, Mess has outscored 15 Ligue I teams (over 35 games), 14 Premier League teams (after 37 games), 13 Bundesliga teams (34 games, season over) and 12 of the Serie A teams.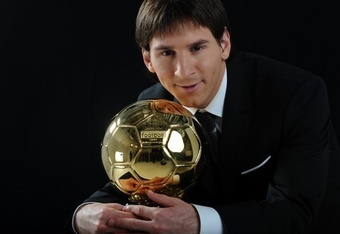 Plain and simple: Lionel Messi has lead Barcelona to many wins but most importantly, Messi has had statistically the best and most record-breaking season a footballer has ever had in history.
How can you make a case against this?
Messi's season fits the description of what the Ballon d'Or is meant for and deserves the award.
Congratulations to Lionel Messi for continuing to rewrite the record books, writing new records, but most importantly for him, for soon becoming a father as his longtime girlfriend Antonella Roccuzzo is expecting. Click on here to look at the lovely Antonella, the soon-to-be mother of King Leo's child.
If the couple has a boy, I'm sure Sandro Rosell will try to sign Baby Messi to FC Barcelona as soon as he is born. 
Visca el Barça!

Xoel, The Voice of FC Barcelona on Bleacher Report!
Thanks for reading. Follow me on Twitter:@XoelCardenas
Don't forget to check out my other columns:
Three Years Later: May 2-6, 2009: The Greatest Week in FC Barcelona History
FC Barcelona: 10 Areas for Tito Vilanova to Improve on Next Season