MLB Worst of the Night: Carlos Marmol Blows Game, Closer Gig for Chicago Cubs
May 4, 2012

Joe Robbins/Getty Images
Highlighting a bad performance from the previous night in baseball might seem like a harsh way to start the morning, but look at it this way: If you had a rough night or bad day, here's someone who may have had it worse.
In what's been a rough year for closers, Chicago Cubs reliever Carlos Marmol has still managed to stand out for how he's blown games.
In just 8.2 innings, Marmol has walked 12 batters. That gives him an average of 12.5 walks per nine innings. Those would be great strikeout numbers for a closer. However, we're talking about walks, and those numbers are disastrous for a reliever.
Three of those walks came Thursday as the Cubs faced the Cincinnati Reds. Marmol came on for the ninth inning in hopes of closing out a 3-0 lead and preserving another pitching gem from Ryan Dempster.
Dempster pitched eight shutout innings, holding the Reds to three hits. However, Marmol proceeded to pour gasoline all over that effort and light it with a flamethrower. 
Marmol just couldn't find the strike zone with his slider (or his fastball, for that matter) and walked the first two batters of the inning on nine pitchers. Two pitches later, he did get Brandon Phillips to hit a ground ball to third, but Ian Stewart didn't get in front of it and it bounced off his glove for an error.
There was just no recovering for Marmol after that. He proceeded to give up a single to Jay Bruce that loaded the bases. Marmol's first three pitches to the next batter, Ryan Ludwick, were all balls. Hanging on for dear life, he managed to follow up with two strikes. The sixth pitch of the at-bat, though, was too far inside and Marmol walked in a run.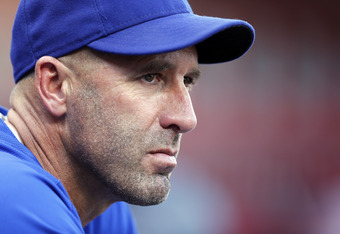 Joe Robbins/Getty Images
That was all Cubs manager Dale Sveum could stand. And after the game, he sounded like he can't stand any more. Are you thinking of making a change at closer, Skipper?
"There's definitely a thought of it now,'' Sveum said to reporters. "I can't lie to you.''
Yep. That sounds like Marmol's days as closer are done. It's closer-by-committee time in Wrigleyville!
Even worse for the Cubs, as Chicago Now's Tom Loxas points out, is that Marmol has probably killed what trade value he has with his struggles. Unless ownership is willing to eat the nearly $17 million remaining on Marmol's contract, the Cubs are probably stuck with him.
That should drive Sveum crazy.
Follow @iancass on Twitter.