UFC on FOX 3: Which Main Card Fight Will Be the Most Thrilling?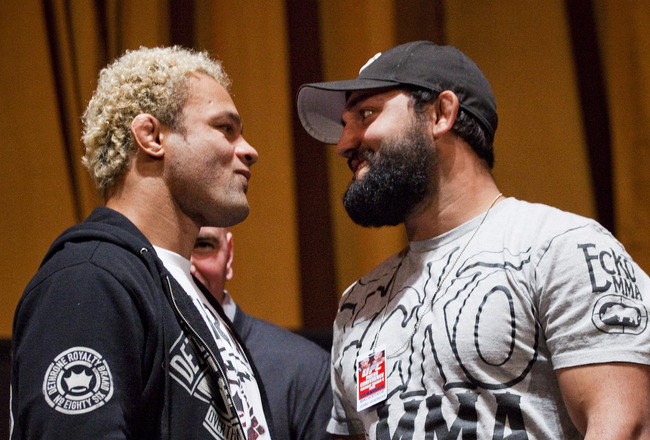 Michael Nagle/Getty Images
Saturday's UFC on FOX show represents a change in matchmaking direction for the UFC, at least when it comes to the network flagship show.
The past two network events have featured big-name stars squaring off. The UFC put its best foot forward in an attempt to garner eyeballs, and it worked swimmingly. The only problem? Some of the fights were boring, and viewers tuned out in droves.
And so we come to this Saturday night, where the promotion is opting to go for guaranteed fireworks rather than big-name appeal. The thinking is that by putting exciting fights on television—even if those fights don't feature guys who are everyday household names—viewers will be more apt to stay tuned to the broadcast and perhaps even call their friends to urge them to tune in.
Will the new strategy work? Time will tell. However, one thing is for sure: We're in store for some great fights on Saturday night.
And since there's nothing I enjoy more than making lists, I'm going to rank the upcoming fights from most exciting to least. You should do the same because, again, there's nothing more enjoyable than making lists.
4. Nate Diaz vs. Jim Miller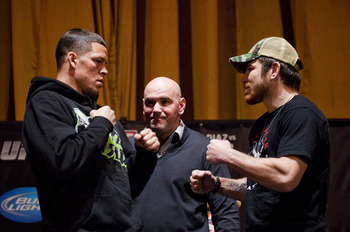 Michael Nagle/Getty Images
Plenty of you are going to disagree with me on this pick. How can the main event of the show—a fight specifically picked for the main event because it's going to be exciting—be the least thrilling fight on the show?
It's not that this fight won't be exciting—it's probably going to be a fantastic fight, even. I just think the other three fights are going to be slightly better. And that says a lot about this fight card. All four televised fights are probably going to be awesome.
3. Rousimar Palhares vs. Alan Belcher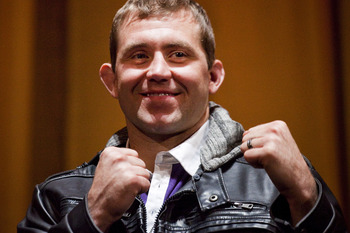 Michael Nagle/Getty Images
The idea that Rousimar Palhares might snap and start beating his opponent over the head with the leg he just ripped off his body always adds a certain level of intrigue to his fights. Because, let's face it: There have been times when that seemed like a very real possibility. And it still is.
Palhares' mental instability (and nasty leg submissions) will combine with Belcher's awesome talent to produce one hell of a fight here. I'd actually like to see Belcher grapple with Palhares, at least for a little bit, but I know that will likely not end very well for the Mississippi native.
Mark my words, something is going to happen in this fight. I don't know what, exactly, but I know it will be interesting.
2. Johny Hendricks vs. Josh Koscheck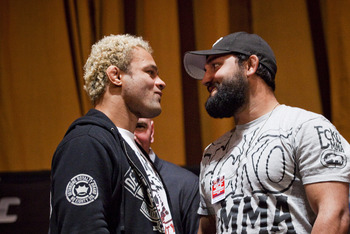 Michael Nagle/Getty Images
I'd like to say it's impossible for this to be a bad fight, but it's not. We've all seen what Josh Koscheck can do when he feels the need to stifle an opponent and guarantee a win, and it doesn't make for the best viewing experience.
However, I'm not sure he can use that kind of wrestling game against Hendricks. "Big Rig" was a two-time national champion in college, while Koscheck never took home the big gold.
Hendricks is the better wrestler, but it's not like he can blow Koscheck out of the water in that department. If this turns into a grappling match, it won't be fun to watch. I don't think we'll see these two reprise their wrestling days, though, but rather use their wrestling to keep the fight standing and trade gigantic punches until one of them goes to sleep.
1. Pat Barry vs. Lavar Johnson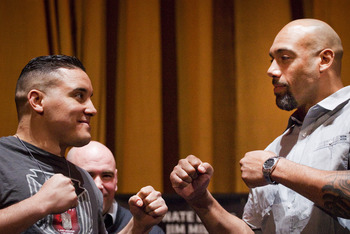 Michael Nagle/Getty Images
There's a reason this fight was chosen to lead off the TV broadcast: It's going to feature a lot of punches being thrown and someone is going to be knocked out in the first round.
Neither heavyweight would have a real reason for being anywhere near a FOX broadcast, at least under the old star-powered formula. Things are different now, though, and Joe Silva knows throwing Barry and Johnson together in the cage to kick off the show is a way to get people talking. If all goes according to plan, we should see a spike in the ratings immediately after this fight concludes. If we do see that spike, it means the plan is working.
Neither of these guys is approaching a title shot, but this is still an important fight. It will set the tone for the rest of the night and could be responsible for adding viewers if it's exciting or driving viewers away if it's boring. That's a heavy burden to bear, but these two bombers are capable of carrying it.
I can't wait for this fight. All two minutes or less of it.
Keep Reading