Floyd Mayweather vs. Miguel Cotto: Celebrities Weigh in on Gambling Odds
May 3, 2012

One of the biggest boxing matches of the year is on the horizon, as undefeated Floyd "Money" Mayweather and Miguel "Junito" Cotto are set to do battle from MGM Grand Garden Arena in Las Vegas for the WBA Super Light Middleweight Championship.
Mayweather decided to move up in weight for just the second time in his illustrious 42-0 career, but that hasn't stopped the oddsmakers and the vast majority of boxing fans from installing him as the heavy favorite. As it currently stands, Mayweather's odds to win are set at -750 in the money line, while Cotto is the clear underdog at +525. That means that a substantial bet on Cotto could pay off big time if he were to pull off the upset.
Despite the large disparity in the betting odds, there is still a ton of hype surrounding this fight. Cotto is no pushover, as he has a strong career mark of 37-2 and is coming off three convincing victories since losing to Manny Pacquiao.
Many celebrities, particularly those in the fighting world, have weighed in on the fight and there have been some differing opinions. As in most circles, Mayweather is the pick for most, but there is plenty of interesting analysis. 
Here is what several current and former boxers and others involved in the business of fighting have had to say about Saturday's huge bout. 
Amir Khan
With a record of 26-2, 25-year-old Amir Khan is among boxing's great, young stars. He has made no secret of wanting to move up in weight in order to challenge Floyd Mayweather at some point, so it should come as no surprise that he expects Money to come out on top Saturday night.
According to BoxingNews24.com, Khan picked Mayweather to be victorious, although he believes it will be a closely contested fight.
"I reckon Mayweather wins against Cotto, but will be a skillful match. Mayweather's speed will be an upside, but I like how tight and composed Cotto is."
Khan isn't alone in picking Mayweather, but there are many who think Cotto doesn't stand a chance. It seems as though Khan believes Cotto can stand his ground and hang around for a while, though, so it might not take him by surprise if Junito pulls off the upset. 
"Sugar" Ray Leonard
While he hasn't said much on the fight to this point, when "Sugar" Ray Leonard says anything about boxing, people tend to listen. Not only did he sport an impressive 36-3-1 record over the course of his career, but he won titles in five different weight classes and was named the greatest boxer of the decade in the 1980s.
With all of that in mind, Sugar Ray certainly has some nice perspective on the sweet science. Leonard took to Twitter and while he didn't make a prediction per se, it would seem as though he is leaning in the direction of Mayweather.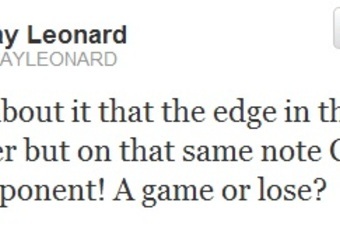 Leonard may not have said anything that we didn't already know with Mayweather being installed as the heavy favorite, but if an all-time great believes that Money May deserves so much hype heading into the fight, then he probably does. 
Paulie Malignaggi
Few have been willing to go out on a limb by picking Miguel Cotto in this fight, but WBA Welterweight Champion Paulie Malignaggi has done precisely that. Despite most of the world going with Mayweather, Malignaggi wasn't shy in his assessment that Cotto will come out on top, according to Michael Woods of ESPN New York.
"Call me crazy, but I'm picking the upset. If Mayweather's going to lose, I think it's to Cotto. Cotto knows how to disrupt rhythm very well."
Perhaps it shouldn't come as a big surprise that Malignaggi is picking Cotto, though, as he has stepped into the ring with Cotto before, but not Mayweather. Back in 2006, when Cotto was still on the ascent, he defeated Malignaggi fairly easily by unanimous decision. That won't matter come Saturday, but Malignaggi knows enough about Cotto that he obviously feels confident in his ability. 
Dana White
Dana White may be the president of UFC, but it's no secret that he enjoys the fighting discipline of boxing as well. White sat down with Yahoo! Sports to discuss the Mayweather vs. Cotto fight and he had some interesting takes on both fighters.
Although White was somewhat concerned about the fact that Mayweather has typically taken a lot of time off between his past several fights, it didn't stop him from confidently selecting Mayweather in what he deemed an easy fight.
I truly do believe that Floyd is one of the best ever. His defense is awesome; he hasn't fought in a long time. Floyd's taking these big layoffs now and Floyd's not that young. He's 34-35 years old. But I think he should beat Cotto, he should beat Cotto pretty easily.
White went on to talk about wanting to see a dream fight between Mayweather and Manny Pacquiao. It remains to be seen whether a deal between the two camps will ever get done, but you have to believe that Mayweather needs to beat Cotto to keep the dream alive. 
Ricky Hatton
Among the most popular fighters in the sport over the course of his career, Englishman Ricky Hatton compiled a record of 45-2. One of those losses was to Floyd Mayweather, so it shouldn't come as much of a shock that he believes Mayweather will be victorious on Saturday.
With that said, though, Hatton wasn't shy about sharing where his allegiances lie, according to Dan Rafael of ESPN. Hatton believes that Mayweather will win the fight, as he called him a "boxing genius," but at the same time, he'll be rooting for Cotto.
"I would rather watch Cotto than Mayweather every day, but you have to give credit where it is due," said Hatton, who is retired and now a successful promoter in England. "Cotto is a wonderful fighter, but although I don't really see eye to eye with Mayweather, he is an absolute boxing genius. I do think fighters like myself and Cotto bring the best out of Mayweather, so people in Las Vegas and watching on [all-boxing subscription channel] BoxNation [in England] will see a good fight.

"I hope Cotto wins," Hatton said, "but having shared a ring with Mayweather, I can tell you he is a different class, even to some of the very best."
When a fighter like Hatton has such high praise for Mayweather despite not even liking him as a person, it tells you all you need to know about Mayweather as a boxer.