Oakland Athletics Trade Rumors: 5 'Moneyball' Players They Should Pursue ASAP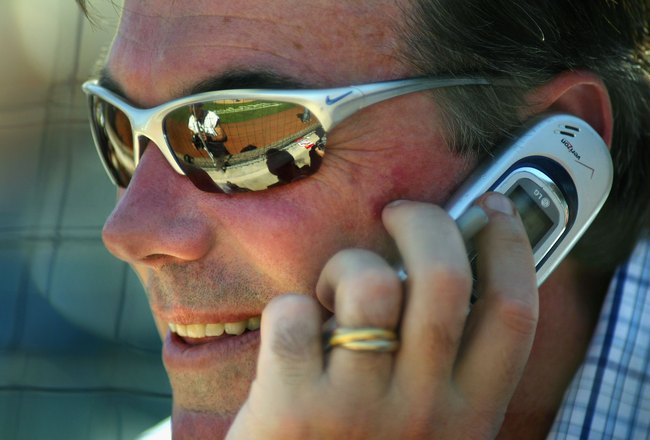 Christian Petersen/Getty Images
As expected, the Oakland Athletics went into the season with a few glaring holes, primarily at the corner infield positions. Unfortunately for the A's, these issues aren't any closer to being resolved as they were when the year began.
They recently signed Brandon Inge to a contract, but he hasn't hit over .250 in a season since 2006. If anything, that looks to just be a stopgap until a better player or situation comes along. Unless they get very lucky with Inge and his production dramatically increases, the A's will probably keep all options open regarding third base.
Come July, expect the A's to be out of contention for the playoffs and in full selling mode. This is when you can expect to see guys like Bartolo Colon and Grant Balfour moved and replaced with more bargain, lesser known guys.
Here are some players the A's may look at as they try to remain relevant in the AL West.
Aaron Cook
J. Meric/Getty Images
It's been years since Cook has played at an All-Star caliber level, but it looks as though he's finally close to regaining that form. Recovering from knee and shoulder surgeries the past two seasons, Cook found himself in Boston this spring, finishing with an ERA under 2.00.
Unfortunately for Cook, the Red Sox didn't deem that good enough to earn a spot in their rotation, instead optioning him to the minors. Making things interesting though is that Cook has a May 1 opt-out clause in which he could become a free agent if he isn't on the major league roster by that date. Well that date has passed, and as of now, there has been no movement.
If Cook does become available at some point, either through free agency or via trade, he could refill that veteran presence in the rotation if the A's trade Bartolo Colon.
Conor Gillaspie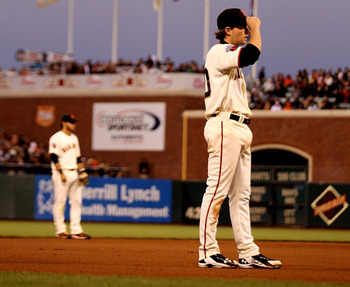 Jed Jacobsohn/Getty Images
Blocked by Pablo Sandoval in San Francisco, Conor Gillaspie seems to be stuck in AAA Fresno. Still only 24 years old, Gillaspie would fill two needs for the A's. First of all, he fills a position of need playing third base, and secondly, he falls in line with the A's current youth movement.
Finally fully developed in the minors, Gillaspie is still waiting for his shot in the bigs. Considering the Giants still have a ton of holes in their lineup and bullpen after Brian Wilson went down, they could be looking at some of the veteran players the A's have to offer, Grant Balfour in particular.
Ryan Roberts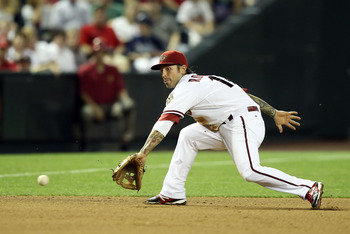 Christian Petersen/Getty Images
Definitely possessing the look of an Oakland Athletic, Ryan Roberts is currently struggling out in the desert. After being quite a pleasant surprise for Arizona last year, hitting 19 home runs and 65 RBI, the Diamondbacks may look to move Roberts on the cheap if his production doesn't pick up soon.
Able to play multiple positions, Roberts would make for a great platoon guy at third or even second if Jemile Weeks continues to struggle. It wouldn't take much for the A's to acquire Roberts, so his addition would come with little risk.
Jorge Cantu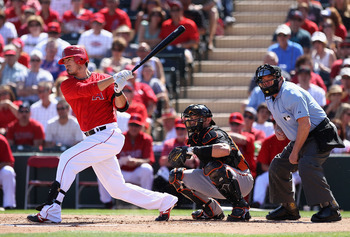 Christian Petersen/Getty Images
Recently granted his release from Anaheim, Jorge Cantu may not be as productive as he once was, but he does offer a lot of experience and versatility. Playing the two positions the A's are currently weak at, Cantu would make for a great utility man sharing time at the corner infield spots.
Cantu is just the kind of player that fits the A's mold. He's a gritty and competitive player who, if nothing else, would be another good player for the young guys to watch and learn from.
Travis Snider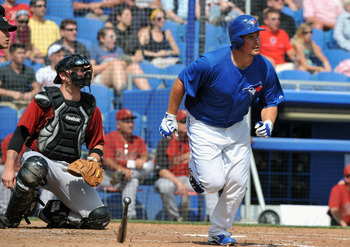 Al Messerschmidt/Getty Images
If the Jays are still in contention around the trade deadline, maybe Oakland and Toronto can strike a deal in which a package revolving around Coco Crisp goes to Toronto in exchange for Travis Snider. Despite a spring training which saw Snider hit four home runs with 16 RBI, Snider found himself in AAA while Eric Thames mans left field for the Blue Jays.
Though the demotion seems to reiterate their frustration, it remains to be seen if Toronto has given up on Snider completely. It's been so long since the Blue Jays have been in playoff contention, so if they're offered a steady veteran presence like Crisp, it'll be hard for them to say no.
In return, the A's will get a player with a huge upside and whose best baseball is still ahead of him.
Keep Reading

Oakland Athletics: Like this team?