Maryland Basketball: Breaking Down the Terps' Roster Following Stoglin Departure
May 1, 2012

Streeter Lecka/Getty Images
As reported by Chick Hernandez of Comcast Sports Network, reigning ACC scoring champion Terrell Stoglin has been suspended from the Maryland basketball program by University of Maryland Athletic Director Kevin Anderson. Stoglin's suspension is for one whole year.
Stoglin failed multiple drug tests, due to the use of marijuana. Former top-50 recruit Mychal Parker was also suspended from the program, most likely for the same reason. Parker has decided to transfer.
Following his suspension from the Maryland basketball team, Stoglin decided to turn professional, declaring for the 2012 NBA draft. Despite receiving minimal love from mock draft websites such as nbadraftnet.com and ESPN.com, Stoglin holds out hope to hear his name called in June.
The Tucson, Ariz. native's absence presents major holes in Maryland's roster, especially from an offensive production standpoint. Nonetheless, Maryland is inheriting talent from the high school scene, developing upperclassmen and also bringing in walk-ons.
Guards
Pe'Shon Howard, Junior
Howard was injured for the first 10 weeks of the 2011-12 season and only returned for a few weeks before sustaining a separate injury that held him out for the rest of the season.
He may have the most point-guard skills on the roster and is a nifty ball handler who is crafty while attacking the hoop.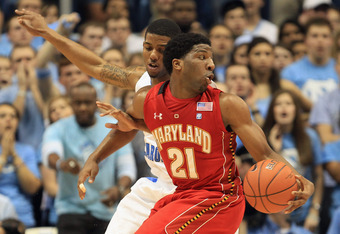 Streeter Lecka/Getty Images
Howard will most likely enter a starting role for Maryland next season.
Sam Cassell Jr., Freshman
The son of basketball fans' favorite alien, Cassell is a pure scoring guard. He can put the ball in the hoop from anywhere on the floor, including beyond the arc.
The Notre Dame Prep alum will receive solid minutes with Stoglin's absence.
Seth Allen, Freshman
Allen is one of the most underrated recruits in the 2012 class. He has great intangibles and basketball IQ and is a terrific team player.
Allen can score, rebound and distribute and will provide a nice change of tempo for Coach Turgeon in the fall.
He may receive minimal minutes to begin the season, but Allen will surprise many by earning a spot in Maryland's rotation by season's end.
Wings
Nick Faust, Sophomore
Faust has supreme athletic ability, but he didn't quite have the mental aspect of the game down as a freshman. He took many errant shots and committed many turnovers but flashed some occasional brilliance as well.
Faust is probably the one to become the offensive playmaker now that the high-volume Stoglin has departed for the pros. He should receive starter minutes and develop into a human highlight reel.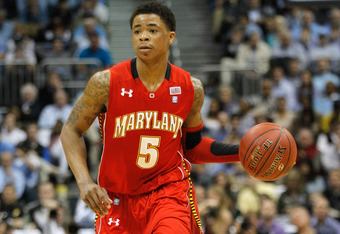 Streeter Lecka/Getty Images
Jake Layman, Freshman
Layman is ironically a replica of incoming transfer from Michigan, Evan Smotrycz. He is tall at 6'8'' but is a lights-out three-point shooter. Layman is also fairly explosive and can attack the basket if you give him some wiggle room.
Maryland was missing an outside threat last season. While Layman may not be a starter, the ESPNU 100 prospect will definitely be a bench contributor for Maryland next season
Power Forwards/Centers
Alex Len, Sophomore
Len is the biggest mystery of the offseason for Maryland fans. He is a future NBA lottery pick at 7'1'', but he was far from dominant as a freshman.
Len can actually knock down mid-range jump shots and is a spectacular dunker. He desperately needs to bulk up and gain some physicality over the summer though.
The Ukrainian center could play like a versatile All-American as a sophomore, but he also may need one more developmental season. Regardless, Len will be utilized in many ways by Coach Turgeon and will receive starter minutes.
Shaquille Cleare, Freshman
Cleare is Maryland's highest rated recruit since Mike Jones almost a decade ago. He has a huge frame and ironically "clears" the lane for his guards.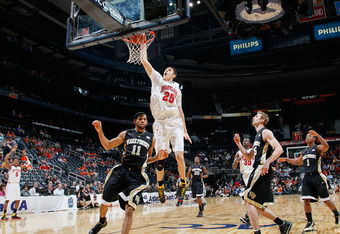 Kevin C. Cox/Getty Images
Cleare actually may need a month or so to adjust to the next level of basketball. By conference play, he could be starting alongside Len.
James Padgett, Senior
The lone senior on this young Terrapin squad, Padgett is actually my favorite player to watch for Maryland. He struggled enormously as a freshman and sophomore, but really got his act together as a junior.
Padgett is tremendously muscular and does wonders with his pivot foot by the basket. He has impressive post moves and is an improving rebounder as well.
Ashton Pankey, RS Sophomore
Pankey is very inconsistent and softens up in the low post frequently. He occasionally looks like he can be an ACC contributor, but not often enough.
Pankey will struggle to see minutes, even with Stoglin's absence.
Charles Mitchell, Freshman
Mitchell is probably more ready to play right away than Cleare is, despite not even being ranked in the ESPNU 100. (Cleare is ranked 30th). He is a big body at 6'7'', 250 lbs, who is as physical as they come.
While it may not translate to on-court success, Mitchell is extremely likable and will be a favorite among his teammates.
Mitchell will be one of the firsts off the bench and receive favorable minutes next season.
Returning Walk-Ons (Yes, Turgeon Uses Them)
Arnold Richmond
A high energy point guard, aptly nicknamed "Young Kobe" for his pure scoring ability
John Auslander
While Len was out due to suspension last season, Auslander, a large body, received double-digit minutes and was sufficient.
Jacob Susskind
Has great size for his impressive ball handling and passing skills.
Spencer Barks
If multiple big men go down to injury, Barks can fill in at 6'9''.
Jon Thomas
A defensive specialist who was utilized by Coach Turgeon in late-game situations where stops were necessary last season.
Conclusion
Maryland isn't lacking talent, despite losing the ACC's leading scorer from a season ago. They inherit five new freshman, plus a redshirt freshman and a talented transfer for 2013. Don't write off the Terps quite yet, even though Stoglin's departure seems alarming. 
For the first time since the Greivis Vasquez era, Mark Turgeon will, once again, have you fearing the turtle.