NBA Playoffs 2012: Clippers Wake Up in 2nd Half and Leave Memphis Fans Stunned
April 30, 2012

Andy Lyons/Getty Images
"It ain't over 'til the fat lady sings." In the second half of Game 1 of the Los Angeles Clippers and Memphis Grizzlies' first-round playoff series, the fat lady got up and began clearing her throat. Chris Paul and Reggie Evans walked over to her and told her, "sit down, this game ain't over."
The Clippers, having not been in the playoffs since the 2005-06 season when they lost in the second round to the Phoenix Suns, didn't start off their first game in an impressive manner.
The Clippers were severely outplayed by the Memphis Grizzlies and were down 95-71 with eight minutes left in the game. Fans often have the banners that read "We Believe," but the Clippers showed that statement with their actions.
Chris Paul, in an interview immediately after the game, had some thoughtful words for TNT's Craig Sager.
After a horrible first half, the Clippers' comeback was led by their bench players along with Chris Paul. Shooting guard Nick Young, a USC graduate, came off the bench to hit some huge three-pointers. At one point in the fourth quarter, he made three three-pointers in a one-minute span.
The Clipper got defensive boosts from Reggie Evans and Eric Bledsoe. Both came off the bench to calm down the sharpshooting of O.J. Mayo and Mike Conley and got key turnovers from Marc Gasol and Zach Randolph.
Defense is effort combined with technique. Almost every NBA player has the technique to play defense correctly. But it takes a special kind of effort and player to dig deep and play tough, sustained defense. Especially when the game, in most spectators' eyes, is over.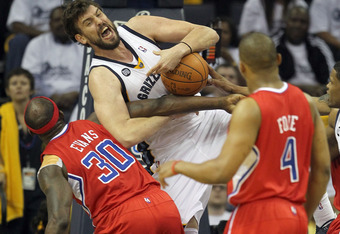 Andy Lyons/Getty Images
The Clippers ended the game on a 28-3 run. That's almost unheard of when discussing the NBA playoffs. Even after the comeback, the Grizzlies had one more chance to win the game, but again defensive effort proved to be the key.
With the score being 99-98 in favor of the Clippers, Rudy Gay dribbled the clock down to the last seconds and tried to drive in the lane for the game-winner. He was forced to pick up his dribble prematurely and had to take a tough shot over the outstretched hand of Kenyon Martin, another one of the Clippers' tough defenders. His shot came up short, giving the Clippers the win.
I'm sure on his way to the locker room, Chris Paul was looking for that "fat lady" to give her the sign to go ahead and start her song.