Euro 2012 Preview: 10 Things to Know About Russia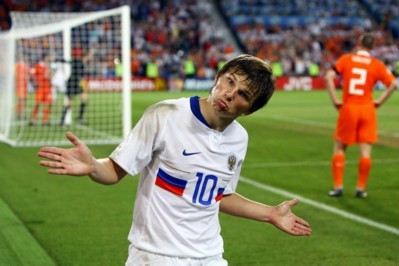 With Euro 2012 quickly approaching, let's take an in-depth look at one of the more under-the-radar teams.
Russia booked their ticket to Poland/Ukraine relatively quietly, but may have a lot to say come June.
There are many familiar faces in this squad, but not many that are being looking at on a weekly basis by the majority of Europe.
Here are ten things to know about a side that might prove worth getting to know.
Begin Slideshow

»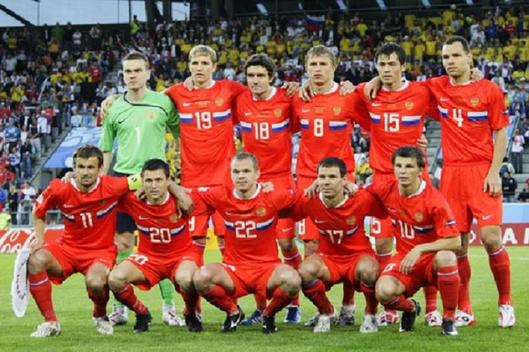 In Euro 2008, Russia sent shock waves through Europe when they raced to the semi-finals of the competition.
Other than their two matches against Spain (they were dismantled in each), the side defeated every opponent in front of them.
These results included a very impressive extra time victory over the Netherlands in the quarters.
From the side that accomplished all of this, Russia have not changed much.
In fact, of the eleven men that started the semi-final against Spain, only one has retired from the national side while the other ten are played regularly.
Hence, the side has veteran leadership and a vast amount of comradeship, qualities that could prove vital for their run in this edition of the competition.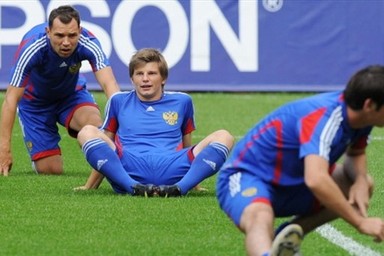 The flip side to having virtually the same squad as '08 is the aging that has occurred since then.
They may have been relatively young at the time, but the squad has gotten a bit long in the tooth since.
The average age of the squad that started February 29 in a friendly victory over Denmark was 29; take away the lone 21-year old and you're looking at an average age of 30.
Now, most of these guys are just about the same age, as in, they're all right around 30.
Hence, this squad isn't quite old enough that their skills and speed are diminishing.
Instead, I see this as an old squad as in this may be one of their last chances at glory.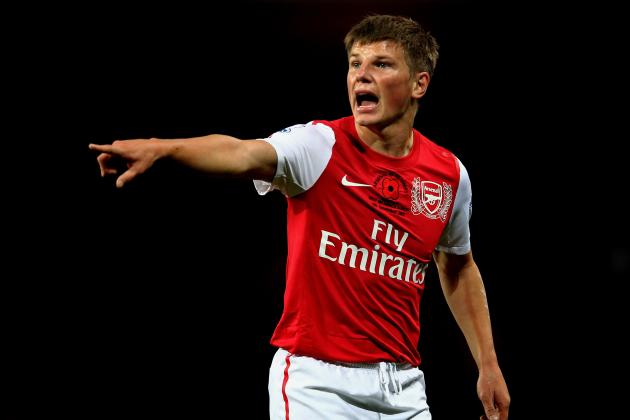 Julian Finney/Getty Images

Not too long ago, some of Russia's most important players were plying their trade in the English Premier League.
Over the past year, that has changed greatly.
Last summer, defender Yuri Zhirkov left Chelsea for Anzhi.
This January, it was a trio of attackers leaving their respective clubs: Denis Bilyatedinov left Everton for Spartak Moscow, Roman Pavlyuchenko left Tottenham for Lokomotiv Moscow, and capatin Andrei Arshavin left Arsenal for Zenit St Petersburg.
This may seem like a non-issue, but given the playing time these vital players were receiving in Britain, this may prove to be great news for the national team.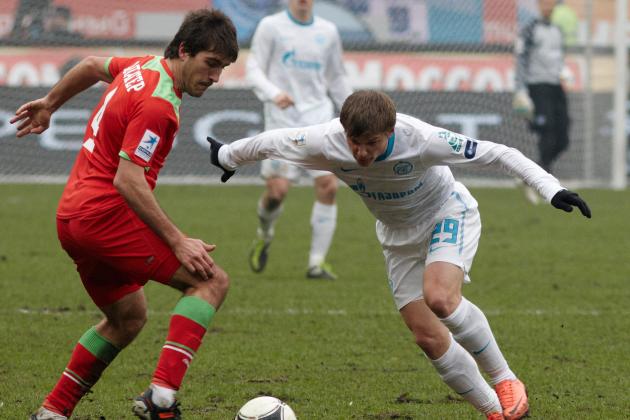 Epsilon/Getty Images

A few years ago, this might have seemed to be a sign of weakness for the Russian team, but their squad is now almost entirely made up of players from the Russian Premier League.
In the past year, every player, except for one (Pavel Pogrebnyak of Fulham), who has played for or sat on the bench for Russia is now plying their trade in the motherland.
With the international state of football in this day in age, this is a very rare thing.
In fact, only England can boast such numbers.
This could breed national pride, making the players give everything they have for the glory of their nation.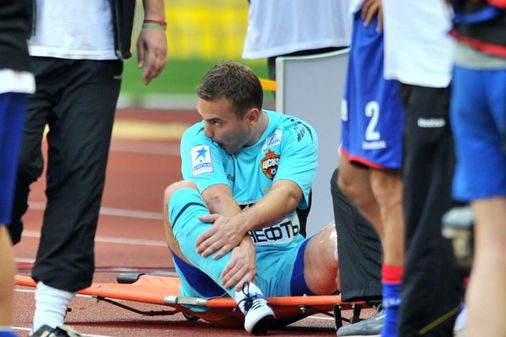 The big question mark for Russia heading into the Euro is at keeper.
As of a year ago, the shoo-in for the role was Igor Akinfeev, the up-and-coming 26-year old keeper from CSKA Moscow.
However, he suffered a serious knee injury in August that ruled him out for eight months.
Since then, the experienced Vyacheslav Malafeev has stepped in and done an acceptable job for Russia and has even led Zenit to the brink of the title.
Akinfeev returned about two weeks ago, but was beaten 2-0 by Malafeev's Zenit, the opening goal bouncing off of him and into the net.
Akinfeev is clearly the future of the position for his nation, but the question remains whether his lack of play this season should make Malafeev the choice this summer.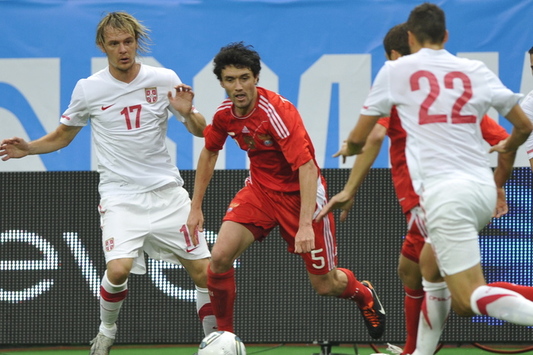 In 2008, Russia were led by Dutch manager Guus Hiddink; today, they are led by Dutch manager Dick Advocaat.
Beyond nationality, though, these managers do not have much in common.
The 4-4-3 formation that Hiddink introduced into the Russian team led to them playing very open and attacking football, a fact that can be seen through their Euro 2008 score-lines (a total of 15 goals in five matches).
Advocaat, on the other hand, has been widely criticized for reverting to overly defensive tactics to get the job done.
I have always contended that defensive tactics are not an inherently bad thing, as some people seem to think; however, with the potential speed of his players, perhaps such tactics are not ideal in this situation.
In any event, this should be a much more defensive Russia than the 2008 version.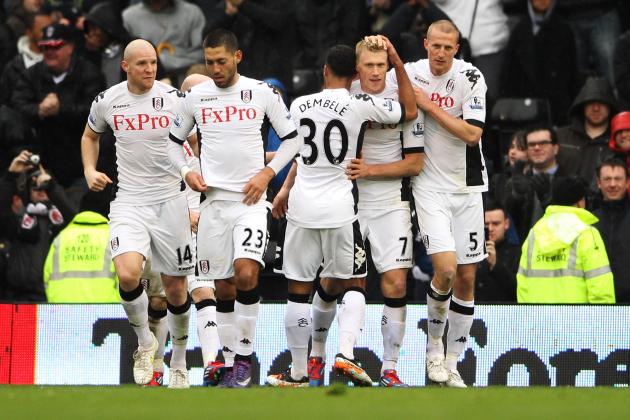 Scott Heavey/Getty Images

In eight appearances for Fulham this season, striker Pavel Pogrebnyak has six goals.
This strike rate has made the big man a transfer target of such clubs as Sunderland and Aston Villa.
However, with the likes of Andrei Arshavin and Roman Pavlyuchenko at forward for Russia, there appears to be no place for Pogrebnyak besides the bench.
After all, Arshavin and Pav have played amazingly throughout their international careers.
If Pogrebnyak keeps his form and either of the established stars' forms were to dip at the start of the tournament, though, the Fulham man could push his way into the starting lineup.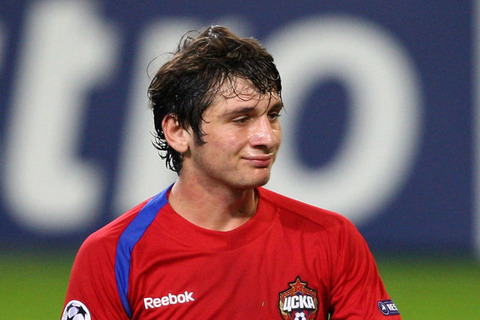 You may want to remember the name Alan Dzagoev.
The 21-year-old midfielder has already established himself as the playmaker and No. 10 of CSKA Moscow, where he has scored goals against the likes of Manchester United and Inter Milan in Champions League play.
He already has 18 caps for Russia and four international goals in the past year and a half, including an important one against Ireland in qualifying.
Dzagoev is Russia's future and Euro 2012 could be his coming-out party.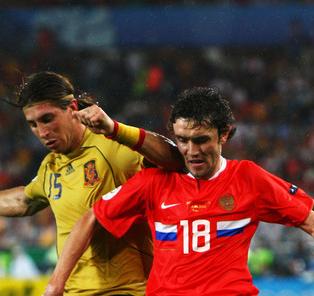 In qualifying for Euro 2012, Russia only conceded four goals in ten matches.
Russia may not have the toughest group to qualify through, but this statistic is still incredible.
Only Italy, who conceded two goals, conceded less.
This speaks to the side's incredible defense, with the CSKA Moscow trio of Sergei Ignashevich and twin brothers Vasili and Aleskei Berezutskiy providing excellent coverage for their net.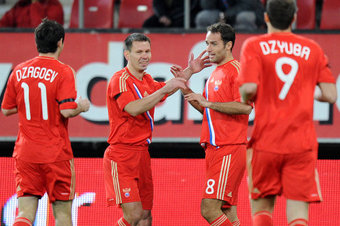 Russia got extremely lucky in way of the ping pong balls that are the draw.
After just squeaking in as the lowest seed in pot two, Russia was able to avoid powerhouses Spain and the Netherlands and instead be grouped with hosts Poland.
The rest of their group, the enigmatic Greece (who the Russians disposed of in the Group stage in 2008) and the Czech Republic (who have seemingly been on a down-swing since '08) make this seem to be one of the easiest groups of the tournament.
If Greece decide to show up (which they didn't in Euro 2008 and the 2010 World Cup), Poland step up in front of their home crowd, or Petr Cech remains in his Barça-killing form, it could pose a bit of a problem for the Russians.
However, I'd expect them to coast to the quarter-finals.