Colt McCoy Trade Rumors: Holding on to QB Is Cleveland's Best Option
April 27, 2012

Tyler Barrick/Getty Images
The Cleveland Browns drafted a quarterback on Thursday night. Clearly, the incumbent quarterback must go.
At least, so says the football punditry, who insist there's no point in the Browns keeping Colt McCoy around now that Brandon Weeden is in town. There are already rumors about McCoy being traded to the Green Bay Packers (see Pro Football Talk).
Not so fast. Mary Kay Cabot of The Plain Dealer, who is always on top of the latest Browns news, reported on Twitter that the Browns haven't discussed anything with anyone regarding McCoy:
#Browns have not talked to anyone about trading Colt McCoy, league source told PD.

— Mary Kay Cabot (@MaryKayCabot) April 27, 2012
ESPN's Chris Mortensen has it straight from Browns head coach Pat Shurmur himself that the team isn't discussing any McCoy trades:
"I can categorically tell you that we have not engaged in any movement in regards to Colt"- Browns head coach Pat Shurmur

— Chris Mortensen (@mortreport) April 27, 2012
So you see, there's nothing to see in Cleveland.
Either that or the Browns are trying to mislead everyone, which is certainly possible. 'Tis draft season, after all.
That being said, I'm perfectly willing to believe that the Browns aren't about to trade McCoy. Truth be told, they don't have a ton of incentive to deal him.
Think about it. What could the Browns possibly get for McCoy at this point. A seventh-round pick? Maybe two sevenths, if they're lucky?
Surely McCoy isn't worth any more than that. He's not an awful quarterback by any stretch of the imagination, but he's well short of great, and it can't be taken for granted that he's going to get much better than he already is. His skill set is limited.
Sure, McCoy has experience as a starter, but that has to be taken for what it's worth. McCoy was a starter for a rotten Browns team that didn't have any better options. That doesn't mean he could start for any other team. On the contrary, McCoy would be a backup on any other team. If he is traded, he will indeed settle into a role as a backup.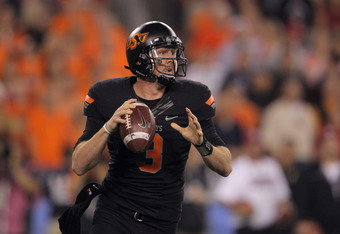 Doug Pensinger/Getty Images
It's likely that McCoy is going to settle into a role as a backup if he stays with the Browns. They drafted Brandon Weeden with the No. 22 pick in the first round on Thursday night. He has a better arm than McCoy, not to mention better measurables all the way around. He's very much a threat to steal the starting job from McCoy this summer.
Regardless, it's in Cleveland's interest to make sure there's a quarterback competition in training camp this summer. If they deal McCoy, there won't be a competition. Not one as intense as a competition between McCoy and Weeden promises to be, anyway.
The Browns can't lose by keeping McCoy. They're not going to get anything worthwhile in return for him, and at worst he'll end up being a backup quarterback that they know they can rely on if Weeden gets hurt or doesn't pan out as the team's starter.
If McCoy ends up starting in 2012, that's fine too. If that happens, the Browns are obviously going to be very happy they didn't trade him.
If the Browns do trade him, I hope they'll take Seth Meyers' advice:
If I were the Browns I'd trade Colt McCoy to an old west town that needs a sheriff.

— Seth Meyers (@sethmeyers21) April 27, 2012
Somebody had to say it, right?