San Francisco Giants: Should They Choose Pill, Belt or Extend Huff in 2013?
March 24, 2017
For a guy who hasn't wanted anything but a chance to play major league baseball, there sure is a lot of controversy surrounding Brandon Belt. The media treats him gingerly, like a sore ankle you're afraid to apply too much pressure to.
Manager Bruce Bochy has all but banned his name from press conferences, such is his ire at having his starting lineups questioned.
Aubrey Huff, already tasked with remaking himself after a horrid 2011 effort, may be playing even worse with the knowledge that every strikeout he makes, every error that slips underneath his glove, seems to spell Belt.
And then there's another first baseman on the roster, and a star catcher stealing a few starts, too.
Who should the San Francisco Giants put their chips on in 2013?
Candidate 1: The Baseball Player Formerly Known as Aubrey Huff
It would be a waste of words to rant on the shortcomings of Aubrey Huff in his post-World Series tenure with the team. He's been awful offensively and a liability on defense, and he generally gives off a vibe like he isn't even trying that hard.
The futility of Huff was best encapsulated in his performance in New York against the Mets on Saturday. That start featured Huff going 0-for-4, committing two errors that greatly affected the outcome of the game and also playing second base for the first time in his career.
Since Saturday? Well, Aubrey hasn't been with the team. Huff Daddy has been out with an undisclosed "personal problem," which cost the Giants a man during their Monday doubleheader.
Now CSNBayArea is reporting that Huff has been placed on the 15-day DL with "anxiety." All in all, things are not looking good for the man responsible for the rally thong.
At present, even in the often-delusional eyes of GM Brian Sabean, there seems to be no future for Aubrey Huff as a San Francisco Giant. For the season, he's batting .182 in 12 games, with a lone home run in 33 plate appearances.
Now to be sidelined with something as ominously alarming as anxiety less than a month into the season, it's hard to believe Huff could recover his numbers and stamina enough to earn a new contract.
Anxiety is a serious condition, and I wish Aubrey a full recovery. True fans love everyone that wears the orange and black, and we will stand by Huff. At the same time, true fans also love winning, which is why management will be seriously considering the options below for the future of first base.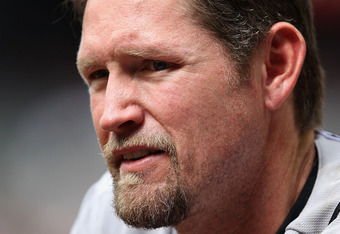 Candidate 2: The Perennial Minor Leaguer, Brandon Belt
Belt is, of course, very much a major league player. He started the season with Giants, and no one has given any indication that Belt should expect to move back to Fresno anytime soon (although Brian Wilson's elbow may be indirectly to thank).
As the season began, Belt enthusiasts watched as their man rode the pine in favor of Aubrey Huff. Nauseating waves of deja vu washed over Giants Nation. Signs declaring "Free Belt" were waved proudly at home games, and every now and then, Belt emerged to do a little bit of something.
A sound argument could be made that the team doesn't know what they have in Brandon Belt until they let him start for a month or more, giving him every at-bat he's due and not pulling him if he doesn't produce.
A soft drizzle of stats has been dampening this standpoint, leaving wet spots like a 26.7 strikeout percentage (worst on the team), a .346 slugging percentage and a drop from 4.6 pitches seen per at-bat last season to 3.6 this year. 
The sample pool is still quite small, and tainted by ludicrous claims of a hole in Belt's swing on up-and-away pitches. For an in-depth look the urban rumors swirling around Belt, read Eno Sarris's analysis over at Fangraphs.
In all honesty, Belt's career remains perched on a precipice built of trust and patience. If Bruce Bochy and the front office were to show a little of those two traits, Belt could put together a substantial array of statistics from which a reasonable conclusion could be drawn.
However, as long as Belt remains shackled to the bench, his value as a player, his role in the future and the desire of new prospects to play for a farm that doesn't reward their best players all remains very much undefined. 
Candidate 3: The Dark Horse, Brett Pill
Lost in the coverage of Huff and Belt is the quiet success of Brett Pill. The phrase "27-year-old rookie" doesn't usually conjure visions of potential as much as someone to settle for in the interim. Brett Pill's performance is 2012 is throwing a wrench in that logic.
Pill is boasting a .353 average in 17 at-bats, including six hits. This shouldn't be shocking to many people, as last season he hit for .300 in 50 at-bats.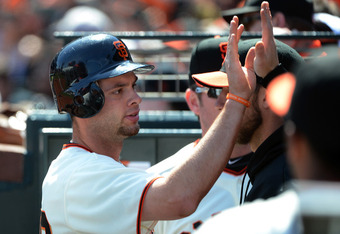 Pill can hit a long ball, has a decent glove at first and perhaps most importantly has caught the eye of Bruce Bochy. Now with Huff on the disabled list, there is reason to think that if Pill nails this long-term audition, there may be legitimate consideration about his viability as the future everyday first baseman.
Late April is a poor time to prognosticate on an unknown like Pill, but Giants fans have been given plenty of time to watch the organization permit Brandon Belt to languish, so it would be foolish not to acknowledge Pill's potential. 
Candidate 4: The Catcher, Buster Posey
Okay, no heart attacks, everyone!
Buster Posey remains at catcher, and aside from a few errors, he looks like he will be able to move beyond last year's injury. Certainly Posey is coming around on offense, with seven RBI and three homers in 51 at-bats.
Posey's success as a clean-up hitter means his bat will always take precedence for the Giants. This much was evident on Wednesday, when Bruce Bochy made good on earlier statements by starting Buster at first base.  
This decision is partially based on Barry Zito taking the mound. Zito has been caught by Hector Sanchez in all of his starts this season, and the results have been strong enough to ensure Bochy will keep the battery-mates together for now. 
What about 2013? If Hector Sanchez can improve as a catcher, prospects Tommy Josef and Andew Susac wait in the wings. Catching prospects are valuable trade bait, so there's no reason to think that a surplus of catchers in the farm indicates the Giants have plans for Posey.
Still, if Posey struggles defensively or shows any signs of wear during the grind of a full season, Sabean won't hesitate to shift his prize batter to first. Everything seems to depend on what Brandon Belt can do, which in turn depends on whether Belt gets a chance to do it. In the interim, Posey remains in the squat, and the 2013 first baseman remains a mystery.